Peru's Glaciers Are Melting Away, Along With Ancient Andean Traditions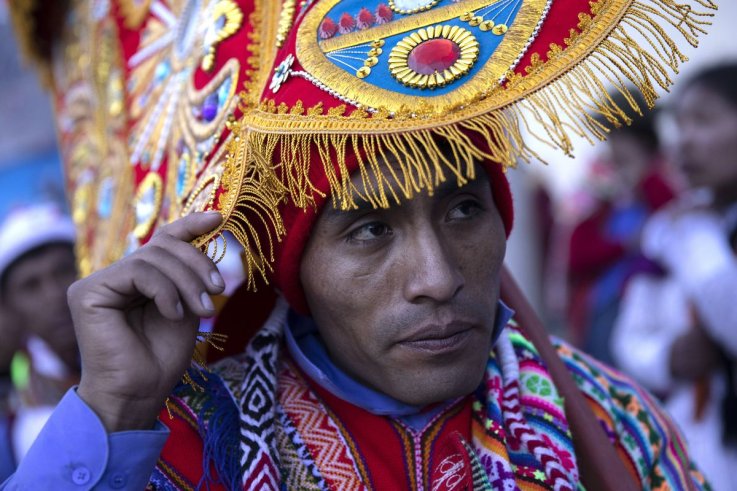 As the sun rises over the rocky Andean mountain range in Peru, a chain of dancers wrapped in colorful costumes snakes across the landscape. It's the annual Qoyllur Rit'i festival, which draws tens of thousands of indigenous pilgrims from the Andes and beyond in a celebration of mankind's connection with nature.
But the landscape is changing rapidly, cutting off access to crucial parts of the natural world. The festival rituals once took place on the mountain glaciers, which are seen as sacred by locals. Ice blocks believed to hold healing properties were carved out and carried back down the slope. But increasing temperatures linked to climate change mean the sacred ice is now scarce.
The indigenous Peruvians have been forced to adapt the traditions of the festival, which has occurred every year since 1783. Rituals now take place on the bare rock rather than in the snow, and 'Pablitos,' or guardians of the festival, ensure that ice blocks are no longer removed. The ice is in urgent need of protection: the National Commission on Climate Change says that within 40 years, all the glaciers in Peru may have disappeared.
Translating as 'Snow and Star,' the Qoyllur Rit'i festival marks the upcoming harvest, a seasonal event that has been celebrated for thousands of years. Since the 18th century, a medley of faiths, including Christianity and paganism, have blended to create the unique and colorful three-day event that happens today.
The festival was added to the UNESCO Intangible Cultural Heritage Lists in 2011. Yet the loss of Andean ice caps means that the indigenous people are soon likely to lose access to a sacred part of their culture, making them yet another group to suffer from the destruction caused by global warming.
Click through this Newsweek slideshow to see photographer Dan Kitwood's vivid photos of the Andean festival's vanishing traditions.