Peruvian President Vizcarra Dissolves Congress, Opposition Warns of a Coup
Martin Vizcarra, president of Peru, has dissolved the Congress in an attempt to curb corruption. The Congress, which is controlled by the opposition, has voted to suspend Vizcarra and begin impeachment proceedings.
Parliamentarian Jorge del Castillo is reported by the Financial Times as saying, "This, Mr. President, is a coup d'ètat, and we have to denounce it before the world. We call on the armed forces of Peru, we call on the national police of Peru, not to lend support to this coup d'ètat. He and his ministers will end up in prison."
The dissolution of the Peruvian congress came only hours after the congress voted to bring a new bunch of magistrates to the Constitutional Tribunal. Vizcarra disagreed with this move. The Constitutional Tribunal decides which laws violate the constitution.
Vizcarra claimed in a televised address that his decision to dissolve the congress is within his constitutional rights. He is also planning on calling new legislative elections. "It is clear that the obstruction and shielding do not stop and there will not be an agreement possible," Vizcarra said.
The congress is controlled by the Popular Force party, still loyal to former president Alberto Fujimori. Fujimori was sent to prison for 25 years on charges of corruption and human rights violations. Fujimori's daughter, Keiko, was imprisoned on charges of corruption, which she denied.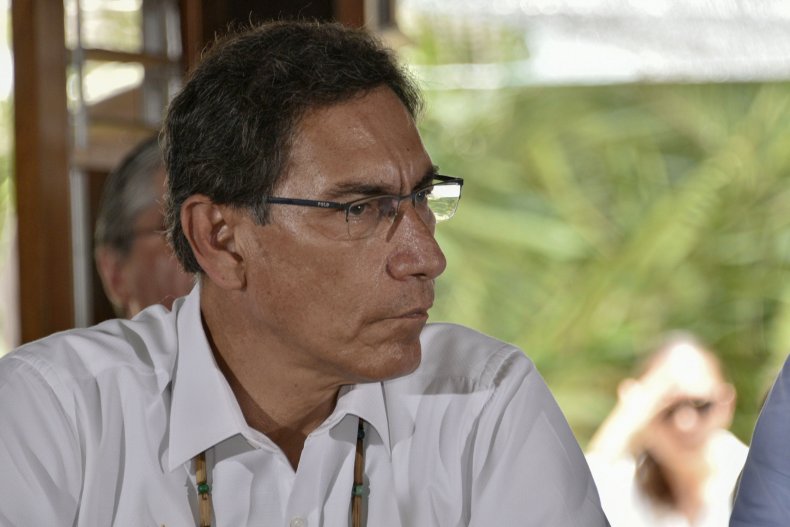 The congress has voted to suspend Vizcarra, alleging a permanent moral incapacity. Congress members have said they would resist attempts to send them home.
Vizcarra said Peru "will continue to find in the president a leader who is profoundly respectful of the constitution and always be prepared to take the fight to corruption," according to DW.com.
Vizcarra took office in 2018 after his predecessor, Pedro Pablo Kuczynski, resigned to avoid impeachment. Kuczynski had been embroiled in a corruption scandal over his ties to Odebrect, a Brazilian construction company. Odebrect paid almost $5 million to Kuczynzki's consulting firms during the mid 2000s. The company also copped to being behind an $800 million bribery scheme involving officials in at least 10 countries.
Kuczynski pardoned Alberto Fujimori in 2017 because of his declining health, but that pardon was later rescinded. That pardon was considered to be a political move designed to keep Kuczynski from being impeached.
Vizcarra had been both vice president and ambassador to Canada during Kuczynski's administration. "We will stand firm in the fight against corruption," Vizcarra said in 2018. "Transparency will be a pillar of our administration."
Last July, Vizcarra called for new general elections in April 2020, which could effectively end his term as president early. He said that the Peruvian people need the chance to put the era of corruption behind them, even if it means a clean sweep of political offices.