Who Is Pervis Payne? Tennessee Inmate Freed From Death Row Due to Intellectual Disability
Pervis Payne has been freed from death row after a Tennessee judge declared he is intellectually disabled.
Payne, 54, was sentenced to death for the 1987 killing of Charisse Christopher, 28, and her 2-year-old daughter Lacie Jo. Christopher's 3-year-old son Nicholas was also stabbed, but survived.
But Payne has maintained his innocence for over three decades. He told police he had been at the apartment building in Millington to meet his girlfriend when he came across the victims and tried to help them. He said he panicked and fled when the police showed up.
On Tuesday, Payne's two death sentences were vacated by Shelby County Criminal Court Judge Paula Skahan.
Payne embraced his attorney, Kelley Henry, and started to break down in tears shortly after entering the courtroom. "He just said thank you over and over again," Henry told the Memphis Commercial Appeal.
The judge's order came after Shelby County District Attorney Amy Weirich announced last week that the state will no longer pursue its plans to execute Payne.
Weirich said an expert hired by the state "could not say that Payne's intellectual functioning is outside the range for intellectual disability."
"While the evidence of Payne's guilt has never changed or weakened, the laws regarding alleged intellectual disability as it relates to the death penalty have changed," she said.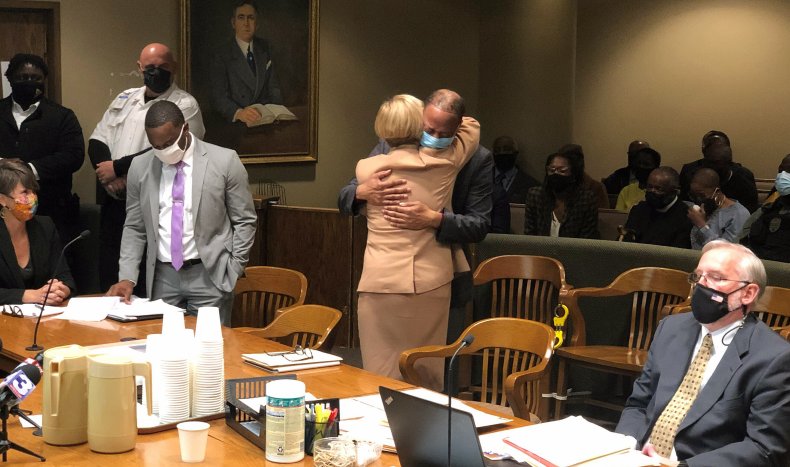 The U.S. Supreme Court ruled that executions of the intellectually disabled were unconstitutional in 2002, finding they violate the Eighth Amendment's ban on cruel and unusual punishment.
But until Tennessee Republican Gov. Bill Lee signed a bill earlier in 2021 making retroactive the state's law prohibiting the execution of the intellectually disabled, the state had no procedural mechanism for inmates to reopen their case to press a claim of intellectual disability.
A day after the law was enacted, Payne's attorneys filed a petition to stop his execution. The petition included IQ test results, educational records and expert findings, along with declarations from family members, teachers, employers and others who have known Payne.
Weirich's office is now pushing for Payne to be re-sentenced to serve two life sentences consecutively. "This would be grossly unfair to Mr. Payne, who is innocent and should never have been subjected to the death penalty," Henry said.
Skahan will decide whether the sentences should run consecutively or concurrently at a later date.
Payne's case attracted renewed attention after it was taken on by the Innocence Project, which says it bears all the hallmarks of a wrongful conviction due to crucial missing evidence and racial bias. Payne is Black and Christopher and the victims were white.
A petition set up by the nonprofit continues to urge people to join Payne's "fight for justice."
"Pervis Payne, who has an intellectual disability and a strong innocence claim, has been removed from death row and continues to fight for freedom," the petition, which has amassed more than 760,000 signatures, says.
Payne's attorneys have argued that police focused almost exclusively on him as a suspect, even though he had no prior criminal history and nothing in his background suggested he was capable of committing such a crime.
Skahan ruled to allow DNA testing in Payne's case for the first time in 2020.
Payne's DNA was found on the hilt of the knife used in the killings, which his attorneys said match his trial testimony that he cut himself while handling the knife as he tried to help the victims. His DNA was not found on the knife's handle, but partial DNA evidence from an unknown man was.
However, there was not enough DNA material to enter it into a national FBI database and attempt to match it to someone else.
Payne's attorneys also said that key pieces of evidence, including scrapings from Christopher's fingernails that were collected from the crime scene, could not be located for testing.
Payne had been scheduled for execution in December 2020, but Lee granted him a temporary reprieve due to the COVID-19 pandemic. That reprieve expired in April, but the state Supreme Court had not set a new execution date.
The last inmate executed by the state of Tennessee was Nicholas Sutton in February 2020.
Updated at 12:20 p.m. ET on 11/24/21: This article has been updated to add a picture.