Pet Cemetery: Dee Dee Ramone Exhibit at Hotel Chelsea Eulogizes Late Rocker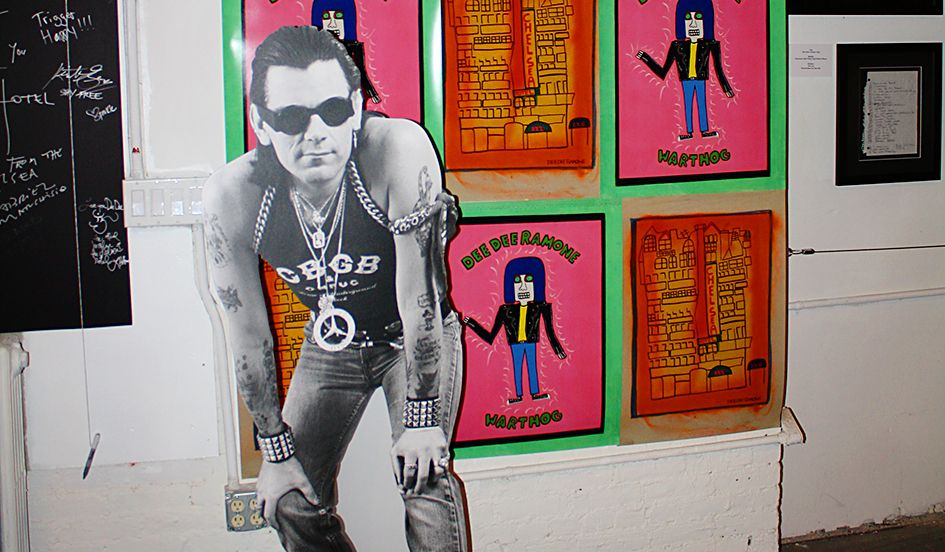 The Hotel Chelsea Storefront Gallery, located at 222 West 23rd Street in New York City, is unremarkable from the outside: whitewashed walls, torn-up ceiling, bare columns. On Wednesday afternoon, the space exploded with leopard-skinned Ramones mania: T-shirts, prayer candles, photographs and paintings from the estate of late artist and bassist Dee Dee Ramone, of the downtown New York punk group. The exhibition, which was produced and curated by John Cafiero (who now manages Dee Dee's estate), runs through January 1. It stands halfway between a eulogy and a tribute to the Ramones's backbone member, who was responsible for penning some of the band's most celebrated tunes, "Blitzkrieg Bop" among them.
With their cheap black leathers, beaten trousers and hard-jawed stares, Dee Dee, Tommy, Joey and Johnny Ramone looked like hell-raisers. But it was largely illusion: The original Ramones were four underclass zeros (and heroes) from Forest Hills, Queens, who just wanted to have something to do. So they banded together as a family, adopting the last name "Ramone" from the alias Paul McCartney used when he checked into hotels, Paul Ramon.
The four Ramones picked up instruments and scribbled blackened pop songs about lobotomies, warthogs and electroshock therapy. Along with their fellow CBGB peers Blondie, Television, Patti Smith Group, Talking Heads and the Dead Boys, the fellows injected an urgency back into rock and roll in the late '70s.
Tommy was the last to go. Every original member of the Ramones is now deceased, but they live on in infamy. Their influence continues to be felt beyond the grave, and continues to do so with the years. The tribute to Dee Dee has been long awaited by fans: the exhibition was first shown on the West Coast and had a blowout during its New York opening on Tuesday night. During its public opening on Wednesday afternoon, though, Ramones enthusiasts, superfans and former collaborators milled in and out of the large gallery on a snowy afternoon, swapping stories and memories of the late rocker.
I arrive at the gallery minutes after it opens at 1 p.m. At first I am one of four people there, and two of them are journalists. Later it begins to fill up. Empty beer cans and tequila bottles litter the floor, remnants from last night's revelry. A cardboard cutout of Dee Dee, birth name Douglas Colvin, stands at the front of the gallery, a real skateboard carefully positioned under his raised foot. His leopard-print robe and leather vest are hung above the art. His dismal foray into rap music, which he did under the moniker Dee Dee King, is immortalized in a record that's mounted on the wall. Dee Dee would have probably loved the show.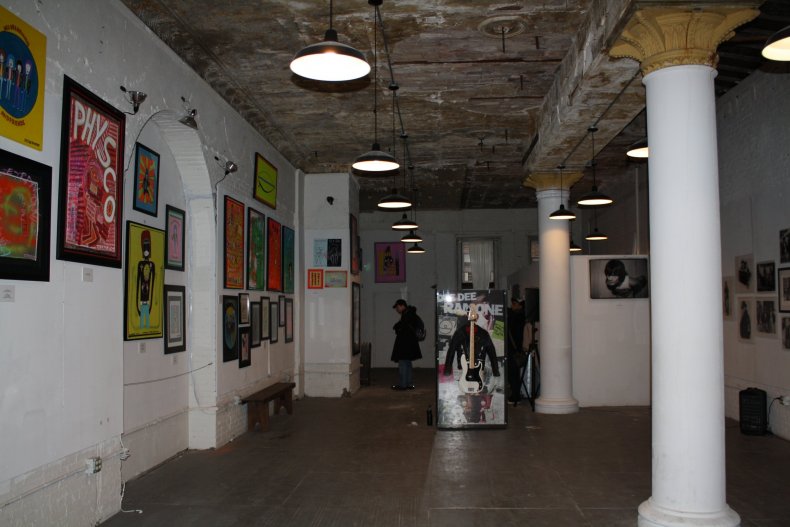 Stanley Ryan Jones, a former rock and roll photographer, has one of his shots exhibited in the gallery, along with others by legends like Bob Gruen and Mick Rock. Of the many black-and-white photographs hung on these whitewashed walls, Jones's is easily the most telling. In the close-up shot, Dee Dee is alone. His eyes are at half-mast. He looks as if he's either swooning or stoned, or both, jaw clenched square, cheekbones jutted.
Jones snapped the photograph of Dee Dee backstage in Milwaukee, where the boys were stopping on tour, and remembers this Ramone as "charming." Early Ramones shows were "harmless fun," according to Jones, with audiences bopping, pogoing and cretin hopping, but their performances were still "the same punch in the solar plexus every time."
By all accounts, Dee Dee had a ditzy persona and perpetual youthfulness, but was sharp and perceptive under that mop hairdo. Richard Hell, co-vocalist and bassist of fellow CBGB mainstay Television, remembers in his memoir that "[Dee Dee] was the best example of a certain rock and roll essence that punk sought to embody. He was a street kid who was purely talented—he wrote most of the great Ramones songs—and who radiated lovable innocence, even though he'd worked, for lack of any better way to earn a living, as a gay hustler on the street. Or maybe that's where he'd learned the innocence."
In the punk oral history Please Kill Me, Dee Dee told biographer Legs McNeil, "Everything I write is autobiographical and very real. I can't write any other way."
That very duality Hell speaks of—innocence and horror—is emblematic in all of Dee Dee's paintings, drawings and cartoon strips here. The pieces, most of them done shortly before he died in 2002, are simple and sweet and sick. There are chicken-scratch drawings of lobotomies, guts splayed from bodies, brains and removed frontal lobes. I see a kid at heart with a fixation on experimentation, a fear of change. One that makes me especially sad is a cartoonish painting of all four Ramones, leathers and shades on, standing inside a globe. The inscription reads: Dee Dee Ramone and Friends. The Ramones and friends, all of them now dead.
In front of Dee Dee's old bass I meet Thomas "Thomaxe" Goze, a French ex-pat who wrote his master's dissertation on Dee Dee's lysergic fiction novel, Chelsea Horror Hotel, and its ties to the downtown punk scene. He emailed Dee Dee years ago about his dissertation and obtained a passport to the United States just to meet him and see him perform in Seattle. Two days after they agreed to meet, Dee Dee was dead. This was after Goze had "taken a big knife and cut off all my long hair, to get the Dee Dee look."
He then shows me his Dee Dee poison heart tattoo on his left arm, specifically below the elbow so it could be seen while he played bass. Goze, who now teaches French and continues to play music, says it's "high time" that this appropriate tribute to Dee Dee was done. "As far as I'm concerned, the Ramones were Dee Dee," he says.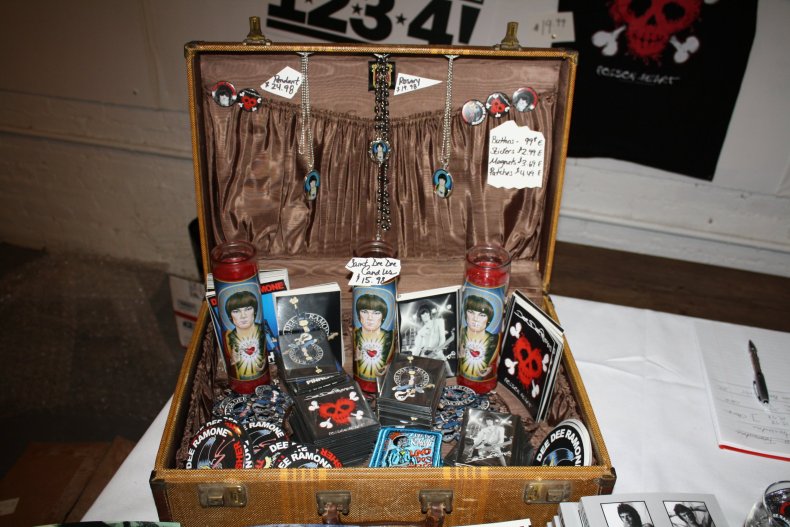 A Ramones superfan, Phil Ablondi, approaches me after he hears me talking to Goze. "I saw the Ramones 14 times, and Dee Dee lit a joint with my lighter once, but I didn't get a hit from it," he says proudly. Ablondi says that he was drawn to the Ramones, as many of us probably were, because they looked like "a parent's worst nightmare."
Everyone I speak to here is pleased with the tribute, especially Jackie Luther, a longtime CBGB bartender who is running the extensive merch booth here. But this celebration of life, ironically, is situated in a place that inspired many a nightmare, too: the Hotel Chelsea.
The hotel holds a place of its own in counterculture history. Bob Dylan and Joni Mitchell wrote some of their most memorable music during stays at the Chelsea, Patti Smith and Robert Mapplethorpe resided there, and Leonard Cohen penned the infamous, eponymous "Chelsea Hotel #2," in which he describes a sexual encounter with Janis Joplin in one of the rooms. The live-in hotel was a meeting place and hallowed ground for rock stars and degenerates, addicts and artists. And, of course, tragedy: Nancy Spungen, the girlfriend of the Sex Pistols's Sid Vicious (a friend of Dee Dee's), mysteriously died in Room 100 of the Chelsea in October 1978.
Dee Dee's novel Chelsea Horror Hotel is inspired by his stay there in the late '90s and melds fact with premonitions and visits from dead punks. Old friends. His paintings of the Chelsea at this gallery are overrun with spiders and ghouls and knife-wielding devils, and in one, he is asking Sid if he killed her. Underneath, it reads: I think he did. I can't tell if Dee Dee looked upon this place fondly. Up until his death in the early 2000s, Dee Dee was still painting dark, cartoonish pieces revolving around the Chelsea. It's possible that it was simply catharsis for the Ramone: Spungen apparently died of a single knife wound to the abdomen, made by a hunting knife. Sid Vicious reportedly owned such a knife, which he had copped after seeing Dee Dee gift one to Stiv Bators, of fellow thrashers Dead Boys.
And what of the Chelsea now? The hotel has been closed to the public since mid-2011, with the vague statement that the joint is being renovated. Online, it says that Hotel Chelsea will be inviting the public to "stay and/or play in 2015," but that's looking a bit dubious, given the tumultuous legal battle that's been happening between the hotel's former owners, its former architect and the current architecture firm renovating it.
Goze says that the first thing he did upon coming to New York was sit in the lobby of the Hotel Chelsea, where he "felt right at home." Bianca Jang, an Australian friend of Goze's who now works in the music industry, tells me she once stayed at the Chelsea years ago. She cut her stay short and left early because she got spooked. Then she tells me she saw phantoms of people, draped in black and white, flitting in and out of the dead-end hallway before disappearing.
"[Hotel Chelsea] is haunted for sure. I never believed in anything like that, but you definitely feel a presence there," she says. I wonder how the poltergeists of those who have fallen and reveled and survived at the Chelsea are responding to their new guests, drywall and jackhammers. Yet I imagine Dee Dee, sedated somewhere between heaven and hell, is smiling down, with that ghoulish grin, upon his legacy.