Pet Dog Almost Eaten by Saltwater Crocodile While Walking on Beach
A pet dog was almost eaten by a 6-foot crocodile while walking along a beach about 10 miles north of the city of Darwin, in Australia's Northern Territory.
Banjo, a 5-year-old Staffordshire bull terrier, was attacked on Casuarina Beach at 9:00 a.m. local time. He had run into the water when the crocodile caught him in its jaws, ABC News reports.
"The water was knee-deep. He just ran into the water to cool off," Tom Cummins, Banjo's 78-year-old owner, told the network. "I heard a bit of a growl and looked around and a crocodile had him in its mouth."
Cummins said that luckily, Banjo is a "very, very strong dog."
"Banjo probably jumped straight onto the crocodile," he is quoted as saying. "[He] must have thought it was another dog, so he bit him back. If he had been a poodle or the water was deeper that would have ended differently."
Cummins said the crocodile retreated about 30 feet from the edge of the water as he took Banjo away. The dog suffered three lacerations but a veterinarian said the wounds were just cosmetic and did not need stitches. "He's very sore at the moment and can't lie down, the poor thing," Cummins told ABC News.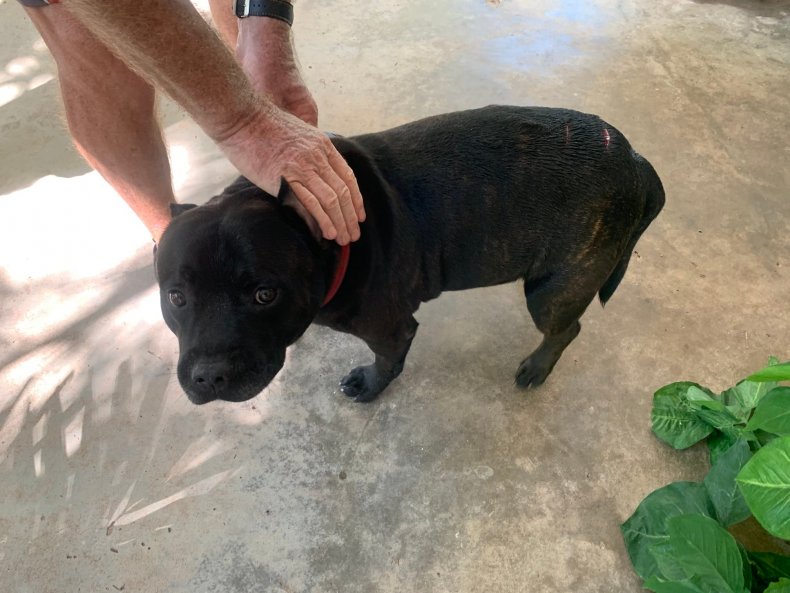 Northern Territory Parks and Wildlife posted about the encounter on its Facebook page, calling the encounter a "tail of survival."
"Banjo the dog fought off an approx. 2m saltwater crocodile at Casuarina Beach near Dripstone Cliffs this morning," the post said. "He managed to escape with some deep lacerations and a fresh appreciation of why we must ALWAYS Be Crocwise around any body of water in the Top End.
"The Crocodile Management Team have so far been unable to locate the croc."
There are thought to be over 100,000 saltwater crocodiles in the Northern Territory. This is the biggest species of crocodile on the planet, and can grow to over 20 feet in length. The Northern Territory's coastal wetlands and rivers provide an "ideal habitat" for the species, the government has said, advising people to only swim in designated areas.
"It should be assumed that any water body in the saltwater crocodile's natural range in the Northern Territory is unsafe to swim, unless signposted otherwise," the Northern Territory Government said.
Ian Hunt, a wildlife ranger for the Northern Territory, told ABC Radio Darwin that saltwater crocodiles become particularly dangerous at this time of year. "With the temperatures warming up and the increased rainfall, we are finding crocs moving around a lot more," he is quoted as saying. "It is the breeding season for the saltwater crocodiles and sometimes they can be a lot more aggressive and a bit more bold or brave, which might explain why this attack [...] happened on the beach this morning."