Woman Offers Free End-of-life Photo Sessions for Dying Pets: 'A Simple Act of Kindness'
Part-time photographer Julia Earhart has warmed hearts with her selfless business decision.
After a friend asked the Detroit, Michigan resident to take pictures of her and her dog, who had recently been diagnosed with terminal cancer, she had an idea of how she could help other pet owners who have to say goodbye to a loved one.
After this, Earhart decided to offer these end-of-life photo sessions for free due to the difficulty pet owners go through losing a friend and high medical costs.
According to Detroit News, Earhart has been an animal lover all her life and currently has two dogs herself, a 2-year-old golden retriever and another one aged 1.
Speaking to Fox 2 News, she said: "It is kind of cool to put my passion for animals, dogs and photography all into one."
While discussing her friend's request, she also said: "She was like 'hey Julia, can you photograph pictures of me and Cudi while he is still in good spirits.'
"This is because she doesn't expect to have too much time with him so I said of course." When the friend received the photos, Earhart added that dog owner starting" sobbing right away.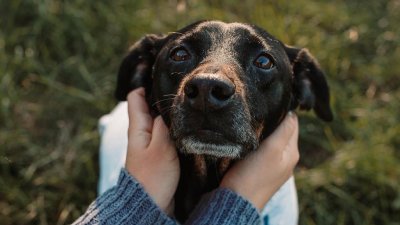 "After that session, it made me realize just how important your bond with your animal, who is sometimes your best friend, can be.
"Photos aren't something a lot of pet owners might think about doing, but I know how much I love my dogs, and I know how much that would mean to me."
Earhart also highlighted why she feels giving the service away for free was the thing to do after having her own dog cancer scare.
She said: "I understand that treatments can be expensive, medicine can be expensive for helping dogs with the end of life if they are ill.
"So I was like why don't I offer this for free to help people be able to have these memories forever.
"I would rather them give the money towards their dogs, favorite toy, favorite treats, spend it and spoil them while you can.
"I know it is going to be emotionally challenging but knowing that at the end of the day it is going to make a pet owner happy, I'm more than excited, I kind of take it on."
Earhart spoke to Newsweek and explained what drove her to offer this service.
She said: "This service is an act of kindness. I was not expecting the attention nor response that I have been receiving.
"To me, doing something kind for someone doesn't have a price to it. Pet parents who have older or Ill animals have the financial burden of medical expenses and I want to give them a gift that will make them happy and help remember their pet."
Earhart also explained to what the reaction has been from pet owners for offering this service.
She said: "I have received over 150 inquiries in 2 days. I did not expect this at all. Individuals have reached out to me to thank me for doing this that are not even in need of this service, as well as others reaching out to tell me I'm just a kind soul."
She also detailed what was the most rewarding thing and hardest thing about offering this service to pet owners.
She said: "Receiving their reaction to the photos. Knowing I have made someone else that happy is enough for me to continue doing this, and makes me want to do it even more."
She continued: "As an animal lover, and someone who has 2 dogs of her own, I think the hardest part is knowing years down the road I will be in their shoes with my own animals.
"I recently had a cancer scare with my 2 year old golden retriever right after I photographed my first End of Life Pet session, and I feel like it was a sign for me to pursue this as I would want the same photos with my animals come their time."
Examples of Earhart's work can be seen on her Instagram page, photographybyjuliamarie and website www.photosbyjuliamarie.com.