Pet Hotel Under Investigation for Animal Neglect
A pet hotel in Indiana is under investigation by local authorities after reports of animal neglect from concerned pet owners
Best Friends Pet Hotel in Castleton offers boarding, day camp, grooming and even vet services to furry friends.
Owners have spoken out to local news stations about their recent experiences with the kennel.
Alex Pierce told WHTR that when he arrived to pick up his 6-year-old German Shepherd on Monday he was told by another customer that his dog had not been cared for.
"She said, 'I just want to let you know they haven't taken care of your dog in any way. He hasn't been fed. He hasn't been walked. They haven't done anything for him,'" Pierce told the station.
He said as soon as he saw his dog he knew something was wrong—his normally 100-pound dog had lost 10 percent of his body weight during the four-day stay at the kennel. Pierce said he had to take him to the vet to be treated for dehydration.
Pierce was not the only person to be concerned by the care given to their pet during their stay.
Fox 59 reported that Billy Brown had never left his dog with a kennel before but had heard good things about Best Friends Pet Hotel. He said they even paid a bit extra to put their dog, Bella, in a suite that came with a camera so that they could keep an eye on her while they were away.
"There were several times during the four days where we noticed on the camera that the food had been spilled and not been picked up for quite some time," Brown told Fox 59.
On Saturday morning they became more concerned when it seemed like no one had come in to check on Bella at all.
"Her blankets were feces-covered, and her distress whining was getting a lot worse. It was something that we hadn't heard before," he said.
He and his family cut their trip short after their calls to both the facility and cooperate went unanswered, he told the station.
After arriving at the kennel around 3 p.m., they found no cars in the parking lot and no one answered the doorbell. He decided to call the police who responded with an officer from Indianapolis Animal Care Services (IACS).
According to a sign on the door, business hours at the pet hotel on Saturdays are from 8 a.m. to 5 p.m., Fox 59 reported.
In Indiana, according to the state's website, neglect or abandonment of an animal is a crime throughout the state. Indiana ranked No. 12 on the Animal Legal Defense Fund's 2020 of the best and worst states when it comes to laws protecting animals. In the report, it said that though the state is in the top tier of states nationally, the state does not require veterinarians to report suspected animal cruelty.
Katie Trennepohl, the deputy director of IACS, told FOX59 that, "It's not uncommon for animals to be left alone overnight, but there should be somebody there at least through the day to care for the animals."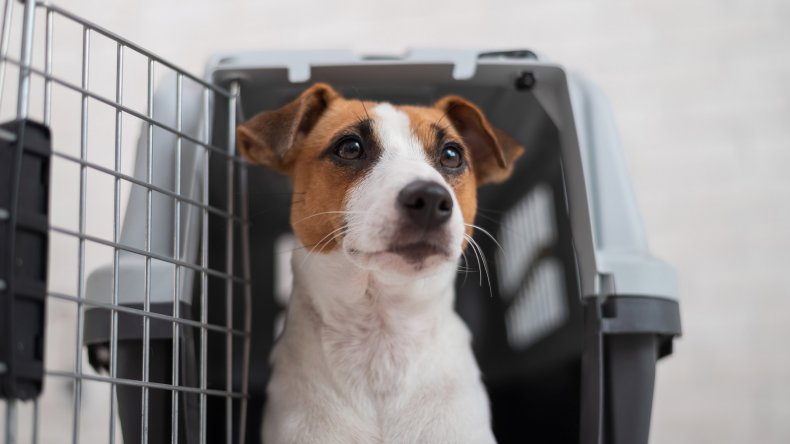 Brown and Pierce are just two of the owners who found themselves in similar situations over the weekend. Multiple others spoke to local outlets about concern over their pets left in the care of Best Friends Pet Hotel recently.
"Nothing is more important to us than the pets in our care," said a statement from Best Friends Pet Hotel provided to FOX59, "While we are aware of the police report that was filed over the weekend by a customer, we did have associates present on both Friday and Saturday taking care of the pets staying with us. We met with the animal control officer over the weekend at our location to discuss the concerns raised and will continue to cooperate with any questions they might have."
Newsweek reached out to the Best Friends Pet Hotel and Indianapolis Animal Care Services for comment.