Pet Parrot Lays Egg, Owner Cooks and Eats It As Dish Divides Internet: 'Taboo Vibe'
A bird owner has revealed that her pet parrot laid an egg, so she decided to cook it and eat it—and claimed it tasted just like chicken.
Redditor Asatoaf—real name Bety Asato—shared a snap of her bird, and her meal, to the site's "Mildly Interesting" forum on Thursday, where her dish has amassed 43,000 upvotes.
Asato wrote: "My parrot laid an egg, it's unfertilized so I ate it."
The trio of photos shows the green bird, the small egg in a frying pan and the resulting cooked egg.
Her dish piqued the interest of numerous Redditors, who asked multiple questions about the taste.
Asato, based in Mexico, claimed it was "just like a hard-boiled egg, not bad."
She went into more detail, adding: "Texture: A little bit softer than a hard-boiled egg. Taste: just like a hard-boiled egg, not bad."
When asked if it tasted "like a chicken egg," she said "yes."
Speaking to Newsweek, Asato revealed that the bird is called Toby, because she originally thought it was male. "We found out she was female about a year ago when she started laying eggs," she added.
"She's a rescue and was gifted to us in 2016 so she's about 5 years old. She lays about three eggs a year.
"About a week ago me and my mom found the egg in the bottom of the cage. I washed it and thought, 'Why not eat it? It looks like a chicken egg, only smaller.' So, I boiled it and ate it right away. During the process I Googled if parrot eggs were edible but couldn't find anything."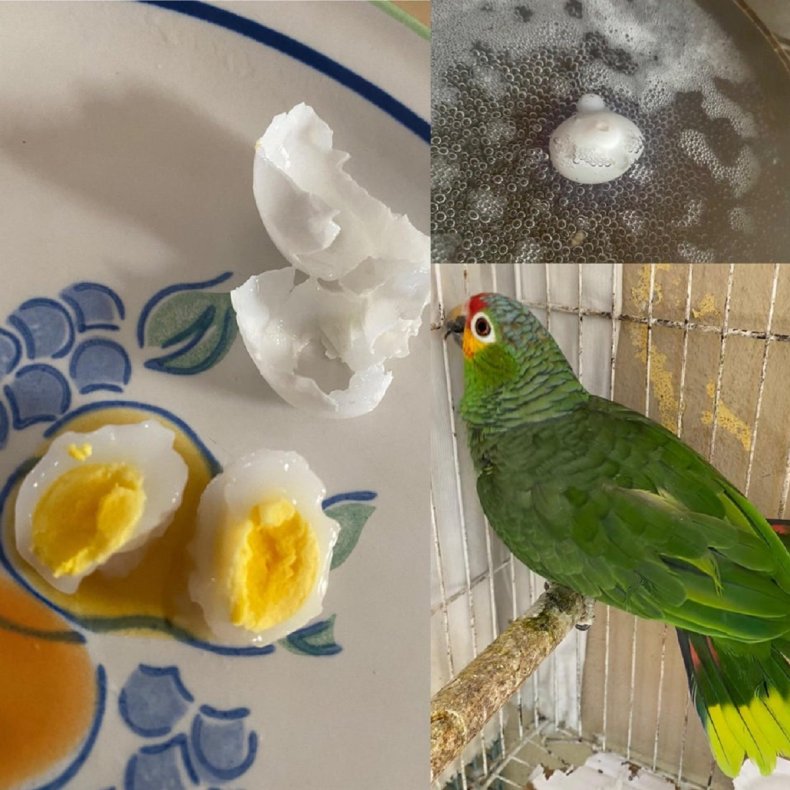 Asato confirmed that it was her first time trying parrot eggs, adding: "I'm from Mexico and I'm familiar trying exotic foods—fried grasshoppers, maguey worms, I've even tried eating lizard meat. I don't know if I would eat it again, it sparked quite the controversy in the post comments."
Some Redditors were a little squeamish about the unusual appetizer. Youngsiebz thought: "This is just so weird to me. There's obviously nothing wrong going on here but yet still can't help feel taboo vibe."
Ceebee4564 commented: "I feel weird seeing it with a house bird, but then again it's just an egg. No different in a way than people eating their pet chickens' eggs."
Skinnyjeansfatpants admitted: "My mom used to cover the bird cage on Thanksgiving so the parakeets wouldn't see her prepping / cooking the turkey."
Firefly128 said: "Oh gosh I hope not. Nothing wrong with eating the egg, but I feel like doing it while the parrot was watching would be a bit weird, lol."
Thesmokingtheologian asked: "But what about that is actually weird? People eat eggs from pet chickens all the time. Birds kept for egg laying are typically not slaughtered for meat."
ShiraCheshire pointed out: "Parrots can talk. Imagine eating the egg of a creature that can ask you how it tastes."
Humans regularly consume chicken eggs, as well as duck and quail. Goose, turkey, partridge, pheasant, emu and ostrich eggs are also eaten.
An unfertilized egg hasn't been fertilized by a male, so no viable embryo will be created.
There's no evidence to suggest it's harmful for humans to eat parrot eggs, although the Centers for Disease Control and Prevention stressed that all eggs need to be cooked thoroughly.
The CDC said: "Eggs are safe when you cook and handle them properly. But it's important that you take care when handling and preparing fresh eggs and egg products."
Update 01/14/22, 4:45 a.m. ET: This article was updated with pictures and comment from Asato.