A PETA Billboard in Baltimore Depicts Jared Kushner As a 'Rich Pest'
A new billboard erected in Baltimore, Maryland, on Monday by the pet advocacy group People for the Ethical Treatment of Animals (PETA) depicts Jared Kushner as a "rich pest."
The large sign along I-83 shows Kushner, son-in-law and senior adviser to President Donald Trump, sitting on a large pile of money in a suit while speaking on the phone with the label "rich pest." To the right of Kushner is a rat holding a small piece of cheese who is a "poor guy just trying to survive."
"Everyone deserves HUMANE rodent control," the billboard says.
Kushner's real estate company reportedly has a controversial past of owning rental properties in Baltimore with unsanitary conditions.
The sign comes after Trump's racially-charged remarks toward Baltimore's black congressman, Democrat Elijah Cummings, whom he claimed was a "racist," and calling the city a "disgusting, rat and rodent infested mess" and a "very dangerous & filthy place" where "no human being would want to live."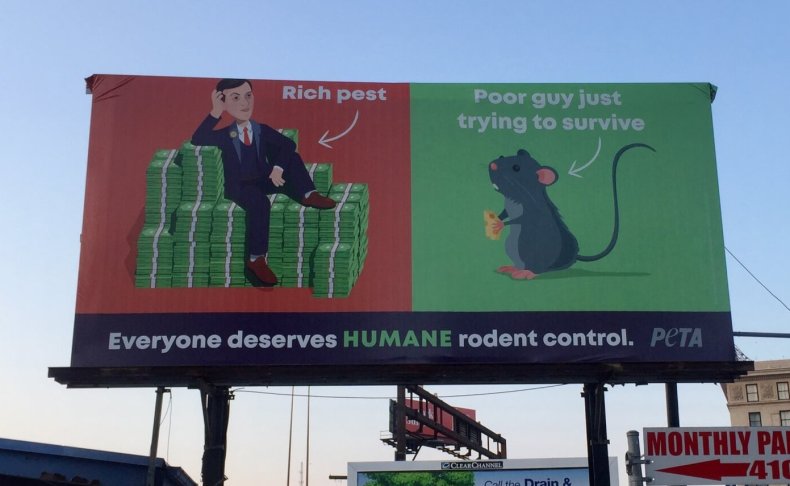 PETA lambasted Trump's prior remarks and the Kushner family's history of owning rental units that have amassed hundreds of code violations in recent years, including bed bug, gnat, rat and rodent infestations, black mold and mold spores. Kushner is married to Trump's eldest daughter, Ivanka Trump, who is also a White House senior adviser.
"Smart, social, resourceful rats who are just trying to eke out an existence suffer when entitled landlords neglect humane rodent-control measures," PETA President Ingrid Newkirk said in a statement. "PETA encourages building managers to evict unwanted tiny tenants using only effective, nonlethal methods."
The organization also released six tips for "humane rodent control," which include administering a form of rat birth control rather than poison, using live-traps and releasing any captured rodents within 100 yards of where they were caught, sealing any holes larger than a quarter-inch in diameter in a building's structure and properly securing waste and food inside a dwelling.
Kushner stepped down as CEO of Kushner Companies when he began his White House role in 2017. However, he still maintains ownership of the real estate company, which was started by his father in the 1980s. The company did not respond to Newsweek's request for comment.
PETA said the billboard is located along N. Gay Street, 120 feet south of the intersection with E. Saratoga Street. It is near Baltimore City Hall, the Baltimore Central District Police Department, the District Court of Maryland and the Housing Authority and City Department of Transportation offices.
Cummings, as chairman of the House Oversight Committee, has spearheaded several high-profile investigations into the president and his administration on several topics, including White House security clearances of Kushner and others and immigration policies, drawing the president's ire.
In the days and weeks following Trump's initial attacks on Cummings last month, Trump doubled down. He continued to blame the 13-term congressman for Baltimore's crime rates. A break-in at Cummings' home in the city occurred just hours before some of Trump's attacks. Following news of the burglary emerging publicly days later, Trump said it was "too bad!"
"Really bad news! The Baltimore house of Elijah Cummings was robbed," he wrote on Twitter. "Too bad!"