PETA Calls on MLB to Rename 'Bullpen' As More Animal-Friendly 'Arm Barn'
As the World Series heads into Game 3 on Friday, People for the Ethical Treatment of Animals (PETA) is using the added attention to baseball to call for the removal of the word "bullpen" from the sport's vocabulary.
In a Thursday statement, the animal rights group said the term "references the holding area where terrified bulls are kept before slaughter."
PETA even offered up the "more modern, animal-friendly term" of "arm barn."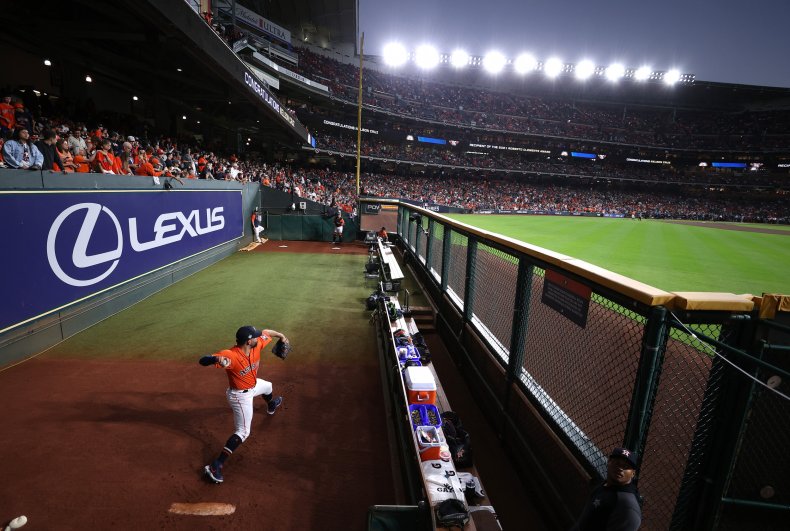 "Words matter, and baseball 'bullpens' devalue talented players and mock the misery of sensitive animals," PETA Executive Vice President Tracy Reiman said in the statement. "PETA encourages Major League Baseball coaches, announcers, players, and fans to change up their language and embrace the 'arm barn' instead."
PETA wrote in its statement that the term "bullpen" is used in the meat industry, and it's an area where "cows are hung upside down and their throats are slit" before they are processed into food products.
The organization also noted the term is used in rodeos. PETA said, "gentle bulls are tormented into kicking and bucking by being electro-shocked or prodded—all are typically held in a 'bullpen' while they await their cruel fate."
The group also changed its display name on Twitter to "Arm Barn" on Thursday to promote its latest effort.
A tweet announcing the call for a name change said "bullpen" is "a word with speciesist roots & we can do better than that." PETA added that using "arm barn" would be "a home run for baseball fans, players and animals."
Elsewhere on Twitter, reaction ranged from people saying minor league pay and instant replays should be of bigger concern to MLB Commissioner Rob Manfred, while others seemed amused by "arm barn" as a suggestion.
One user compared "arm barn" to Facebook's reported name change.
While many social media users mocked the suggested name, "arm barn" had its fair share of fans. Some people even said that while they don't support the rationale for PETA's initiative, they prefer the proposed term over "bullpen."
Thursday's statement isn't the first time this year that PETA has offered a suggestion to MLB. In August, the PETA requested that Cleveland Indians GM Mike Chernoff add a vegan hot dog to the team's between-innings hot dog race.
Noting that the team would be changing its name to the Cleveland Guardians at the start of the 2022 season, PETA said it would also be a good occasion to introduce a non-meat entrant into the between-innings mascot race.
"Will you please add a vegan hot dog mascot to your Hot Dog Derby?" PETA President Ingrid Newkirk wrote in an open letter to Chernoff. "If you agree, we'll gladly buy the Veggie Dog's costume and veggie dogs (sold in your stadium) for all the players."
Newsweek contacted MLB for comment but did not hear back in time for publication.
Update 10/28/21 3:00 p.m. ET: This story has been updated to include additional background information as well as reactions from social media.