With the growing awareness around animal cruelty in recent years, shoppers have increasingly turned away from fur products, as more and more companies come on board with the cruelty-free movement. But as people across the country continue to abandon the use of fur, what happens to the products that already exist?
Each year, PETA spokesperson Moira Colley told Newsweek, the group "receives literally hundreds of furs from people who didn't realize how cruel and violent this industry is. But now, they want to do something, instead of putting their fur back in storage."
While PETA is squarely against the fur industry or any other that relies on harm to animals, including the leather industry, Colley said the fact is that "we can't bring back the rabbits and the foxes that have already been caged and electrocuted for their fur. So, the least we can do is to ensure that the life that was taken away from them is to put to good use."
That's why PETA has just donated more than 200 fur coats to communities in Kabul, Afghanistan who are "in need," in partnership with global humanitarian organization Life for Relief and Development.
"We want to help those who have very few options in life and are struggling to live. Those are the only people with an excuse to wear [fur] to help them during this winter season," she said.
Video and photos shared by PETA show Life for Relief and Development workers handing out the coats to young boys and men. Colley said women also received the coats, with some of the coats belonging to famous names, such as television personality Sharon Osbourne andactor Anjelica Huston.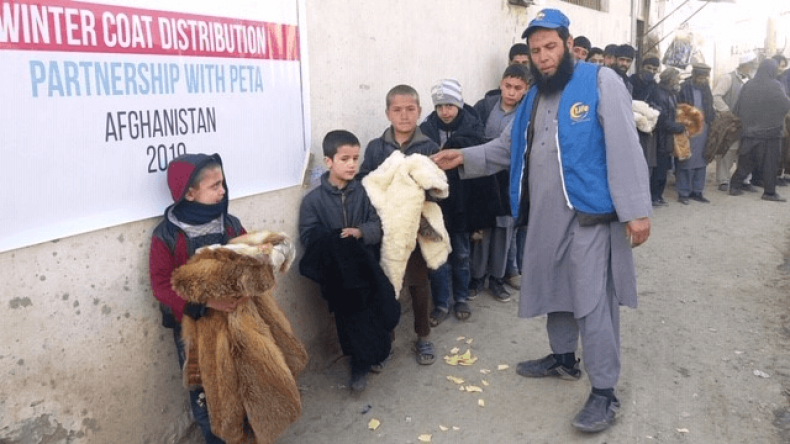 "We don't keep track exactly of which ones [belong to celebrities] but all these people are having a change of heart. We are finding a lot of people are looking for places to make donations."
In a statement shared with Newsweek, Life for Relief and Development CEO Hany Saqr said: "With all of those that are less fortunate around the world, we at Life, were honored to be able to work with PETA to give warmth during the harsh winter to those in need."
In addition to sending coats to Kabul, Colley said PETA's donation program, which runs year-round, also sends unwanted furs to homeless shelters and wildlife rehabilitation programs, where they are often used as bedding for orphaned animals.
Colley said she wanted to encourage anyone who is considering parting ways with their fur coats and the industry to donate to PETA, so that furs can go to those in need.
"This year it was Kabul and...now that we're getting into the thick of winter, we're really wanting to remind people that obviously it's not possible to bring back the animals that were electrocuted for their fur, but we can at least bring back some relief to people in need."