PETA Founder Newkirk Explains Her 'Unique' Will: Barbecue Me and Send My Eyeballs to the EPA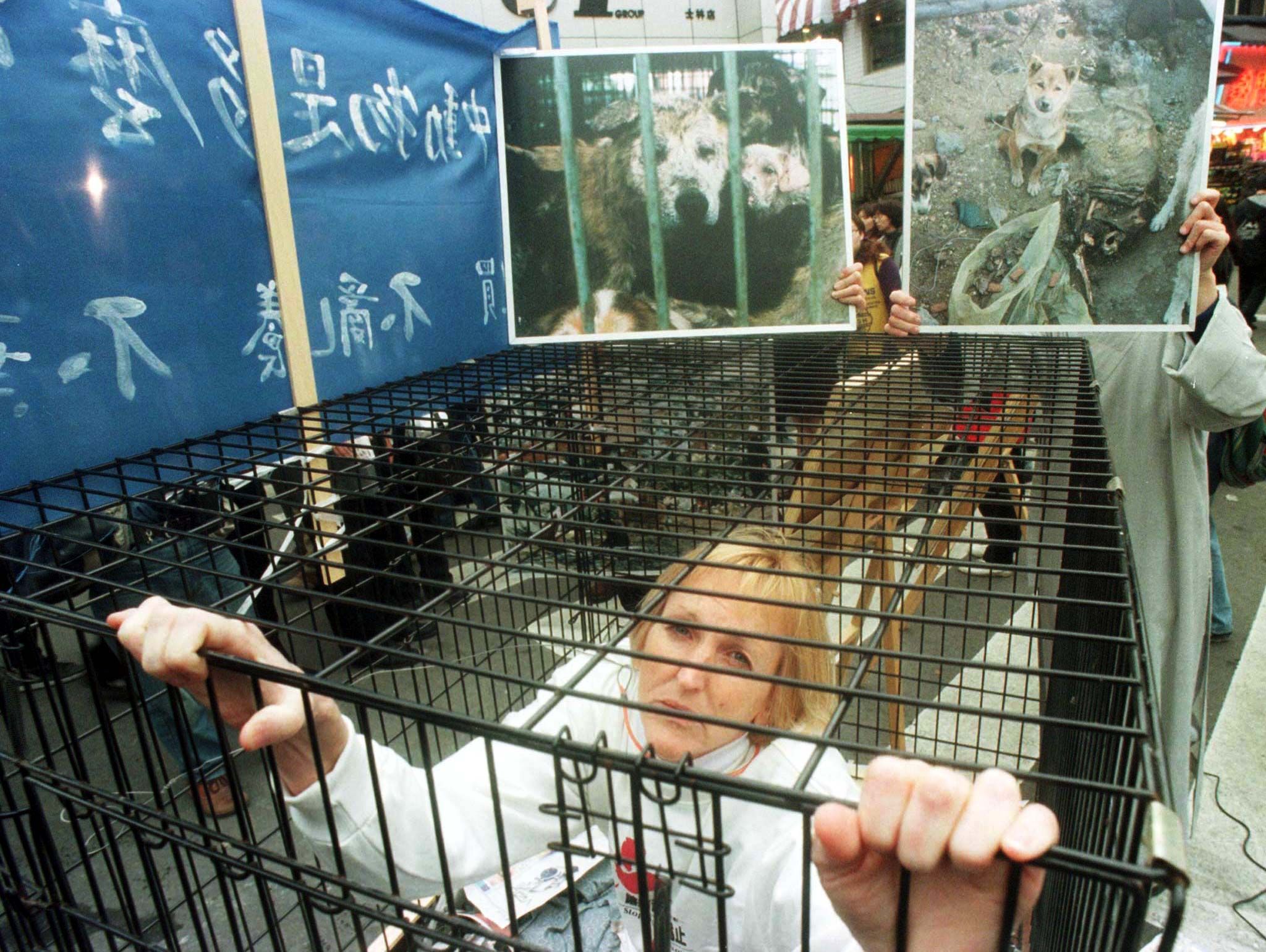 People for the Ethical Treatment of Animals (PETA) president and co-founder Ingrid Newkirk is putting her life and death into activism—literally. On Wednesday afternoon, Newkirk published her "unique" last will and testament, where she has "divvied up the parts" of her own body to alleviate animal suffering in the afterlife.
This means that upon her death, Newkirk wants the "meat" of her body "to be used for a human barbecue," her skin "to be removed and made into leather products, such as purses" and has instructed PETA to remove, mount and deliver one of her eyes to the head honcho of the U.S. Environmental Protection Agency "as a reminder that PETA will continue to be watching the agency until it stops poisoning and torturing animals in useless and cruel experiments."
Newkirk conceived the idea after a near-death experience rocked her in 2009. On a flight back to her home of Norfolk, Virginia from Minnesota, the aircraft got caught in a violent wind shear during a storm and was blown out to sea. "When things like this happen to you, you have thoughts," she said in an interview with Newsweek. "What I was thinking was —'cause this was the end—Well, there goes my activism!"
She survived the experience, but as many who brush with death do, she began to think critically about her life. The next day, she had a thought.
"You get these funny flashbacks of like—'I shouldn't be here, I should be dead.' And I thought about how lucky I was to continue arguing that people not be cruel to animals," she says. "If your body had pulled through and [you] gave it PETA, they could use bits of your body to continue your activism through death."
Newkirk called her mother for her blessing, then drafted the will with the help of a pathologist and an attorney who assured her she wasn't breaking any laws.
But Newkirk wants the will to be a collaborative, evolving document, and is encouraging animal lovers to send her their wildest ideas about what to do with her body "because I won't have any use for it when I'm gone," she says. "I've got all sorts of things—kidneys, a lot of my heart left, my toes, my ribs."
Her heart, several fingers and liver are already spoken for: One of her thumbs, pointed in an upward motion, is to be mounted and given to someone who has done the most to promote PETA-approved alternatives to animal abuse, while the downward-facing thumb will be mounted and given to someone who has "frightened and hurt animals in some egregious manner." Her liver is to be vacuum-sealed and shipped to France, in punishment for the nation eating tons of foie gras. Part 2j of the document instructs that "a little part of her heart" is to be buried close by the Ferrari pits where German Formula One racer Michael Schumacher won the German Grand Prix. Why? Newkirk is a diehard F1 junkie.
As for that human barbecue, Newkirk isn't reaching out to cannibals just yet. She said the barbecue's location depends on what's going on at the time of her death and is at the discretion of PETA. "It could be at the National Pork Convention Rally" or "to protest the transport of animals along a highway," or she says it "might even be good to serve at a political event to say it's time to put vegetarian and vegan meals in the schools." The plan is to lure people to the barbecue with an old cooking trick: sizzling onions on the grill.
Since writing the will, it seems Newkirk has been mired in the macabre: We speak about funeral plans and the possible music she might want played at her service. An obvious choice, she says, would be her friend Morrissey's 1985 album Meat Is Murder; the morose former Smiths frontman is a famed vegan and currently is taking PETA on the road to table at his concerts. At her service, she is requesting that attendees do something commemorating the organization's work, such as eating a vegan meal or walking the dog at the local shelter that day.
Since its inception in 1980, PETA has become notorious for their unusual marketing campaigns including advertisements comparing women to slabs of meat. This desire to shock is a conscious choice for the cause, Newkirk says. "We try to have fun and we try to be provocative just to get people talking about what happens."
Drawing from her childhood in India, she has proclaimed that her feet be used as an umbrella stand, like elephants used to be. The umbrella-foot stand is the first idea that Newkirk wrote, and she speaks about it excitedly. "It will be so ridiculously outrageously, stupidly wrong," she says. "I wish that was the reaction people had when they see other parts of animals being made into something as frivolous as this."