PETA Plans Protest for Macy's Thanksgiving Day Parade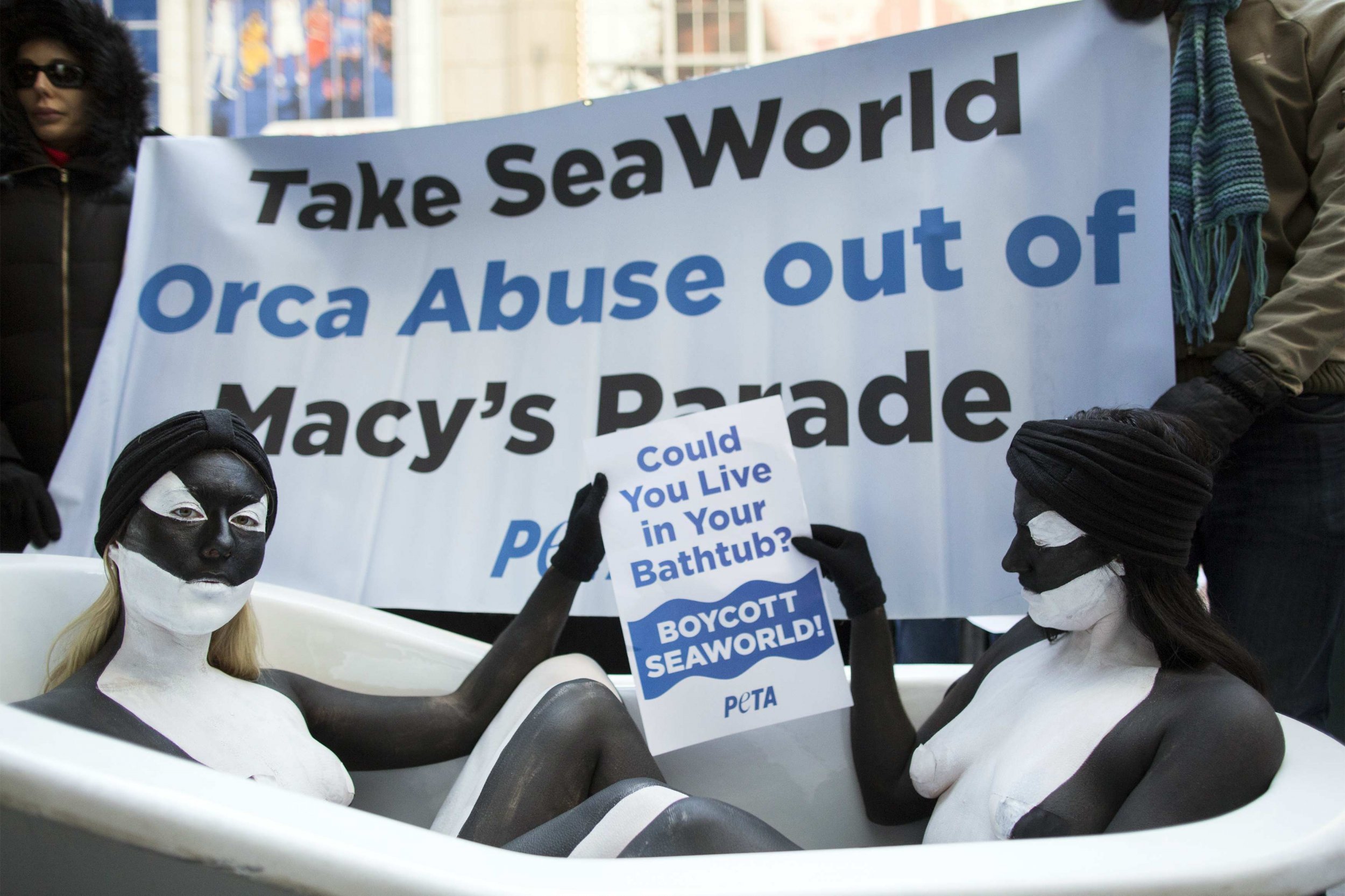 Last week the animal rights group, People for the Ethical Treatment of Animals (PETA), staged a naked demonstration outside of Macy's department store in New York City to protest the inclusion of a SeaWorld float in the annual Macy's Thanksgiving Day Parade. Since Macy's looks to proceed as planned despite the group's objections, PETA has another stunt in store.
"We do have things in the works," David Perle, PETA's senior media coordinator, told Newsweek. Though he declined to provide specific details, the activists "know that Macy's will feel our presence," Perle said. "You should keep an eye out for us."
Last Thursday's demonstration consisted of a handful of people, including two seemingly naked young women painted to resemble orcas. They sat in a bathtub to represent the tanks the large creatures are confined to at the Florida theme park, which animal rights groups contest are detrimental to the animal's mental and physical health.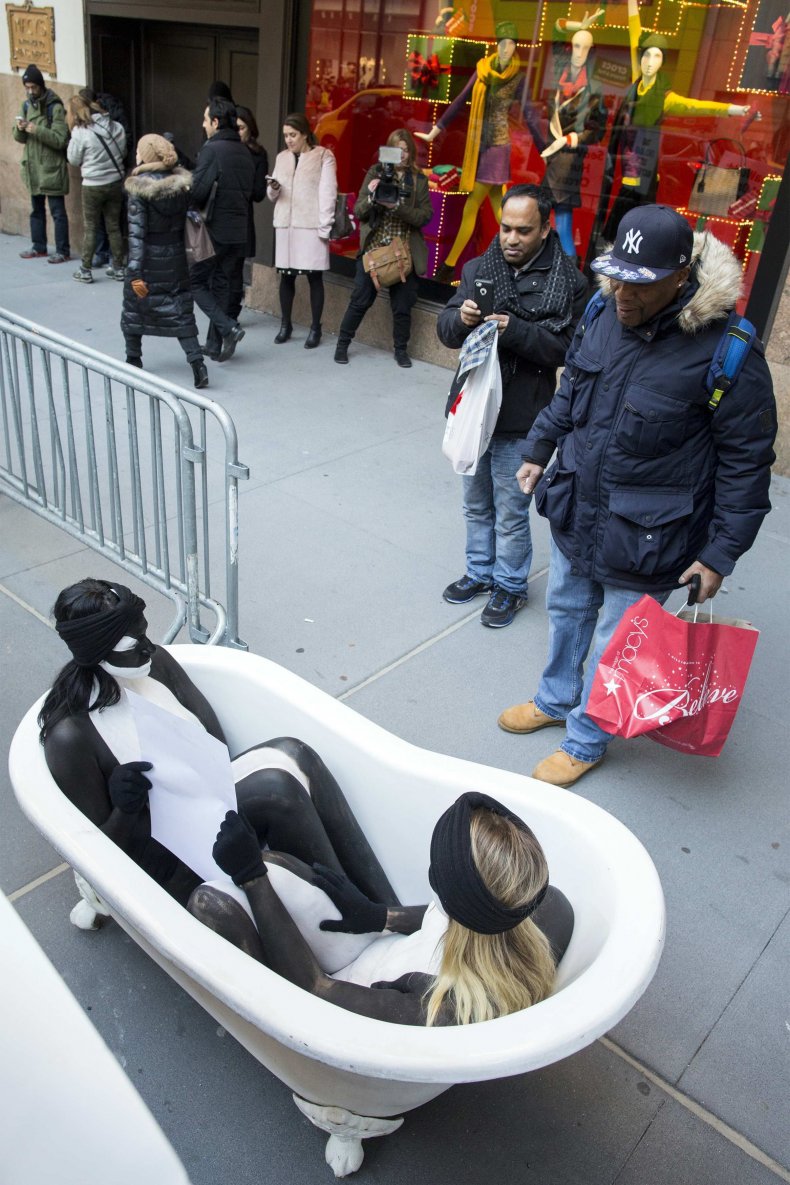 The treatment of orcas shot into the international public consciousness with the 2013 release of Blackfish, a documentary depicting the animals' capture and captivity by various marine parks—the most notable being SeaWorld.
But SeaWorld denies the allegations. "SeaWorld's animals are well cared for and their health and well-being is a responsibility we take extremely seriously. We are proud of our world-class standards of care," SeaWorld spokeswoman Aimée Jeansonne Becka told Reuters.
PETA engaged in a similar set of demonstrations last year. Prior to the 2013 Thanksgiving Day Parade, the group staged a protest outside the Macy's department store in Herald Square in which a man, dressed like an orca, floated in a small tank.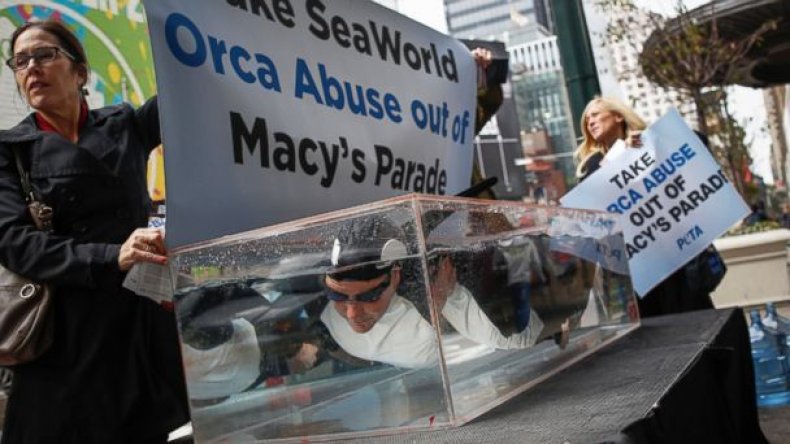 During the parade itself, PETA activists gathered along a portion of the parade route and held up "Boycott SeaWorld" signs. ABC News reported that as the SeaWorld float approached, a 12-year-old girl participating in the protests and carrying a sign jumped over the parade barricade, but police quickly sent her back.
In response to last year's PETA protest, Macy's told ABC News, "The parade has never taken on, promoted or otherwise engaged in social commentary, political debate, or other forms of advocacy, no matter how worthy. Its mission has always been about entertaining millions of families and spectators."
The statement continued, "While it is understandable that such a widely embraced event can sometimes feature elements or performances that some people may find disagreeable, Macy's intention is to provide a range of entertaining elements without judgment, endorsement or agenda. We cannot control external forces that wish to impose their own perceptions on the parade, and so we will remain steadfast in following the guiding core of a decades old mission, celebration and entertainment for all."
Macy's has not yet responded to a request for comment by Newsweek.
The 88th annual Macy's Thanksgiving Parade starts at 9 a.m. EST on November 27 in New York City. The event is expected to include thousands of participants, attract a massive crowd, and be televised to millions nationally. So whatever PETA plans to do, it's likely it will get some attention.