PETA Suggests Removal of Georgia Bulldogs Mascot, UGA Fans Bite Back on Twitter
A live English bulldog named Uga has been the mascot at University of Georgia football games since 1956. Uga is at every home game and most major road games.
The university and its fans treat each Uga, now on No. 10, like royalty. Each Uga is awarded a varsity letter in the form of a plaque, they have a school sweater to wear and Sports Illustrated this year even named Uga "The greatest mascot in college football history." The Ugas are buried at the stadium in marble vaults near the main gate.
So when a photo showed the current Uga inside his dog house at Sanford Stadium during a rainy home game against Texas A&M last Saturday, the People for the Ethical Treatment of Animals (PETA) tweeted that Uga looks "miserable" and the school should "retire Uga immediately."
"HE LOOKS MISERABLE!," PETA tweeted. "No dog deserves to be packed up, carted from state to state, and paraded in front of a stadium full of screaming fans. ... Animals are NOT mascots ... @UGAAthletics must retire Uga immediately! He should be at home with a loving family."
PETA had no mention of Uga having a pregame photo op with Texas A&M's mascot Reveille, or Miss Rev, a collie who is the highest-ranking member of the university's Corps of Cadets.
PETA didn't mention Uga's appearance at the Sugar Bowl in January when, during another photo opportunity with the University of Texas Longhorn mascot Bevo, the steer tried to gore Uga, sending each mascot's handlers scurrying to diffuse the situation.
The tweet by PETA had Georgia football fans blasting PETA and defending their beloved Uga.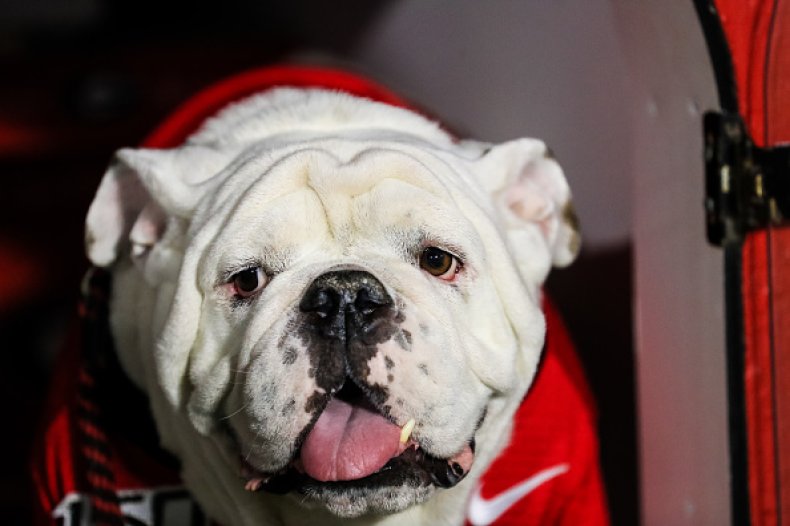 Beau Franklin posts a video and sentiments toward Uga, saying, "Replying to
@peta and @UGAAthletics ... Behold the terrible treatment of UGA."
One person said bulldogs typically look "mad, tired."
"Mate, all bulldogs look like that naturally.They all look mad, tired, or bitchy at some point.
You know it's ironic how you "care" about this dog but don't mind killing or banning (which would likely result in death) others nationwide."
Patrick Carr said Uga has a cushy life many adults "could dream of."
"Uga lives a life most of us only could dream of... he has a loving family, and is more popular than your organization will ever be. Nice try. Delete this tweet. Surprised you guys ain't busy euthanizing as many animals as you possibly can."
Torrey O'Connor, who goes by the handle @bulldogmomma73, said her happy and healthy bulldog in her home typically has the same look that Uga had during the game last Saturday.
"Have a Bulldog that is very happy and healthy in my home. She looks like this most days, in between the snoring that is. These guys can literally sleep sitting up. For being PETA, I expect you to know more about the breed before you speak."
This fan said PETA should "focus on real abuse stories" and not a dog who rides in special cars gets special treats.
"PETA- coming after a FAMILY OWNED, BELOVED dog who gets the treatment beyond what most people get? A special car, heated/ air conditioned house, an apartment for games, special treats and bath time? Focus on real abuse stories because you're losing what supporters you have left."