PETA is calling on Nordstrom to stop selling fur after the charity's undercover investigation revealed the horrific treatment of animals in Russian fur farms.
The animal welfare charity said its exposé into the Russian fur trade revealed animals, including rabbits, minks and chinchillas, were subjected to shocking abuse at five farms. One of the operations had 700 cages containing 2,000 animals in just one shed, PETA said.
Video footage showed a worker bashing rabbits with a metal pipe and stringing them upside down before hacking off their heads while the animals were still conscious, according to the charity. Another clip showed a chinchilla screaming in pain during a botched electrocution.
In light of the revelations, PETA is urging Nordstrom, which it says banned fur from its own line but continues to sell fur sourced from Russia, to follow other retailers including Macy's and Bloomingdale's and top designers such as Versace, Gucci and Giorgio Armani in banning fur.
According to PETA, a worker at one fur farm said the facility sells animal skins to Kopenhagen Fur, a fur auction house in Copenhagen that describes itself as the world's largest. "Kopenhagen Fur source only a very limited number of certified skins from Russia and these don't include rabbit and chinchilla as PETA claims," a Kopenhagen Fur spokesperson told Newsweek. "As PETA is a radicalized vegan animal lobby organisation who believe it's a moral sin to take honey from bees, they are not suited to judge animal welfare objectively. This we leave to independent experts who, if Newsweek had cared to ask them, would say the animal welfare is generally good in the regulated fur trade."
PETA alleged that another facility it investigated supplied furs to Saga Furs, a Finnish fur auction house that markets itself as a responsible and ethical source for fur, describing itself on its website as having "a reputation as the world pioneer in responsible fur breeding." A Saga Furs spokesperson told Newsweek: "Any allegations that Saga Furs is provided fur from farms in Russia which treat animals unethically is denied in full. Saga Furs takes the ethical treatment of animals very seriously and at all times requires farms used to comply with strict criteria and regulation. We have received no evidence or substantiation to suggest that any farms providing fur to Saga Furs have been the subject of PETA's alleged investigation."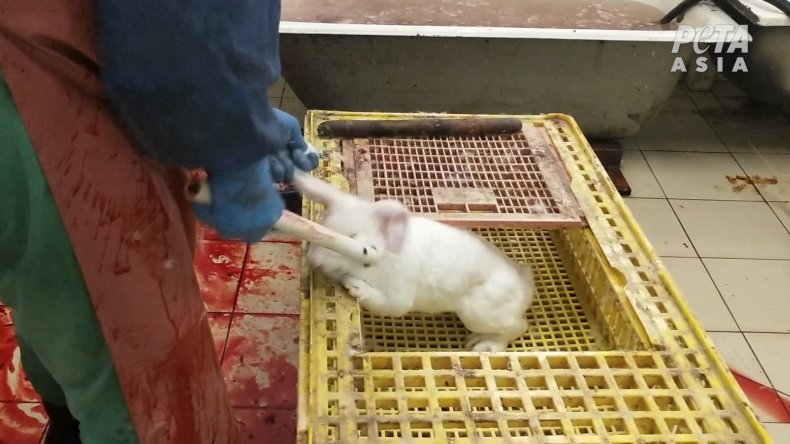 PETA said video footage showed some rabbits were "alive and twitching" when a worker decapitated them after a "crude" attempt to stun the animals by bashing them over the head with a pipe.
Another worker failed to place electrodes on a chinchilla correctly—and the animal "shrieked, twitched and convulsed" in agony for more than a minute during the botched electrocution. It fell still but was still alive when the worker broke its neck, according to PETA.
Animals were locked in dirty, wire-mesh cages with some exposed to the elements and others kept in dark unventilated rooms, according to the charity. Minks and sables were seen pacing "incessantly," which PETA said was a sign of psychological stress.
One worker claimed animals that received themselves in the "wrong" part of a cage were killed. "Any animal must be clean," he told the charity. "If you produce not clean skin, you're losing a lot of price."
With the holiday shopping season underway, PETA also urged customers to be aware of the origins of every item made from fur. "Shoppers should keep firmly in mind that behind every fur coat, collar, or cuff is a filthy wire cage, a shrieking animal, and a blood-soaked slaughterhouse floor," PETA executive vice president Tracy Reiman said.
"This holiday season, PETA is urging Nordstrom to give some peace to these tormented animals by joining the majority of the fashion world in going fur-free."
According to PETA, Nordstrom continues to sell fur from countries like Russia and China, where a previous investigation revealed rabbits were being skinned alive.
In a statement to Newsweek, a spokesperson for Nordstrom said: "We've been paying close attention to this topic, particularly given the recent announcements coming out of various brands, publications and local governments.
"We realize our customers have different opinions, and our commitment to them has always been to listen to that feedback and be open to change. We try to balance those concerns with the fact we currently still have many customers who tell us they want to be able to purchase fur products at Nordstrom."
This article has been updated to include statements from Nordstrom, Kopenhagen Fur and Saga Furs.
Correction 12/5, 11:40 a.m.: This article originally stated that a facility investigated by PETA supplied furs to Saga Furs. This is an allegation by PETA and the article has been updated to reflect this.