Pete Alonso Trends After Mic'd up Mets Player Drops F-Bomb on Live TV
New York Mets first baseman Pete Alonso started trending on Twitter after dropping an F-bomb during ESPN's broadcast of the Mets' game against the St. Louis Cardinals.
Alonso, who was named 2019's Rookie of the Year, was mic'd up for a segment of Wednesday's spring training game, offering commentary and anecdotes. He narrated the game live from the field, in one amusing segment, calling the outs from first base. While warming up to bat, he spoke about Florida State coach Mike Martin not thinking he was good enough. "Joke's on him," he quipped from the dugout.
As Cardinals outfielder Harrison Bader stepped up to bat, Alonso taunted the player. "If he gets over here, I'm gonna give him hell," he said. "Did you guys get that? He just f**kin' smiled at me."
ESPN did not immediately respond to Newsweek's request for comment.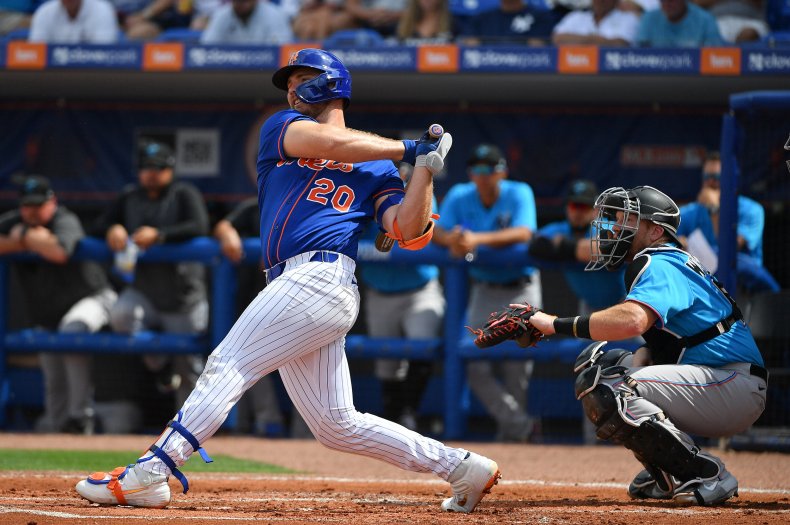 Thankfully, Metsmerized Online writer Michael Mayer captured the moment and shared it on Twitter.
Fans celebrated Alonso for cursing on live TV. One fan even suggested mic-ing him up more often.
Comedy writer David Brody wrote that Alonso's gaffe shouldn't come as a surprise, since he invented the acronym "LFGM," an adaptation of the three letter abbreviation for "Let's Go Mets." It's not difficult to guess what the "F" stands for.
Besides the player's off-the-cuff F-bomb, other sports fans praised ESPN's decision to try something new and exciting to make the game more interesting for all fans. Other Twitter users wrote that they'd like to hear Alonso mic'd up for more games.
Another fan tweeted that Alonso's f-bomb may ruin segments for future games, but also wrote that he expects it from the Met.
This isn't Alonso's first questionable remark. In a February interview with The New York Post, Alonso phrased his hope for a Mets World Series win a candid matter. "I want to be celebrating on a parade float, drunk as hell, that is the goal," he said. "I want to be having good times with everybody celebrating, holding up a trophy."
Later in the game, infielders and occasional left-fielders Dominic Smith and J.D. Davis were also mic'd up. Smith joked about Davis' former team the Houston Astros, and their cheating scandal. "Davey has a ton of cheat sheets. You know what I'm saying?" Smith chimed in, when Davis was asked about using a cheat sheet for playing different positions.