Democratic presidential candidate South Bend, Indiana Mayor Pete Buttigieg responded to protesters holding up banners critical of him, one of which prompted him to say "that's really mean."
Buttigieg appeared at a town hall event at Grinnell College in Iowa Friday, which at times drew questions from self-described liberal and progressive students and attendees critical of his "pro-corporate" campaign. The candidate welcomed the "candid" conversations about policies ranging from health care, "common sense gun laws" and how millennials and other young people are a "generation impatient for change," as host John Grennan of the Poweshiek County Democrats prefaced the event.
"Do you want to go ahead and do the thing?" Buttigieg said at the end of the Friday event, encouraging the scattered protesters to unfurl their homemade banners attacking him. "Might want to pass it down a little bit so we can see. I still can't make it out."
Buttigieg began piecing the words together on one of the banners. "'You will...' No I won't. 'You will kill us?' That's really mean," he said.
"Wall Street Pete," Buttigeig said, making out another banner. "I remember when they said the same thing about Obama and then he set up the CFPB [Consumer Financial Protection Bureau] and put Elizabeth Warren in charge of it and delivered some of the toughest regulations on Wall Street ever," he replied, eliciting cheers from the less-critical audience members.
Several prior questions questions from the audience openly criticized Buttigieg and accused him of "attacking" fellow 2020 Democratic candidates Senators Bernie Sanders and Elizabeth Warren. But Buttigieg rebuked that claim and even reached out to some moderate Republicans. "You cannot love a country if you hate half of the people in it," he said.
Despite repeatedly vowing to curb climate change, the "gun violence epidemic" and to improve the economy for middle-class Americans, Buttigieg was targeted by progressive activist signs that complained, "Pro-corporate funding equals climate chaos" and "No Fresh Start."
Last week, Warren criticized Buttigieg for holding private corporate fundraisers while her campaign has repeatedly refused to accept money from similar high-priced corporate events. "I think that Mayor Pete should open up the doors so that anyone can come in and report on what's being said. Those doors shouldn't be closed, and no one should be left to wonder what kind of promises are being made to the people that then pony up big bucks to be in the room," Warren told The New York Times.
Buttigieg repeatedly stressed that the day after Trump is ousted from office will be one of the nation's most difficult. "We will be even more divided, even more exhausted from fighting and being torn up by politics...the crises that brought us to this point will still be there."
He also declared massive overhaul to the U.S. medicine and health care systems: "You're not free if you don't have health care."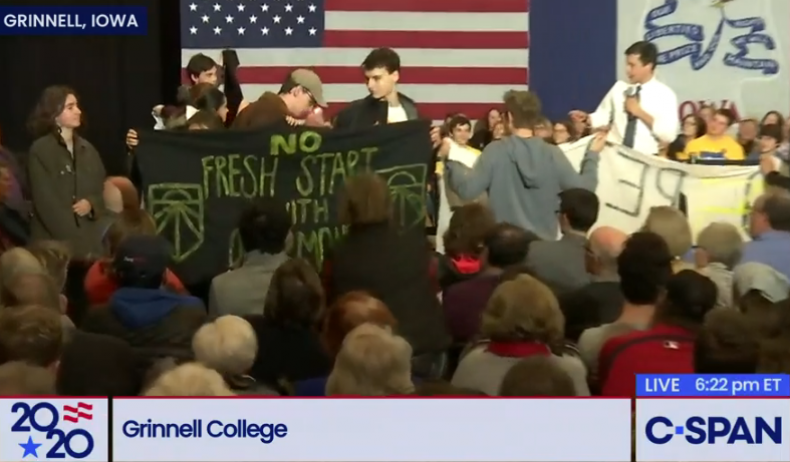 This was not the first Buttigeg townhall in which attendees were outright critical of the 2020 Democratic candidate. After the shooting of an African-American in his hometown of South Bend, Indiana, Buttigieg was criticized for appearing "overwhelmed" as he briefly stopped campaigning in order to address the incident.