Pete Buttigieg Makes Splash in New York, but Voters Still Aren't Sure About the Rising 2020 Candidate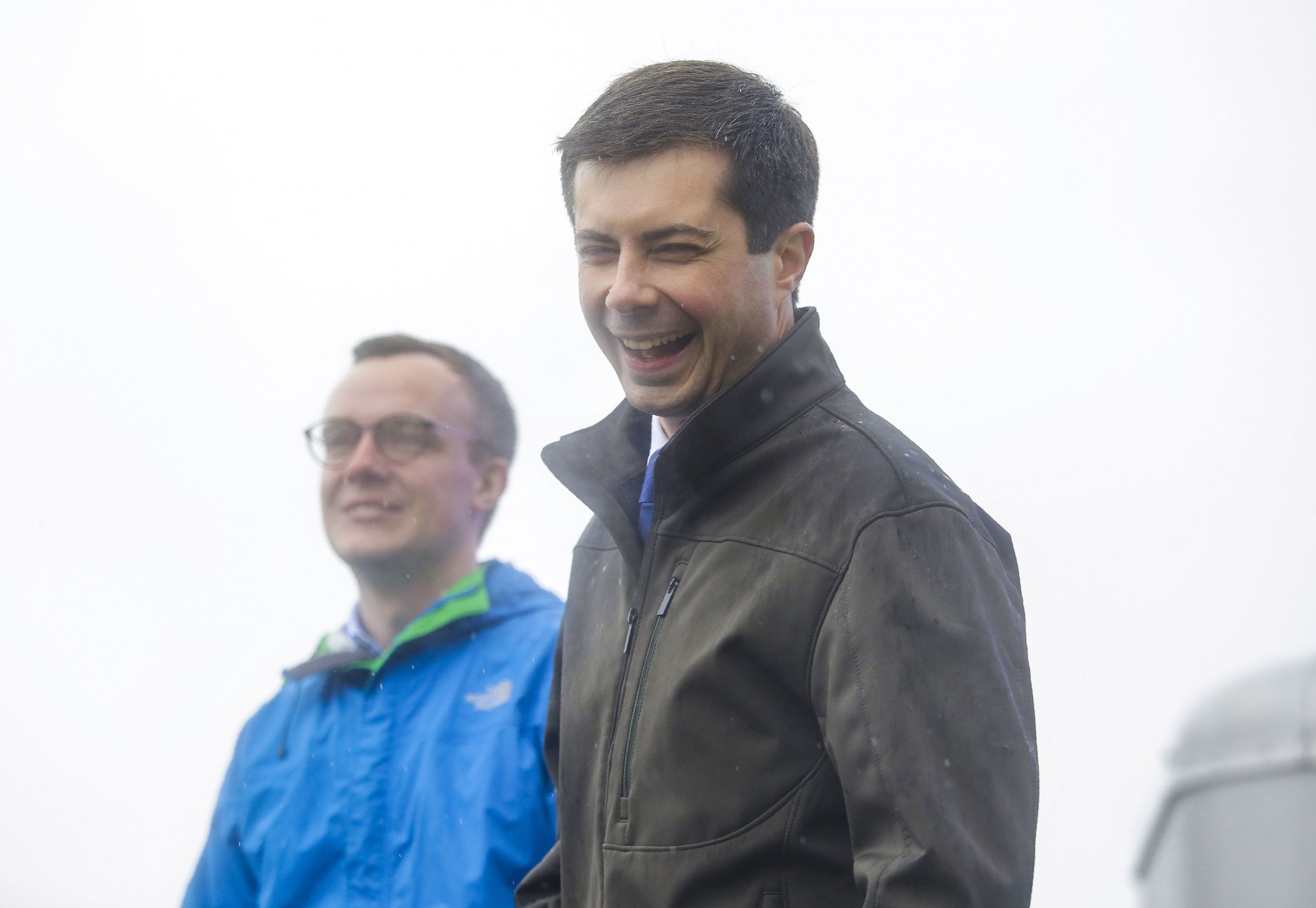 Democratic presidential candidate Pete Buttigieg took the stage at Brooklyn Bowl, a bowling alley and concert hall in Williamsburg, Brooklyn, to address a relatively young, and largely white crowd of potential New York donors Monday night.
Decked out in his signature white shirt with sleeves rolled up and a tie but no jacket, Buttigieg stood alongside his husband, Chasten, to answer crowd-sourced questions. Over the course of about 40 minutes, the candidate discussed issues ranging from how to beat President Donald Trump to why he supports reparations for slavery.
"Racism is the original sin of this country and the next president has to be proactive and affirmative about this, especially if the next president is white," he said.
The South Bend, Indiana, mayor got personal, telling the crowd, which included celebrities like Sara Bareilles and Kal Penn, that he would like to have a child soon. He also aired a little marital grief. Chasten chided Buttigieg for not loading the dishwasher, to which Buttigieg responded by saying he could not load the dishwasher before his husband unloaded it.
Outside of the event, on a windy and wet April evening, and still a year away from the New York Democratic primary, many voters said that they weren't sure if Buttigieg was their top pick yet but they had come out to the free event to see him in person and try to make up their minds.
"I like what this guy is doing and I want to see how far he's going to go. At the moment he's my No. 1 pick, but I'm not fully committed because there's still a long way to go," said Silas Taylor, who lives in Manhattan.
"At this point he's my No. 1 pick, but I'm still checking out the field," reiterated Susan Bargman of Brooklyn. "I'm not sure if he has what it takes to go all the way yet. He certainly has the stamina, the ability and the smarts, but I don't know if other Democratic voters are going to be skeptical about his viability and his lack of experience."
The 37-year-old Buttigieg just passed the age threshold to run for president in 2017 and has served only as mayor of South Bend, a city of about 100,000 people.
Still, comparisons to former president Barack Obama were also abundant. Susan Rice, Obama's former national security adviser, donated $1,000 to Buttigieg's campaign this quarter and Obama's former mentor Senator Dick Durbin said he speaks with Buttigieg on the campaign trail regularly.
"I just said to my friend, 'If you want the closest thing that I've seen to Barack Obama other than Barack Obama, it is this man,'" said Nick Russo, also from Manhattan. But, said Russo, "Barack Obama, in hindsight, looks like he was doing a really good job trying to speak to young people, and I feel like Pete is speaking in the most authentic way that I've ever seen someone speak."
Buttigieg, who is a Harvard graduate, Rhodes scholar and polyglot has "the right amount of intellect but also knows how to communicate the intellect to people," said Taylor. "He's never talking down to people. He's communicating a message and a stance on things that we all want and that people can connect with."
Russo said that he has never supported a political candidate before, but that he discovered Buttigieg through his friends' social media posts and was drawn to him. "I've never cared so much," he said. "He's just never stumped. I can't wait until he's debating Donald Trump and Trump tries all of his tricks and Buttigieg remains cool, calm and collected."
One Manhattan supporter, Jocelyn Palmer, said she'd rather back a female candidate, but she doesn't connect with any of them the way she has with Buttigieg. "I just love him. For me it's like a draw like I had with Obama," she said. "Honestly, I like everything most of the candidates have to say, but it's about having an emotional connection. I really tried to give my support to a female candidate, but none of them have what Pete does."
Others commented on Buttigieg's magnetism, 'I think that even if this isn't his election he has a really bright future," said Denise Ozpinar, who works in fashion in Manhattan.
"America doesn't want Washington insiders, they proved that with Trump," said Taylor. "Maybe now we'll get someone who isn't a Washington insider but who is also smart and knows how to govern a little bit."
Late Monday night, Buttigieg made his first television appearance since announcing his run, joining a host of other candidates in taking questions from host Rachel Maddow on MSNBC. There he discussed his decision to come out as a gay man in his early 30s.
"It was kind of a leap of faith," he said. "Don't get me wrong. As you know, there's plenty of ugliness that comes in from all over the place. Most people I think are either supportive or even enthusiastic about the idea of the first out person going this far. Or they find a way to let me know they don't care, and that's historic, too."
Buttigieg has enjoyed a meteoric rise in primary polling over the past few weeks, going from just under 1 percent of the vote to nearly 10 percent. He now trails right behind Bernie Sanders and the yet-to-announce Joe Biden. He raised about $7 million in the first quarter, putting him on par with the middle of the primary pack.
But with that rise comes an increase in scrutiny and criticism. Fox News' Laura Ingraham dedicated her whole monologue Monday to tearing down the candidate as "just another conventional liberal."
"If this were George W. Bush presiding over a cratering economy and an unpopular war abroad, maybe a guy like Buttigieg would stand a strong chance," she said. "But given the prosperity at home and America's place in the world, the left had better find another Messiah. There will be no resurrection for this one."
Tonight Show host Jimmy Fallon took the opportunity to poke fun at Buttigieg's lack of experience.
"By age 14, I knew I wanted to be the President of the United States—and boy, the two years since have just flown by!" joked Fallon while in character as Buttigieg. "I'm a Rhodes scholar, a lieutenant in the U.S. Navy, and the two of the smartest kids in the world stacked on top of each other."