Pete Buttigieg Has Been Away From South Bend For Almost Half of the Past Three Months (And It's Doing Just Fine Without Its Mayor)
A local newspaper has revealed that Democratic presidential candidate and South Bend, Indiana, Mayor Pete Buttigieg has been out of his home city for almost half of the last three months. But city officials told The South Bend Tribune they have been doing a fine job without him in town.
The Tribune pieced together Buttigieg's schedule from a redacted official calendar, from news reports and from other online sources. The publication noted the mayor had spent, or was scheduled to spend, 55 days in total out of town between Feb 1 and May 31. Looking at weekdays, that equated to 39 of 86 days. In both instances, that works out to about 45 percent.
Buttigieg previously addressed concerns over his campaign time by saying his "fantastic" staff would be able to shoulder the burden of his absence, The Tribune reported in January. He added he would be still be plugged in to the city's goings-on via email and his cell phone.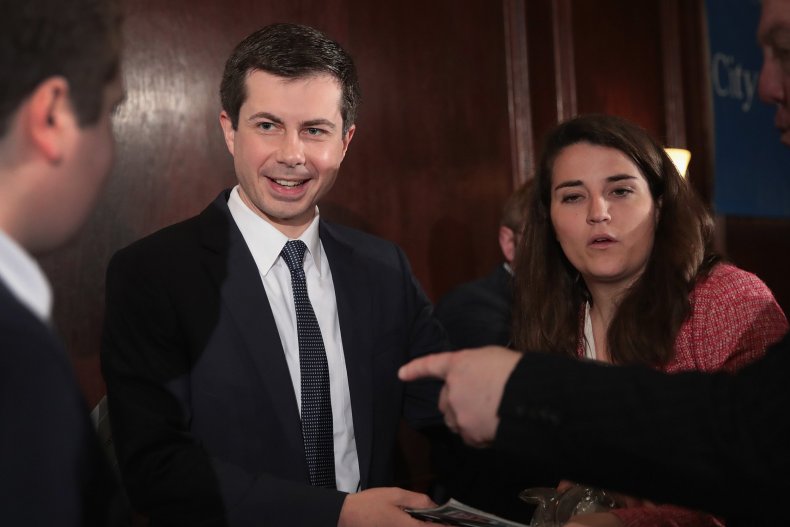 Common council president Tim Scott told the Tribune things were indeed functioning well so far. "He's got good, talented people as department heads. I have had no issues dealing with them. Realistically they're the ones keeping the city running," he said.
The mayor has traveled relatively frequently in the past for his work on the U.S. Conference of Mayors and for his 2014 deployment to Afghanistan, for example. For the latter, he appointed a deputy mayor, but has not done so for his current campaign, The Tribune noted.
Although Buttigieg has strong support in South Bend—he received more than 80 percent of the vote at re-election, even though the city is only 55 percent Democrat, as The Guardian recently noted— it certainly isn't universal.
The mayor has overseen a rejuvenation of the city, with major redevelopments downtown, a surge in jobs and hundreds of millions of dollars worth of investments. By most accounts, South Bend has progressed considerably since Newsweek named it one of America's "dying cities" back in 2011. But, as The Guardian reported in April, some residents aren't satisfied with Buttigieg's performance.
"I'm on and off about the mayor. He pays a lot of attention to infrastructure but seems to ignore the fact we've still got quite a bit of violence in South Bend. He pays attention to the roads but not other issues," digital production designer Phil Gallam, 29, told the publication. "I feel a lot has been ignored so I wouldn't trust him in office to protect us."
Pete Buttigieg Has Been Away From South Bend For Almost Half of the Past Three Months (And It's Doing Just Fine Without Its Mayor) | U.S.