Pete Buttigieg Appeals to GOP on Infrastructure Need: 'We're Already Losing the Race'
Transportation Secretary Pete Buttigieg said Thursday that he's committed to seeking bipartisan support for President Joe Biden's $2 trillion infrastructure plan, even as prominent members of the GOP line up in opposition to the proposal.
Speaking to MSNBC's Stephanie Ruhle, Buttigieg pledged he was "not going to give up on earning Republican support for this, because we know that Republicans and Democrats across America believe this is a good idea."
"Bottom line is, we've got to get this done," Buttigieg said. "We're 13th in infrastructure. And China is not wasting any time, nor are any of our strategic competitors or our allies. So we've got to act."
Biden laid out his American Jobs Plan in detail on Wednesday during a news conference in Pittsburgh, Pennsylvania. The proposal would devote more than $2 trillion in spending toward infrastructure needs over the next eight years.
At least $621 billion would be spent on transportation infrastructures, such as roads, ports, bridges and airports. Other items include $400 billion to care for elderly and disabled Americans, $580 billion to boost American manufacturing and $300 billion to improve drinking-water infrastructure, expand broadband access and upgrade electric grids.
The Americans Job Plan, Biden asserted, will put the U.S. "in a position to win the global competition with China in the upcoming years."
But Republicans are already sounding the alarm on the price of the bill and the White House's plan to pay for it by raising corporate taxes to 28 percent. Under former President Donald Trump, the party slashed the tax rate from 35 percent to 21 percent.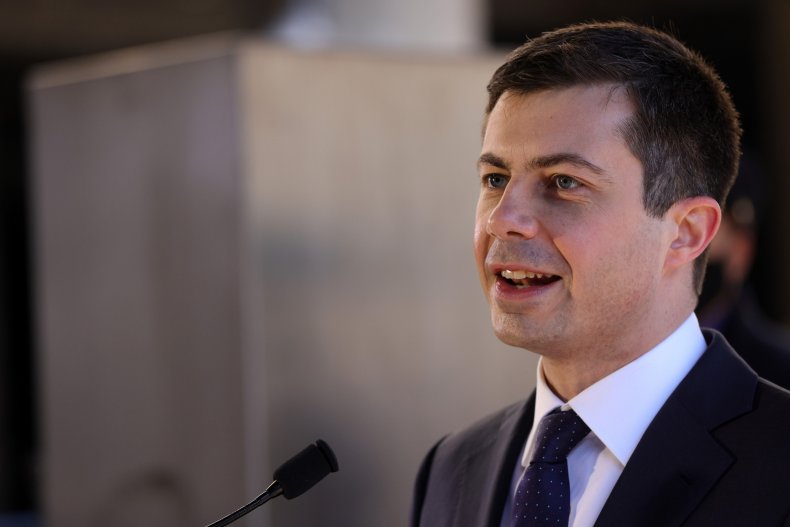 Senate Minority Leader Mitch McConnell of Kentucky told reporters that he's not likely to support Biden's plan if it is "going to have massive tax increases and trillions more added to the national debt."
Other conservative members of Congress quickly joined McConnell. Senator John Barrasso of Wyoming called the plan an "out-of-control socialist spending spree" and Senator Ted Cruz of Texas said it's "really just the Green New Deal-lite masquerading as an infrastructure plan."
The president will need at least 10 conservatives in the U.S. Senate to approve of the infrastructure overhaul in order for it to pass the filibuster. But there have already been reports that Democrats are eyeing ways to bypass the 60-vote threshold by using the budget reconciliation process for a second time.
"If there was ever an area to leave party politics aside, this has got to be that area," Buttigieg said Thursday.
Buttigieg argued that Republicans "have been saying that infrastructure is important to them for a long time and now is a chance to actually demonstrate that."
He continued, "Who is against improving our roads? And who is against the idea that we pay for this not by raising taxes one penny on anyone paying less than $400,000 a year, but by asking corporations to pay their fair share?"