Pete Buttigieg Backtracks On Closed-Door Fundraisers, Announces He'll Invite Press, Disclose Top Supporters' Names
South Bend, Indiana Mayor Pete Buttigieg has changed his stance on revealing the identities of big-money donors to his 2020 presidential campaign after criticism.
The decision comes after a one-two punch of flak over Buttigieg's fundraising techniques. This weekend, Sen. Elizabeth Warren of Massachusetts and fellow Democratic candidate for president, told reporters that closed-door fundraising events caused "conflicts being created every single day when candidates for president sell access to their time to the highest bidder."
"I think that Mayor Pete should open up the doors so that anyone can come in and report on what's being said," Warren said. "Those doors shouldn't be closed, and no one should be left to wonder what kind of promises are being made to the people that then pony up big bucks to be in the room."
On Sunday, progressive activist Jordan Uhl posted a video on Twitter of Buttigieg answering an activist's question about fundraising at an event this weekend.
"I wanted to ask if you think that taking big money out of politics includes not taking money off of billionaires and closed-door fundraisers," student activist Greg Chung asked Buttigieg.
"No," replied the candidate.
The video went viral, with over 2.2 million views as of this writing. It has been retweeted more than 13,000 times. In a statement to Newsweek Monday, Sean Savett, the campaign's rapid response communications director, clarified that Buttigieg does "not accept contributions from registered federal lobbyists, corporate PACs or the fossil fuel industry."
"Pete has made enacting critical campaign finance reforms part of his campaign platform, including strengthening the FEC [Federal Election Commission] and pushing to overturn Citizens United and Buckley v. Valeo, if necessary, by a Constitutional amendment," Savett added.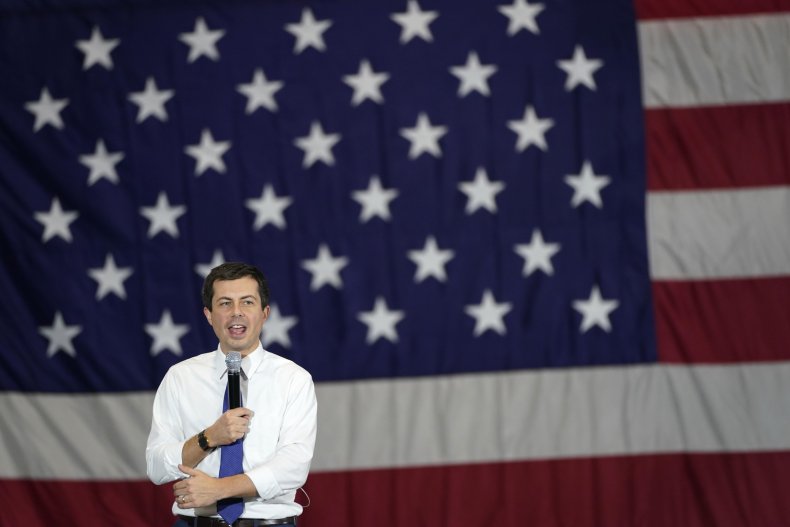 Later on Monday, Buttigieg's campaign backtracked, and announced that the press would now be invited to private fundraisers starting Tuesday. The campaign will also reveal the names of Buttigieg's top financial supporters later this week.
"From the start, Pete has said it is important for every candidate to be open and honest, and his actions have reflected that commitment. He is the only current presidential candidate who has released the names of people raising money for his campaign, and we will continue to release additional names as more people join our growing effort. Moreover, he will be one of the few candidates to allow reporters access to his fundraising events," campaign manager Mike Schmuhl said in a statement.
Former Vice President Joe Biden is the only other major Democratic candidate to have staged private fundraisers for wealthy donors, however, Biden's events have been open to the press.