I Was the First Openly Gay Major-Party Candidate for President, But That Was a Different Time. Pete Buttigieg Can Win in 2020 | Opinion
It's been a wild ride for national newcomer South Bend, Indiana Mayor Pete Buttigieg. He announced his presidential Exploratory Committee on January 23 in Washington, D.C. and in four short months, Pete is nipping at the heels of frontrunners Joe Biden and Bernie Sanders in state and national polls.
At first, pundits said that Pete had no chance. Then, as he started to captivate voters and rise in the polls, these naysayers said that he hadn't faced any scrutiny yet. Now they are saying that he can't win. I say rubbish. His crowds are enormous and he's making headlines everywhere and scoring points every single day.
Pete has proven himself to be the best and brightest in the ever-growing field of 22 Democrats running to see who will take on President Trump. Right out of the gate, Pete qualified for the first Democratic debate to be held at the end of June, by getting over 65,000 individual contributions. Just wait until America gets to see Pete in action. I predict that he will be one of the breakout candidates at the first debate. Watch out Joe, Elizabeth, Bernie and Kamala.
I know a little something about running for president. I ran in the 2012 as the very first openly gay major-party candidate. I ran in a very different party, in a very different time with a very different president in office. I made news because I was the first and because I ran as a Republican.
After decades of living a double life, being gay but not out to my family, friends or at work, I decided it was time to come out publicly. I wanted to let our vulnerable LGBTQ youth know that there were no more limits on what they can do in life, and I wanted to make it easier for the next gay candidate by helping to pave the way.
It was a long and arduous two and a half years of campaigning full time all over the country. I took a lot of slings and arrows, but after I ended my historic campaign, I was pleased with all we accomplished.
Pete has recently faced some criticism for being so open about being gay. Some critics even jumped on him for kissing his husband Chasten at their big announcement rally in South Bend last month. Well, that is what couples do. And boy did I start crying when I saw them embrace as millions of people watched all over the world. It was so natural, so normal, so important.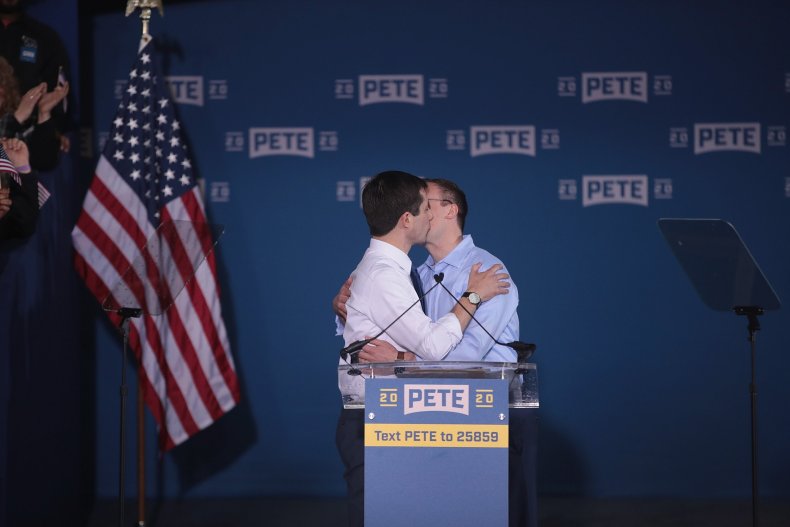 It's time for the gay community to step up to the plate. We are faced with what Pete likes to say is a once a century occurrence. I agree. We have a real chance to elect the first openly gay President of the United States, but ALL 30 million of us have to roll up our sleeves and help elect Pete. He's the real deal.
People who care should donate now. As our old California Assembly Speaker Jesse Unruh famously said, "(early) money is the mother's milk of politics."
When we unite and work together, we can move mountains. After years of hard work, we won the Freedom to Marry for all Americans, got the horrific "Don't Ask, Don't Tell" policy in the military repealed and are now having great success in getting states to pass laws banning conversion therapy.
I'll never forget when Laguna Beach, California elected the first openly gay mayor in the country, Robert F. Gentry, way back in 1982 and the huge impact it had on me. It helped so many of us as we dealt with fear, discrimination and the loss of so many of our friends from the AIDS epidemic. It suddenly became possible for someone to be out and get elected to office in conservative Orange County.
Now, 37 years after Bob Gentry's election we have the opportunity and privilege to elect a stellar candidate President of the United States. Let's show the world just how truly great our county can be.
Fred S. Karger is an American political consultant, gay rights activist, former actor, and politician who ran for president as a Republican in 2012.
The views expressed in this article are the author's own.​​​​​​​​