Pete Buttigieg Blames Supply Chain Shortages on Lack of Affordable Child Care
Transportation Secretary Pete Buttigieg pointed to a lack of affordable childcare options as a reason contributing to America's current supply chain issues during an appearance on MSNBC's Morning Joe on Wednesday.
Buttigieg addressed America's labor shortage and its role in the supply chain crisis. He pointed to issues regarding compensation and a high turnover rate, which Buttigieg pegged at 90 percent for truck drivers, as issues affecting the supply chain. "That's a sign of some real issues with the quality of the job," he said.
However, he repeatedly pointed to a lack of childcare as another reason contributing to the problem.
Buttigieg said that while U.S. ports are full of ships waiting to offload cargo, there has been difficulty finding trucks to haul the goods once they are off the ships. "Some of those issues may have to do with the availability of truckers, a thousand miles inland," he said. "There are a lot of things contributing to this. One of them is childcare, of course, which is why the president's Build Back Better vision is going to be good for the labor market."
The current iteration of Biden's $1.75 trillion bill aims to "limit child care costs for families to no more than 7 percent of income" for families that earn up to 250 percent of a state's median income. To receive the benefit, "parents must be working, seeking work, in training or taking care of a serious health issue." The White House predicted this benefit could extend care to roughly 20 million children.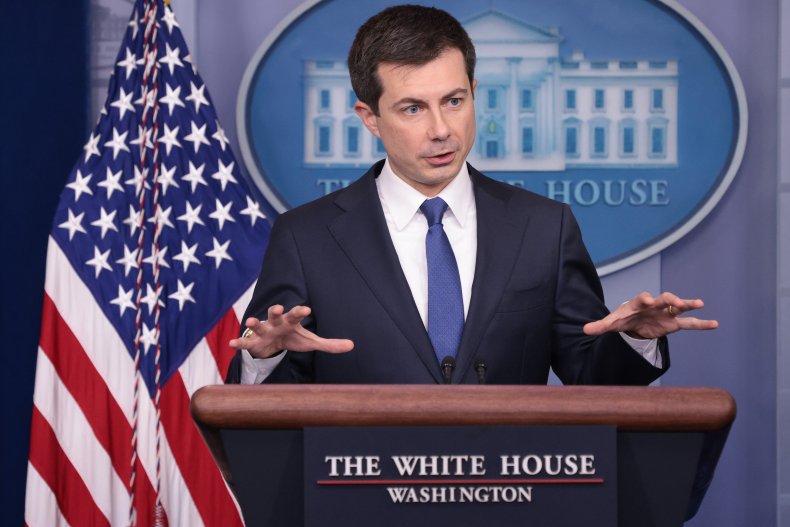 A study by the Center for American Progress reported that based on examination of the outcomes associated with implementing childcare policies in Washington, D.C., it appeared universal childcare would allow more mothers to work and ensure greater financial security for young families.
Bloomberg reported that the trucking industry has bolstered its efforts to recruit women drivers. Between 2018 to 2019, the number of female drivers increased by nearly 30 percent. However, with the first-year salary for drivers totally about $40,000, young parents may be dissuaded from joining the profession when the average cost of child care in America averages more than $11,000, according to World Population Review.
In an October interview with Newsweek, David Dollar, an expert on the global economy with the Brookings Institution, pointed to a shortage in truckers as being one of the principal issues behind the supply bottleneck, given how heavily America's shipping sector depends on truckers.
When pressed by Morning Joe co-host Mika Brzezinski on how the issue of childcare alone could explain why people are not returning to work, when that issue has existed for some time and when companies are offering higher wages and other benefits, Buttigieg responded by acknowledging that while childcare issues are not new, the pandemic has magnified that issue.
"Yes, the childcare issue is not new, but it is a greater crunch than ever even compared to a year or two ago," Buttigieg said. "I would (also) not ignore the issue of safety. Some people are still concerned about returning during the course of the pandemic."