Pete Buttigieg Calls Mike Pence 'Cheerleader of the Porn Star Presidency,' Says Trump Should Be Defeated by Election, Not Impeachment
In the last of three Town Hall meetings broadcast by CNN on Sunday, Pete Buttigieg, a 2020 presidential candidate and current mayor of South Bend, Indiana, faced a difficult choice.
CNN host Jake Tapper posed a question to the Democrat: "Do you think Vice President Mike Pence would be a better or worse president than President Donald Trump?"
A long pause followed, during which Buttigieg appeared at a loss as to how to answer, running a hand over his face to the laughter of the audience. "Does it have to be between those two?" he asked, prompting Tapper to reply that politics is "about choices."
Buttigieg replied that he "ferociously" disagreed with Pence when he served as Indiana's governor from 2013 to 2017. "I used to at least believe that he believed in our institutions... I disagreed with him ferociously,,,but I thought at least he believes in our institutions and he's not personally corrupt. But, then, how can he get onboard with this presidency?"
Buttigieg went on to talk about how he and Pence differed on interpretations of biblical Scriptures, saying he found that Scripture was about "protecting the stranger and the prisoner and the poor person and that idea," while Pence's view "has a lot more to do with sexuality and, I don't know, a certain view of rectitude.
"But even if you buy into that, how can he allow himself to become the cheerleader of the porn star presidency?" Buttigieg asked. "Is it that he stopped believing in Scripture when he started believing in Donald Trump?"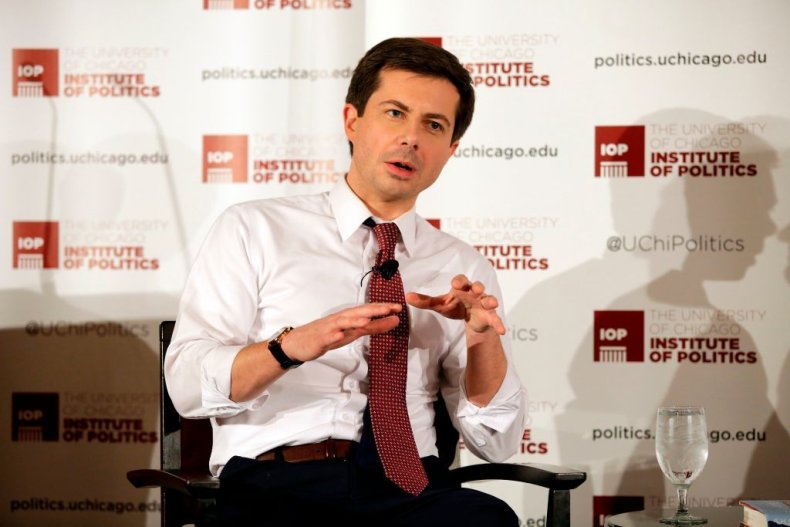 Later in the hour-long question and answer session, Buttigieg was asked if he believed Congress should begin impeachment proceedings against Trump.
"I would like to see this president and the style of politics that he represents sent off through the electoral process," Buttigieg said. "Decisively defeated at the ballot box."
Buttigieg added that he understood how Trump was elected because a "lot of people felt that the system was letting them down and, frankly kind of voted to burn the house down."
But Buttigieg said he didn't believe the president had "put forward a program" that had put the United States in a "better direction." Despite feeling that an election was the best way to end Trump's style of politics, Buttigieg said that Congress could find itself in a position with ongoing investigations that they "morally can't ignore."
"It may well be the case that they're left with no choice, just in the name of justice," Buttigieg said. "Then to begin impeachment proceedings. Then, obviously, they'll have to make that determination. Probably quite soon."
Among other questions posed to Buttigieg during the Town Hall included his stance on increasing the number of Supreme Court Justices to 15, removing the Electoral College from presidential elections and his stance on climate change. Buttigieg was also challenged about his experience, as he has never held public office on a statewide or federal level.
"I have more years of government experience under my belt than the president," Buttigieg, 37, replied. "That's a low bar. I know that. I also have had more years of executive government experience than the vice president."
Buttigieg, the son of an immigrant from Malta who became an American citizen, was elected the mayor of South Bend in 2011, making him the youngest mayor in history to represent a city of at least 100,000 people. If elected, Buttigieg would becmoe the first openly gay president. Buttigieg married his partner, Chasten Glezman, in 2018 duing his second mayoral term.