Pete Buttigieg Calls Out Trump's Remark About Troops Sustaining 'Headaches' Following Iran Airstrike
Democratic presidential candidate Pete Buttigieg strongly criticized President Donald Trump for downplaying the traumatic brain injuries sustained by U.S. troops during Iranian missile strikes on military bases in Iraq earlier this month.
Trump and other government officials initially said that the January 8 missile attack did not result in any injuries to American soldiers. The U.S. Central Command, which oversees operations in the Middle East, later reported that 11 soldiers had been treated for traumatic brain injuries and concussions. But Trump downplayed the serious medical condition.
"I heard that they had headaches, and a couple of other things, but I would say, and I can report, it's not very serious," Trump told reporters Wednesday. He also asserted that such injuries are not "very serious injuries relative to other injuries that I've seen." Two days later, on Friday, the Pentagon revealed that 34 soldiers were being treated for brain injuries.
Buttigieg, a former officer in the U.S. Navy Reserve who served in Afghanistan, issued a stern rebuke of the president, pointing out that traumatic brain injuries can potentially cause complications for the rest of a person's life.
"A traumatic brain injury is life threatening, not just at the time, but for the rest of your life," the former South Bend, Indiana mayor told CBS News for an interview broadcast on Sunday. "It can completely debilitate somebody who has served this country," he explained.
"And for the president to belittle that kind of sacrifice, for the president who avoided serving because he said bone spurs made it impossible for him to be able to do his part, to turn around and demean the experience of soldiers in harm's way who were injured... is one more example of why Donald Trump has no business anywhere near the Situation Room," the presidential hopeful said.
As Buttigieg noted, Trump reportedly avoided the draft during the Vietnam War after his father called in a favor with a physician. That doctor reportedly wrote a note diagnosing Trump with bone spurs, which made him ineligible for service.
Fellow Democratic presidential candidate Joe Biden also took aim at Trump over the comments about the brain injuries.
"This week he brushed off the injuries sustained by those brave troops who were on the other side of the Iranian bombardment and missile attack in Iraq from Iran," the former vice president said during a Friday event in New Hampshire. "And he said while they were being evaluated for traumatic brain injuries, he said no, they just have headaches."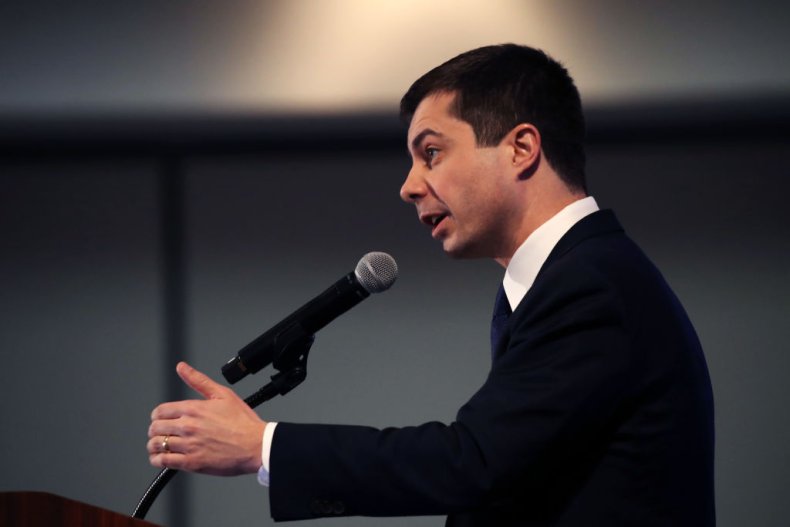 The Veterans of Foreign Wars (VFW), a prominent veterans assistance organization, also demanded that the president apologize for the remarks.
"The VFW expects an apology from the President to our service men and women for his misguided remarks," William "Doc" Schmitz, VFW National Commander, said in a statement Friday, CNN reported.
"And, we ask that he and the White House join with us in our efforts to educate Americans of the dangers TBI has on these heroes as they protect our great nation in these trying times. Our warriors require our full support more than ever in this challenging environment," he added.