South Bend, Indiana, Mayor and 2020 presidential candidate Pete Buttigieg wants to bring religion back into the Democratic party and he wants to do it by talking about climate change.
During a Thursday evening appearance on The Late Show with Stephen Colbert, Buttigieg, who identifies as an Episcopalian, said he believes Democratic politicians are "allergic" to openly discussing faith, partially because they don't want to alienate people of different or no faiths which he said was a "good thing." But, he said, "as we see some of these figures on the religious right embrace behavior and policies that flies in the face of not just my values but their own, it reminds me of all of the parts of scripture where there's a lot about hypocrisy and I think we have an obligation to call that out."
The comments come one day after Buttigieg likened ignoring climate change to sinning on a national stage during CNN's climate change town hall. "This is less and less about the planet as an abstract thing and more about specific people suffering specific harm because of what we're doing right now. At least one way of talking about this is that it's a kind of sin," he said.
"If you believe that God is watching as poison is being belched into the air of creation, and people are being harmed by it—countries are at risk of vanishing in low-lying areas—what do you suppose God thinks of that?" he asked the audience.
On Thursday night, Buttigieg used his TV appearance to clarify but also deepen his stance.
"Look, I'm not out to impose my faith on anybody else," he said, "but to me environmental stewardship isn't just about taking care of the planet, it's about taking care of our neighbor, we're supposed to love our neighbor as ourselves. The biggest problem with climate change isn't that it's going to just hurt the planet. I mean in some shape, way or form the planet is still going to be here, it's that we are hurting people. People who are alive right now and people who will be born in the future."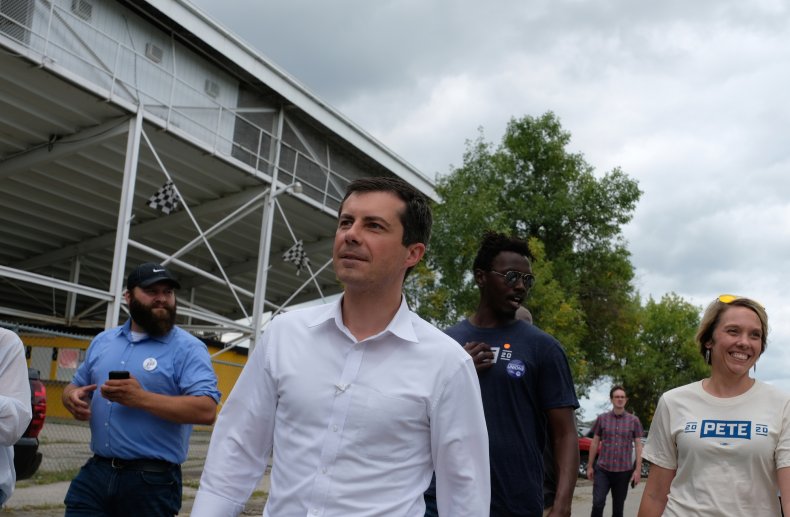 Buttigieg, who was the first 2020 Democratic candidate to hire a national faith outreach director, also brought up the idea of sinning once more, "I don't imagine that God is going to let us off the hook for abusing future generations anymore than you'd be off the hook for harming somebody right next to you and with climate change—we're doing both."
While Buttigieg's discussion of faith certainly help him stand out in the crowded 2020 presidential field, the question remains whether he'll be able to court religious voters away from the right or if he'll be able to build his own following of the "Christian left." Americans who identify as Protestant (which includes other Christians who aren't evangelical or Catholic believers), however, are about 15 percent more likely to vote for a Republican than a Democrat according to Pew Research Center, and those demographic distinctions have remained steady since at least 2006. White evangelical and born-again Christians are still significantly more likely to vote Republican, about 50 points more so.
But there's another reason Buttigieg may find it politically favorable to stress his religious beliefs: the 37-year-old politician has had difficulty in gaining favorability with the African American Democratic base.
Black voters make up more than 60% of early primary state South Carolina's Democratic electorate, and about 79% of black voters identify as Christians, according to Pew.
Reverend Joe Darby, a South Carolina pastor in the African Methodist Episcopal Church and a Charleston-area NAACP leader told Religion News Service that Buttigieg "does the best job of articulating his faith of any of the candidates."
In the past, Buttigieg, who is gay, has also criticized Vice President Mike Pence for his anti-gay marriage stance. "The Mike Pences of the world" should understand, said Buttigieg, "that if you got a problem with who I am, your problem is not with me —your quarrel, sir, is with my creator."