Pete Buttigieg Commits to Elevating Black Voices After Alleged Sanders Supporters Interrupt Indiana Gathering
At a gathering of African American South Bend community leaders in support of Mayor Pete Buttigieg, a man in a Black Lives Matter shirt interrupted the proceedings, declaring the situation a "farce". Buttigieg responded by praising the person for "speaking their truth" and committing to elevating black voices within his community.
Video footage of the incident shows the man, identified by WVPE as Igor Rodriguez, interrupting Councilwoman Sharon McBride.
"Where are the black leaders who don't have three-piece suits, leather jackets, and nice clothing?" he shouted. The footage panned to a gathering of Black Lives Matter protesters standing at the back of the room.
"Let her talk!" a member of the audience replied.
"People are having a crisis because of police violence," Rodriguez continued, as an elderly member of the audience rose to her feet and brandished her cane in his direction in a manner that suggested she wished to strike him with it. She was held back by fellow meeting attendees.
Rodriguez then approached McBride and took the microphone from her hand. "Who chose these people as black leaders?" he asked, walking quickly across the room. "Who organized this? We have a police crisis in this town. Why are we talking about Pete Buttigieg?"
Rodriguez was then surrounded by community members, who pulled the microphone from his hand. "This is a farce!" Rodriguez shouted, clapping to begin a chant that was enjoined by his fellow protesters as he was escorted toward the back of the room.
Order was restored, and though there is no word if Rodriguez was removed from the meeting, several protesters remained and occasionally shouted comments during it, according to attendee Max Lewis via Twitter. Lewis also noted that one of the protesters wore a Bernie Sanders beanie.
Buttigieg seemed to echo the sentiment that the protest was an organized action by Sanders supporters.
"We can't control if somebody from another campaign comes and disrupts it," Buttigieg said.
"Most importantly, there was a lot of folks speaking their truth," Buttigieg said. "And we're going to continue to make sure we're elevating South Bend voices because the African Americans who know me best in our community are often the best to speak to both who I am and what we've done together."
While it is not clear if the protesters are linked to Sanders' campaign, Buttigieg's senior adviser Lis Smith tweeted that it was "deeply depressing that @BernieSanders' supporters have gone from harassing @PeteButtigieg's staffers of color online to harassing our supporters of color in real life, but here we are."
Black Lives Matter South Bend replied to NBC News' article with a statement that said in part, "This protest represents only a fraction of the longstanding pain many Black, Brown, and poor citizens endure in Mayor Pete's South Bend."
Bernie Sanders campaign manager Faiz Shakar told the Associated Press, "The Sanders campaign does not support the disruption of any candidates' events, and we condemn anyone who does so... This country needs a serious and respectful debate over the major crises that we face."
Sharon McBride told The Washington Post that she found the protest "demeaning" and "a form of bigotry."
"People can have their opinions and their views. But for them to be disrespectful, when it comes to snatching mics and shoving, is just a disgrace to our city," she said.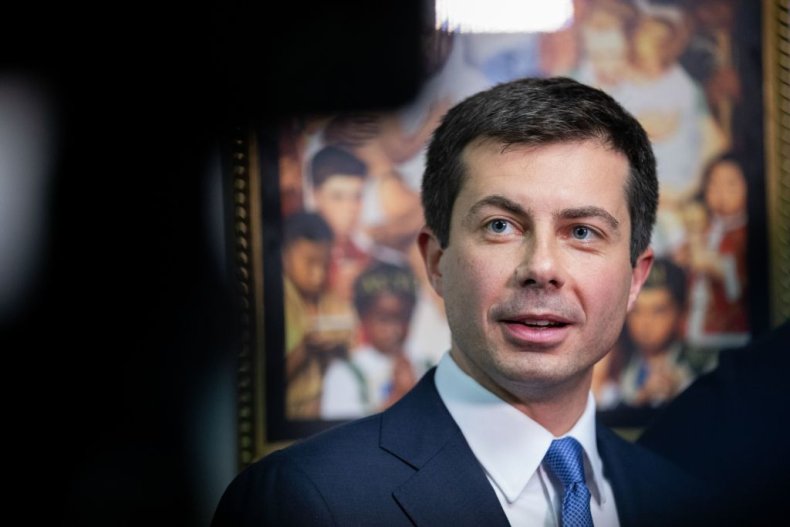 Buttigieg's campaign has come under fire in recent weeks after coming up against multiple controversies—from being accused of using Republican talking points by Alexandria Ocasio-Cortez, to drawing fire from LGBTQ activists for supporting the Salvation Army.
He has also faced criticism from the African American community when he unveiled his Douglass Plan for African American Voters. Three prominent black leaders from South Carolina said they were made to appear as though the supported the Douglass Plan when they did not. In addition, 42 percent of the 400 voters listed to be in support of the plan were found to be white.
His management of police forces in South Bend have also come under fire, with protesters pointing to the June death of Eric Logan as one example of what they see as the city's poor policing.
Update (12/6/2019 12:31 a.m.) This article has been updated to include comments made by Sharon McBride to The Washington Post.