Pete Buttigieg Confident He Can Unite Christians Regardless of Political Views: 'God Doesn't Have a Political Party'
Appearing as the nightcap for CNN's five-part Town Hall segment on Monday, 2020 presidential candidate Pete Buttigieg addressed concerns over his lack of political experience, his age and his views on how faith can be used to unite Christians from all political spectrums.
Buttigieg, who is the current mayor of South Bend, Indiana, talked about his faith at the end of the hour-long question and answer session.
"You've talked opening about your strong Christian faith, as well as your identity as a happily-married gay man. I myself am a bi-sexual Christian woman," Harvard freshman Camille Caldera told Buttigieg. "How will you challenge the right's moral-monopoly on Christianity to unite conservative, moderate and liberal Christians alike behind you and your platform?"
Buttigieg responded to say that he felt the core of his faith is "regard for one another" and that in the tradition of his faith — the Democrat is a practicing Episcopalian — is "in the way we support one another, and in particular support the least among us."
Buttigieg added that he is a strong proponent of the separation of church and state.
"I think anybody who steps into the public sphere needs to make it clear that they are here to support people of any religion and people of no religion," he said. "But I also think we ought to be honest about where we are coming from. Part of where I'm coming from is my faith's tradition which counsels me to be as humble as possible, which counsels me to look after those who need defending."
The presidential candidate went on the say that he knows his view on faith is "radically different" than what is represented in President Donald Trump's administration. Buttigieg called the current White House approach "a lot of chest-thumping and self-aggrandizing," containing abusive behavior and a "political agenda that seems to always be revolving around that idea that somehow it's too easy for poor people in this country."
Buttigieg maintained that he doesn't get those views from his reading of The Bible, but acknowledged that other people see different things when they read scripture.
"But at the very least we should be able to establish that God does not have a political party," he said.
Later in the town hall, CNN host Anderson Cooper referred to several exchanges that occurred recently between Buttigieg and Vice President Mike Pence, who served as governor of Indiana during Buttigieg's first and part of his second term as South Bend's mayor.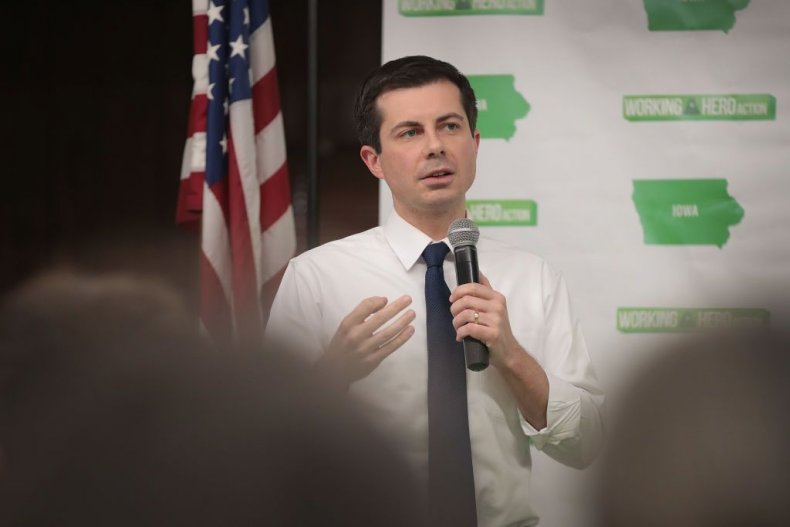 Due to those exchanges, Richard Grenell, a Trump appointee who is serving as the U.S. Ambassador to Germany, spoke out about Buttigieg's comments, comparing the Democrat to actor Jussie Smollett who was accused of staging a hate crime in Chicago earlier this year.
"Mayor Peter has been pushing this hate hoax, along the lines of Jussie Smollett, for a very long time now, several weeks. And I find it really ironic that Mayor Pete stayed silent about the so-called hate hoax on him and others during 2015, 2016, 2017 when Mike Pence was governor," Grenell, who is also gay, said during an appearance on Fox News Channel's The Story with Martha MacCallum, "There was total silence. It's ironic that right about now when he's starting his fundraising apparatus to run for president that he comes up with this idea and this attack."
Grenell also defended Pence and his wife, Karen, saying that the couple are accepting of him and his partner. "Mike and Karen are great people; they're godly people, they're followers of Christ. They don't have hate in their heart for anyone. They know my partner. They have accepted us."
Buttigieg has repeatedly spoken out about Pence, citing several policies that he felt were anti-LGBTQ and often calling the vice president a 'pharisee,' a term that many Christians equal to being self-righteous of hypocritical. However, many Jewish scholars have objected to Buttigieg using the term and have asked that he refrain.
When questioned by Cooper about Grenell's comments, Buttigieg replied that he knows "bait when I see it and I'm not gonna take it."
The graphic below, provided by Statista, illustrates the rising support for Pete Buttigieg in the average of primary polls, calculated by Real Clear Politics.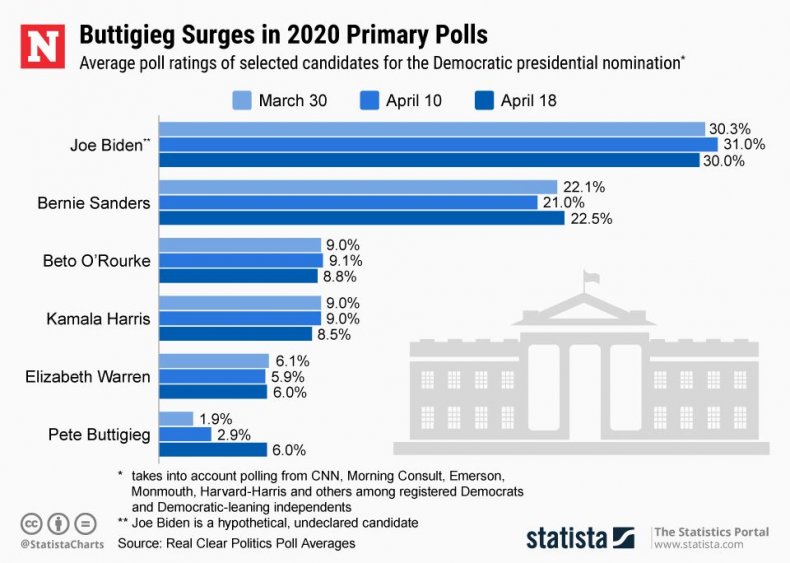 This article was updated to include an infographic.