Critics Who Pinned Gas Prices on Joe Biden Are 'Silent' Now—Pete Buttigieg
Transportation Secretary Pete Buttigieg has hit out at people who blamed President Joe Biden for high gas prices, but have been silent as they have fallen in recent weeks.
"We're seeing it go under four bucks in more and more places, but not everywhere and, of course, we want to see it continue to go down past that," Buttigieg told Mika Brzezinski during an appearance on MSNBC's Morning Joe on Thursday.
The national average price for a gallon of regular gasoline is $4.139, according to the American Automobile Association. That's down from $4.81 a month ago, but still about $1 more than it was in August 2021.
"I do think a lot of the settling in oil prices has been influenced by the leadership that the president showed earlier this summer," Buttigieg said, citing measures including the release of oil from the Strategic Petroleum Reserve.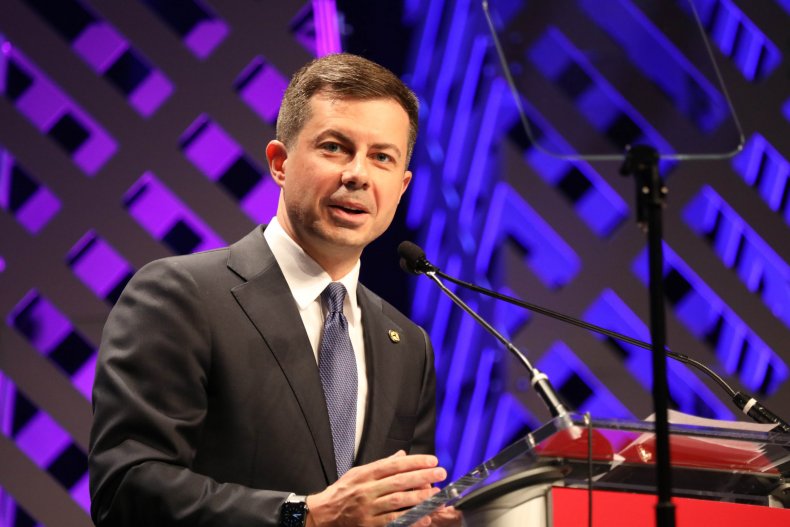 Buttigieg also pointed out that many different factors drive global oil markets, taking a swipe at Republicans and other critics who pinned rising gas prices on the president.
"It's funny that there are some folks out there who wanted you to think that it was completely up to the president what the gas prices were when they were going up and have been silent now that they have been going back down every single day for 50 days," he said.
Energy prices soared after Russia's invasion of Ukraine in late February. The military action prompted a series of sanctions against Moscow, causing ructions on world markets at a time when refining capacity and oil production were still recovering from the COVID-19 pandemic.
Biden traveled to Saudi Arabia last month with the hope of persuading the Organization of Petroleum Exporting Countries and its allies, a group known as OPEC+, to increase oil production in the coming weeks.
But on Wednesday, OPEC+ said it would pump only an additional 100,000 barrels per day in September—an amount equivalent to 0.1 percent of global demand, according to Reuters.
The White House emphasized that the steady decline in oil and gasoline prices was what was important, not actions taken by OPEC+.
"The fact of the matter is that oil and gas prices are coming down," White House press secretary Karine Jean-Pierre told reporters at a briefing on Wednesday. "The moment he announced his trip, we saw gas prices and oil prices coming down."
On Morning Joe, Buttigieg also called for action to make Americans less dependent on gas, including expanding access to electric vehicles.
"Bottom line: we need to continue pursuing the measures that are under the control of policymakers.
"But also recognize that the best thing we can do for the medium and long term is make sure Americans have more options through greater fuel efficiency and greater access to vehicles that don't require gasoline at all so that Americans don't have to worry about what's happening in some Middle Eastern capital or foreign war zone."
Newsweek has contacted Buttigieg for further comment.