Pete Buttigieg Says He'd Never Swap 'Love Letters' With a Dictator As Trump Brags About New Message From Kim
2020 Democratic hopeful Pete Buttigieg said in an expansive foreign policy speech on Tuesday that he would never exchange "love letters on White House letterhead with a brutal dictator." Hours later, President Donald Trump bragged about receiving a "beautiful letter" from North Korea's Kim Jong Un.
Buttigieg rolled out the details of his foreign policy strategy during an hour long address at Indiana University. In his expansive speech, the South Bend mayor said he would re-enter the Paris Climate Accords, return to the Iran nuclear deal and commit to fighting right-wing extremist terrorism at home.
Buttigieg also took the opportunity to slam Trump, who he said had "little regard for strategy and no preparation for their long term consequences."
The Democrat was also highly critical of the president's relationship with North Korean leader Kim Jong Un.
"You will not see me exchanging love letters with a brutal dictator who starves and murders his own people," Buttigieg told the crowd. "But you will see my administration work to create the conditions that would make it possible to welcome North Korea into the international community."
Buttigieg's comment came just hours before President Trump told reporters he received yet another friendly message from Kim. Trump talked to members of the press before heading to Iowa for multiple 2020 campaign events.
"I just received a beautiful letter from Kim Jong Un. I can't show you the letter, obviously, but it was a very personal, very warm, very nice letter. I appreciate it," Trump said. "I'll say it again, I think that North Korea has tremendous potential."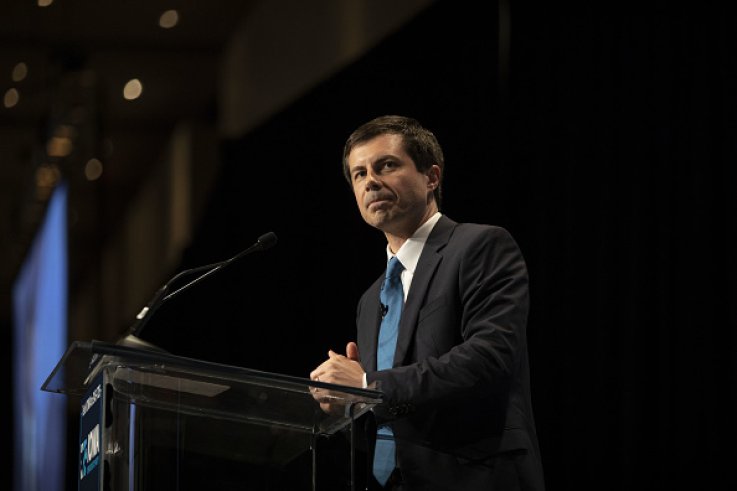 The president also suggested that he would meet with Kim again for what would be their third summit. Trump made history in June 2018 as the first U.S. president to meet with a North Korean leader. A few months after the summit, Trump said he and Kim "fell in love."
"We have a very good relationship together," Trump reiterated on Tuesday.
Earlier this week, it was reported by The Wall Street Journal that Kim's slain half-brother Kim Jong Nam was a CIA source and had connections with China's security services, though other outlets have not confirmed the reports. Kim Jong Nam was killed in a 2017 attack in Malaysia that was allegedly organized by the North Korean government, though the regime denies it played a role in his death.
On Tuesday, Trump promised Kim that he would not let the American intelligence agency use spies against him.
"I saw the information about the CIA with respect to his brother or half brothers. I would tell him that would not happen under my auspices. That's for sure. I wouldn't let that happen under my auspices," the president said.
Pete Buttigieg Says He'd Never Swap 'Love Letters' With a Dictator As Trump Brags About New Message From Kim | U.S.