South Bend, Indiana Mayor and Democratic presidential candidate Pete Buttigieg said in a new interview that he believes the race for his party's nomination will be between Senator Elizabeth Warren and himself.
In a clip from Showtime's The Circus, Buttigieg told co-host John Heilemann: "I think this is getting to be a two-way. It's early to say, I'm not saying that it is a two-way. A world where we're getting somewhere is where it's coming down to the two of us."
In the interview snippet, Buttigieg believes believes that he and Warren stand out among the other candidates. "The contrasts are real," he said. "They're substantive, respectful policy contrasts, but they're real."
Heilemann asked if Buttigieg "accepts the notion that it's Warren against the field. Someone is trying to become the alternative to Warren." Buttigieg agreed: "It's shaping up that way."
Buttigieg also told Heilemann that he's not worried about former Vice President Joe Biden in the race. "Either he is the unstoppable front-runner," he said, "and we can all go home, or he is not." The candidate then added: "Anybody who's in this race is pure on the assumption that he's not."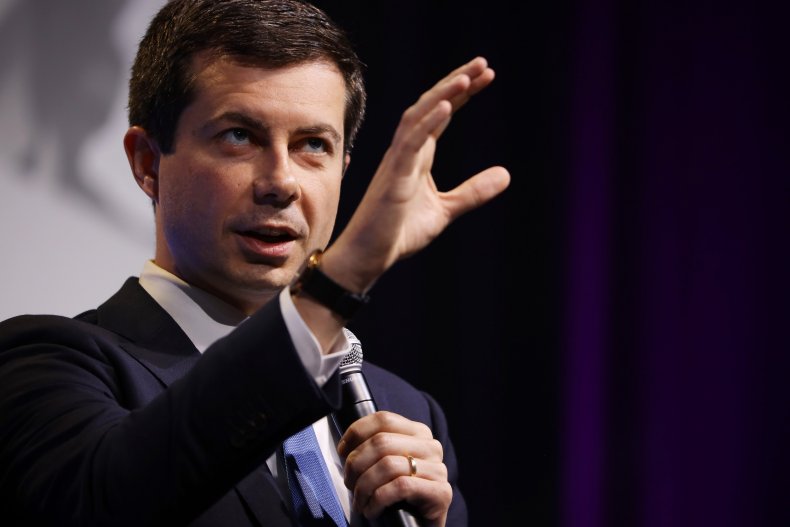 Following the fourth Democratic debate, a Democratic strategist theorized that Buttigieg may be a surprise front-runner for the 2020 election, as previously reported. After becoming "more aggressive" against Warren, former Clinton administration staffer Michael Gordon said: "You could picture him more going toe-to-toe with [President Donald] Trump."
Buttigieg appeared in an earlier episode of The Circus this month to discuss the the Trump impeachment inquiry with co-host Mark McKinnon. In that clip, he said that he was receiving questions about the impeachment more along the campaign trail. However, Buttigieg said: "This election can't just be about the reality show surrounding this president." The candidate also told McKinnon: "It's gotta be about American's everyday lives."
He assured that he felt a Democrat would win if they focused on that. "When it's about your everyday life," he said. "I think that's when we win, because we have better answers for everyday life."
Buttigieg recently made an appearance on The Tonight Show, where he told Jimmy Fallon that he has the "right message." He said that his campaign wasn't about "just how to end the Trump presidency," but also what America will need after that. "It's going to require that we're ready to undertake bold solutions."
The full interview with Buttigieg on The Circus will air on Showtime at 8 p.m. ET.