Pete Buttigieg Envisions a More Inclusive U.S. Under Biden Administration
Former South Bend, Indiana Mayor Pete Buttigieg delivered remarks at the final night of the Democratic National Convention at which Democratic presidential nominee Joe Biden was expected to formally accept the party's nomination.
Buttigieg's remarks were in line with the stated theme of the evening, America's Promise. Many of the speakers focused on Biden's image as a compassionate leader. Buttigeig spoke about his vision of a more inclusive America as a hallmark of Biden's potential administration.
"Can America be a place where faith is about healing and not exclusion?" Buttigieg asked. "Can we become a country that lives up to the truth that Black lives matter? Will we handle questions of science and medicine by turning to scientists and doctors? What will we do to make America into a land where no one who works full time can live in poverty?"
Buttigieg announced his presidential campaign in April 2019. "The horror show in Washington is mesmerizing, all-consuming," Buttigieg said in a speech to his supporters. "But starting today, we are going to change the channel."
Separating himself somewhat from the progressive policies of fellow candidate Vermont Senator Bernie Sanders, Buttigieg called his universal health care program Medicare for All Who Want It. The program was depicted as a stopgap measure that would eventually allow for Medicare for All "through a pathway that helps improves people's lives along the way while allowing the economy to adjust."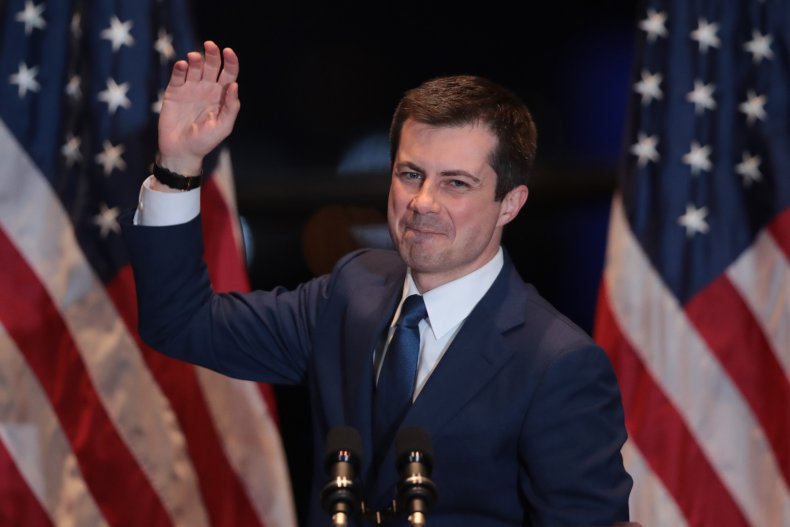 Criticized for his lack of experience on the national political scene, Buttigieg said in November 2019 that no candidate in the election cycle had presidential experience "except one, Donald Trump, who I think is the least qualified of all."
Buttigieg was the first openly gay presidential candidate which earned him both a place in history and a measure of controversy. During his Thursday remarks, Buttigieg alluded to how far the gay rights movement had evolved over the past decade. "Now in 2020, it is unlawful in America to fire anyone because of who they are or who they love," Buttigieg said. "The very ring on my finger reflects how this country can change."
"Love makes my marriage real," Buttigieg added, "but political courage made it possible."
During Buttigieg's presidential campaign, conservatives criticized Buttigieg for bringing his husband, Chasten, to campaign events. Radio host Rush Limbaugh attacked Buttigieg's campaign, telling his listeners that the U.S. was not ready for a gay president.
Limbaugh said during a February radio program that the Democrats looked at Buttigieg's marriage and said that "despite all the great progress and despite all the geat wokeness, and despite all the great ground that's been covered, America's still not ready to elect a gay guy kissing his husband on the debate state president."
President Trump said that while there were people who would not support Buttigieg because of his lifestyle, he "wouldn't be among that group."
After not garnering enough votes in the South Carolina primary to obtain delegates, Buttigieg suspended his presidential campaign in March. The following day in Dallas, Buttigieg officially endorsed Biden for president.
Biden accepted Buttigieg's endorsement, telling attendees at a campaign stop that Buttigieg reminded him of his late son, Beau.
"Like Beau, he has a backbone like a ramrod," Biden said. "I really mean this. I think about it."