Pete Buttigieg Campaign Event in Iowa Interrupted by Protesters Chanting 'Black Lives Matter'
Protesters disrupted a Pete Buttigieg campaign event on Sunday night as they demonstrated against the former South Bend mayor's record on housing.
The activists chanted "black lives matter" and "anti-poor, anti-black" after the Democratic primary candidate took the stage in Des Moines, Iowa to deliver a speech to supporters.
Buttigieg told the protesters he wanted to talk with them about their issues "respectfully" before both the activists and his supporters began chanting, which led to the demonstrators being escorted from the venue.
"You actually only fixed five houses, but you demolished hundreds in the urban and black communities," one protester said in footage caught by the Washington Examiner and Iowa Starting Line.
"I think your facts are a little wrong, so I'd love a chance with you to talk about it," Buttigieg responded. "But I'd like for us to talk about it respectfully. Can we agree that we can talk about this respectfully?"
"We've been trying to talk to you in South Bend, Pete," one activist shouted. Another said: "We've been trying to open that dialogue."
Supporters of the fourth place Democratic primary candidate began chanting "USA! USA!" as activists responded with shouts of "black lives matter!"
"I'm just troubled because you're citing information that is factually incorrect," the former South Bend. Mayor said. "I'm sorry but this is not the best way for us to have this conversation."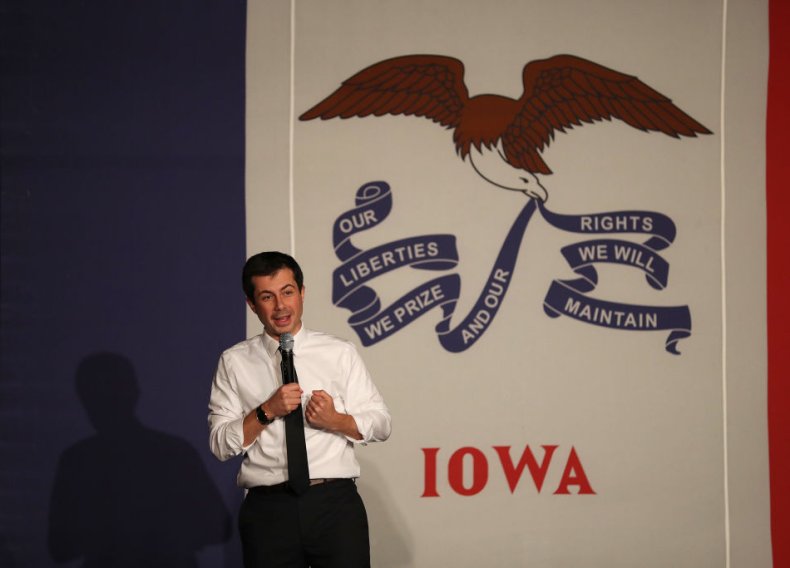 As protesters appeared to be ushered away from the campaign event, chanting "anti-poor, anti-black," Buttigieg said to his supporters: "Can we hear it one more time for the idea of respectful, honest, open and transparent dialogue?"
Buttigieg's campaign spokesperson Sean Savett defended the former mayor's housing record, saying the number of homeless people in the city had fallen by around a third since Buttigieg won the mayoral race in 2011.
Black Lives Matter has been contacted to confirm whether or not the protesters were officially affiliated with the group.
The demonstration at the Sunday night event in Iowa came two days after the Los Angeles Times reported protesters demonstrating against Buttigieg's appearance at a homeless shelter in Watts, Los Angeles on Friday morning.
A few of the protesters who spoke to the L.A. Times had traveled from South Bend, Indiana to criticize his record on homelessness and housing, and drew attention to the death of Anthony Young, a local 44-year-old man who died from hypothermia while sleeping on the street in the final month of Buttigieg's tenure as mayor.
One of the activists at the Los Angeles protest, Katheryn Redding, told the L.A. Times that the demonstrators from South Bend had their travel covered by an organization whose details they had been "told not to release."
But she clarified that the source of funding was not a presidential campaign, claiming it was instead "another revolutionary group" that had stumped up the funds for their travel.
The graphic below, provided by Statista, shows how the leading Democratic candidates are polling in primary states.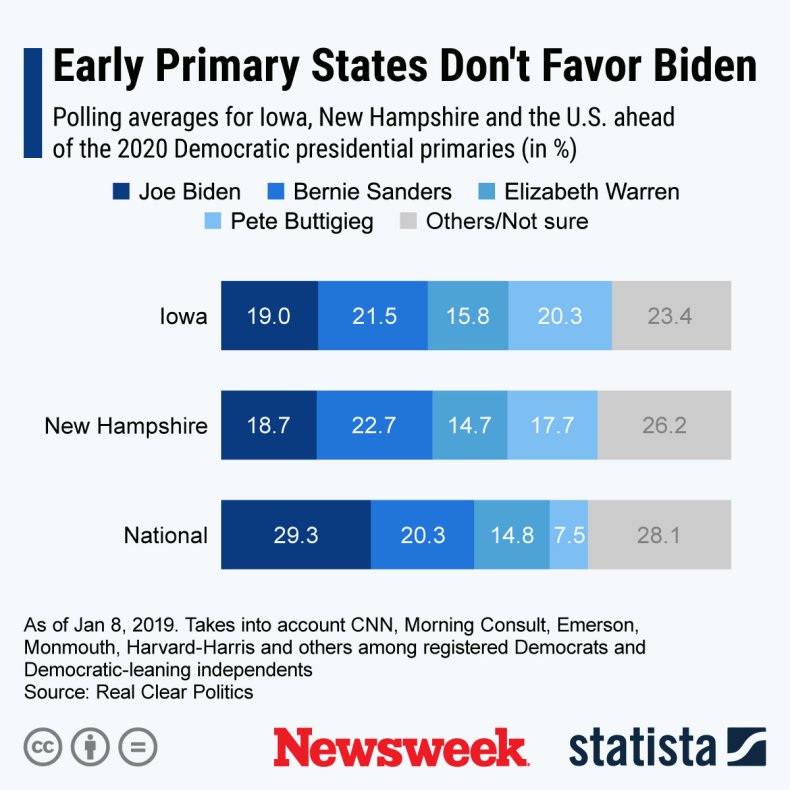 This article was updated to include an infographic.