Former Democratic presidential hopeful Pete Buttigieg filled in as guest host on the late-night ABC program Jimmy Kimmel Live! Thursday night which was taped before a mostly empty studio.
Buttigieg explained that they were following the CDC's recommendations for crowds, placing audience members far apart. Show staffers were in attendance as was Buttigieg's husband, Chasten. There were also video cutaways to crowds from previously recorded events.
"It's disappointing," Buttigieg said, "because as you know, I love to crowd surf."
"When you don't have a real audience, you have to fake one," Buttigieg added. "Just like Trump's inauguration."
Explaining why he dropped out of the presidential race Buttigieg said, "Some candidates know when its time to get out of the race and some candidates are Tulsi Gabbard." The former candidate also quipped that he believed he could have won the nomination but "I was about 40 years too young and about 38 years too gay."
Buttigieg, a lifelong Star Trek fan, received a Star Trek: The Next Generation television script and signed photo from his guest Sir Patrick Stewart, who plays Captain Jean-Luc Picard in the Star Trek franchise. "This will hold a place of pride," Buttigieg said as Stewart signed the script's cover.
Buttigieg also participated in a Star Trek trivia contest with Stewart called "Who's the Captain Now?" hosted by surprise guest LeVar Burton, who played Chief Engineer Geordi LaForge on Star Trek: The Next Generation.
Stewart won the contest after Burton asked him if the character of LaForge wore boxers or briefs. While Buttigieg guessed that LaForge wore boxers, Stewart said, "Nothing." For winning, Stewart was the recipient of a star named in his honor by the International Star Registry.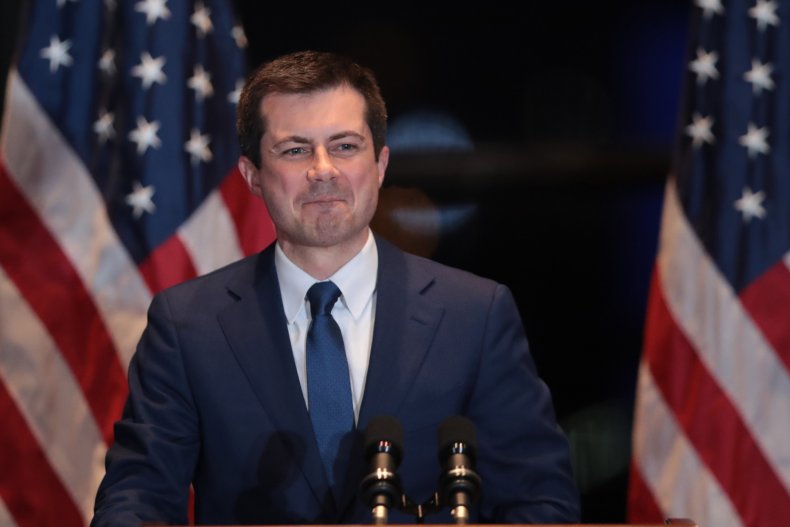 Newsweek reached out to Buttigieg for comment but did not receive a response in time for publication.
Buttigieg ran for president as an openly gay candidate with his husband, Chasten, often joining him on stage, leading conservative radio host Rush Limbaugh questioned Buttigieg's electability because of his homosexuality.
Limbaugh told his radio audience in February that America wasn't ready to elect "a gay guy kissing his husband on the debate stage president."
Buttigieg responded by telling CNN, "I love my husband. I'm faithful to my husband. We usually just go for the hug. But I love him very much and I'm not going to take lectures on family values from the likes of Rush Limbaugh."
Before officially suspending his presidential campaign in March, Buttigieg had seen diminishing returns in early primary contests. While Buttigieg defeated Vermont Senator Bernie Sanders by one-tenth of a percentage point in the Iowa caucuses, he placed second in the New Hampshire primary. However, he came in third place in the Nevada caucuses and fourth in the South Carolina primary.
When Buttigieg left the race, he had gained the third most delegates of any Democratic candidate.
Buttigieg officially endorsed former Vice President Joe Biden for president, telling a Texas crowd in March that he was "looking for a president who will draw out what's best in each of us."
"We have found that leader in vice president, soon-to-be president, Joe Biden," Buttigieg added.
Buttigieg has criticized Trump's handling of the coronavirus outbreak. On NBC's Today in February, Buttigieg said, "Our lives depend on the wisdom and the judgment of the president at a time like this."
"What we should be seeing is not only a reliance on science and an insistence on moving politics away from this, but the kind of coordination that is uniquely the leadership role of the White House," Buttigieg continued.