Fox News Contributor Attacks Pete Buttigieg's Christian Faith and Deceased 'Marxist' Father, Touts Trump as Evangelical 'Fighter'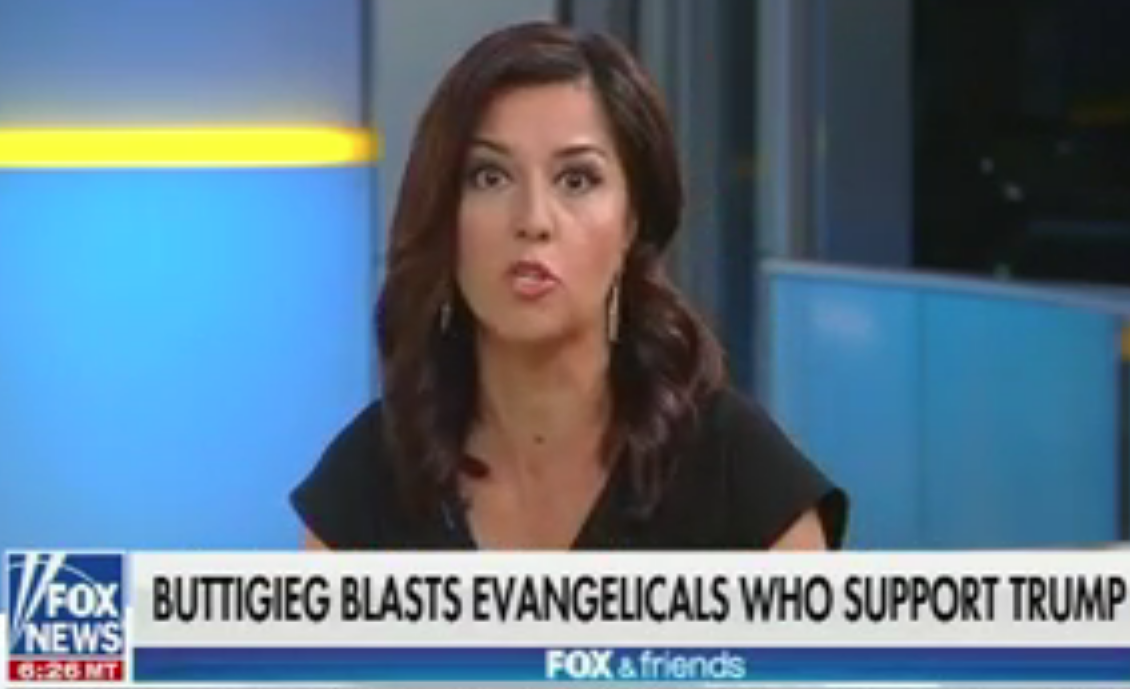 Fox News continued attacking Pete Buttigieg's Christian faith and character, with one contributor on Monday pointing to his passive support of late-term abortions and his recently deceased "Marxist" father as proof he's just another Alexandria Ocasio-Cortez "radical."
Fox & Friends' Monday segment declared "Buttigieg Blasts Evangelicals Who Support Trump" after the South Bend, Indiana, mayor criticized the president for "pretending to be pro-life" and not living a life according to the Bible. Fox News contributor Rachel Campos-Duffy appeared on the show to defend President Donald Trump, evangelicals and Catholics from Buttigieg and "eight years of an anti-Christian agenda" under President Barack Obama. Campos-Duffy argued that Buttigieg and Democrats fundamentally don't understand Christianity because "the poor don't want handouts."
Campos-Duffy touted Trump's faith and connection to evangelicals with that of Buttigieg's, explaining that U.S. Christians decided "we wanted a fighter, we don't need a savior, we already have one." She said the president's support for Israel, pro-life causes and parental choice in education supported her claim that Trump is a better Christian than the 37-year-old military veteran, who is considering a presidential run.
The contributor went all out during a scathing rant against Buttigieg's faith in God and even took shots at his late father, a longtime professor of English at the University of Notre Dame, as well as New York Democrat Ocasio-Cortez. Rev. John I. Jenkins, C.S.C., of the Catholic South Bend-based university, described Buttigieg's father as a "superb scholar and inspirational teacher" in a statement after his passing in January.
"I think he is very mild-mannered," Campos-Duffy declared on Fox & Friends. "I think if you lift up the hood on Mayor Pete, you'll see AOC. He's radical, his dad is a radical—well was, he recently died—a Marxist professor. I think he puts a mild face just like Obama on some pretty radical policies." Joseph Buttigieg died on January 27 at the age of 71.
She acknowledged that Trump's private life is "scandalous and colorful" but said that she'd "take it any day of the week over Mayor Pete because I know he won't deliver on any of the policies that I like." Fox & Friends co-host Brian Kilmeade agreed, comparing Trump's defense of Christianity to Winston Churchill's.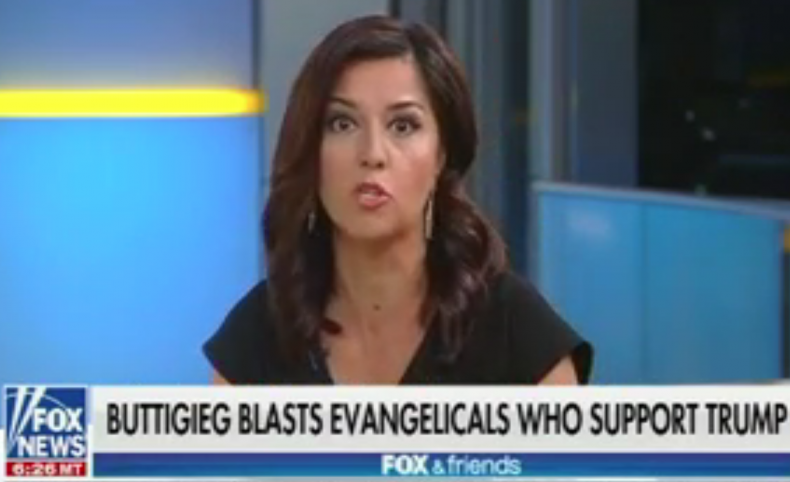 "This is a guy who is on the record in support of late-term abortion. He also, as mayor of South Bend, Indiana, blocked a pregnancy crisis center from opening up in his hometown," Campos-Duffy continued. "I would say he needs to look in the mirror.... Again, it shows a fundamental misunderstanding of what Christians really want in an environment they perceived as very anti-Christian and hostile to their values under Obama."
Campos-Duffy was citing a comment Buttigieg made on MSNBC's Morning Joe, in which he said he was not in favor of liberal abortion laws like the one passed earlier this year in New York, but he also doesn't believe there should be morerestrictions held against women seeking the medical procedure. Right-wing blogs such as RedState immediately pounced on his comments and claimed he "likes dead babies."
Buttigieg's past military service and outspoken belief in Christ appeared to upset the Fox News crew Monday, with the conservative co-hosts expressing anger that some on the left, like Buttigieg, call out Trump as the "porno president" in an effort to expose his voter base's hypocrisy.
"Mayor Pete said they're hypocrites—evangelicals and Catholics are hypocrites in voting for President Trump because he doesn't care about prisoners and immigrants and the poor," Campos-Duffy said. "And I would say false on all claims. The poor? The poor don't want handouts from the government. They want financial independence. And I think that this economy has actually delivered on that.
"Two, prisoners—who delivered on criminal justice reform? And three, immigration—very debatable for me to say that Democrats...want to do nothing to a system that is exploiting and leading to sexual abuse of children and women coming up to the border. Not very Christian in my view."
During a Saturday Fox & Friends appearance, pastor Robert Jeffress lashed out at Buttigieg for even questioning Trump's belief in God. Jeffress said the mayor "better go back" and study the Bible because Jesus never talked about abortion.