Pete Buttigieg Leading Democratic Candidates by 9 Points in Iowa, New Poll Shows
Democratic presidential candidate Pete Buttigieg has jumped to a commanding nine-point lead among Iowa caucus goers, according to a new poll.
The new Des Moines Register/CNN/Mediacom survey, which was published on Saturday evening, showed Buttigieg, the mayor of South Bend, Indiana, as the first choice for 25 percent of the state's caucus attendees. He was trailed by Senator Elizabeth Warren of Massachusetts, who came in second with 16 percent, nine points behind Buttigieg. Former Vice President Joe Biden and Senator Bernie Sanders of Vermont tied for third place, with 15 percent.
A poll released by Monmouth University last week also showed Buttigieg in the lead in Iowa, albeit a less commanding one. In that survey, the South Bend mayor had 22 percent, trailed by Biden with 19 percent. Warren and Sanders had 18 percent and 13 percent respectively. Combined, the insights from the two polls, suggest that Buttigieg is currently the clear front-runner in the state.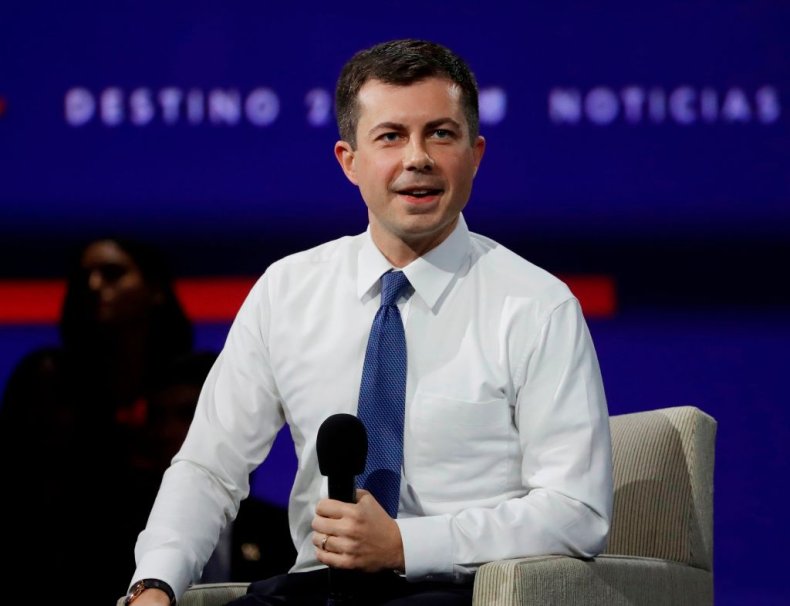 The latest Register poll shows a clear reshuffling of support for the top Democratic candidates. In September, the same survey had Warren leading the pack with 22 percent, followed by Biden with 20 percent and Sanders at 11 percent. No other candidates polled in the double digits, but Buttigieg came in fourth at 9 percent.
The latest Iowa polls stand in contrast to national polls, which generally show Biden maintaining a commanding lead, while Buttigieg places fourth overall. A current average of national polls compiled by Real Clear Politics shows Biden with an average of 26 percent support, followed by Warren at 20.8 percent, then Sanders with 17.8 percent. Buttigieg is in the single digits, with just 8 percent.
J. Ann Selzer, president of Selzer & Co., which conducted the latest poll, pointed out that this is a "new status" for Buttigieg.
"There have been four candidates that have sort of jostled around in a pack together, but he has a sizable lead over the nearest contender — 9 points," she said, according to the Register.
Buttigieg also had the highest favorability of all the candidates, at 72 percent. Warren was close behind however, at 71 percent. Biden was viewed favorably by 64 percent of respondents, while Sanders was at 61 percent.
Biden and Buttigieg were also viewed as the most moderate of the top four candidates, with 63 percent saying the South Bend mayor was "about right," and not "too liberal" or "too conservative." Biden got the same response from 55 percent, but was viewed as "too conservative" by 28 percent of respondents.
Sanders and Warren, conversely, were viewed by many as "too liberal," with 38 percent defining Warren this way, and 53 percent saying the same of Sanders. However, 48 percent said that Warren was "about right," whereas just 37 percent thought Sanders fit that definition.