Pete Buttigieg Rejects Complete Middle East Troop Withdrawal, Says Trump Foreign Policy Provoking 'Endless War'
South Bend, Indiana Mayor Pete Buttigieg, a former U.S. Naval Reserve officer, rejected any proposal to "completely withdraw" troops from the Middle East, and said President Donald Trump's erratic foreign policy is hurting Americans' safety.
Buttigieg said the U.S. needs to maintain a "light footprint" in Afghanistan similar to the specialized forces Trump recently pulled out of Syria, which he described as provoking that region's "descent into chaos." Speaking with NBC's Meet the Press Sunday, the 2020 Democratic presidential candidate agreed with host Chuck Todd's suggestion that pulling out of the Middle East "is going to get ugly no matter what," but Buttigieg pushed back against withdrawing all U.S. troops, saying that would only provoke continued "endless war."
"The way to end our unending massive ground troop presence [in Afghanistan] is to have this other footprint in the medium term. But here's the thing, that's exactly what we had in Syria. A matter of just a few dozen troops, special operators in just the right places making it possible to prevent the descent into chaos we're seeing now," Buttigieg said Sunday morning.
The War in Afghanistan, which began in October 2001 soon after the 9/11 terror attacks, is America's longest war and has left more than 2,300 U.S. troops dead as well as tens of thousands of Afghan and coalition troops. Buttigieg served as an intelligence officer in the U.S. Navy Reserve and deployed to Afghanistan in 2014.
"What was withdrawn from Syria is exactly the sort of thing where if we had it in Afghanistan, it would prevent endless war of the scale we're seeing now," he added.
Buttigieg ridiculed Trump's capricious foreign policy decisions, saying the president can't make good deals with foreign countries because he's the opposite of consistent. On Wednesday, the House voted 354-60 in condemning Trump's Syria policy and Republicans such as Senators Mitt Romney and Mitch McConnell railed against his troop withdrawal as a "grave strategic mistake."
"What President Trump does is wake up in the morning and have a phone call or maybe a tweet and completely change years or even decades of U.S. policy, surprising his own generals and country in the process. That's not how this works," said Buttigieg.
When asked by Todd if Iowa voters are correct in saying, "just get out, it's always going to be a mess," Buttigieg stressed that American influence or military forces cannot be pulled out of the region altogether out of domestic safety concerns.
"We need to keep the American people safe, when it comes to the Middle East, yes, it will be messy for probably as long as long as I'm alive. And there are some problems you can solve and there are some problems you just have to manage," he continued. "But completely withdrawing from the rest of the world, withdrawing American leadership, saying 'we're not going to do anything until after we get attacked and are forced to get involved in some way,' that is not the way to end endless war."
"The way to do it is to stay ahead of these problems, engage our allies and to lead an international community to promote stability and peace," he added.
Buttigieg proposed leaving only a "light footprint presence of counter-terrorism specialized, special ops troops and whatever intelligence capabilities we need to protect the homeland and no more."
The Indiana mayor again rejected that the Trump administration deals abroad are helping improve safety for Americans at home and abroad.
"If there's a commitment, a treaty or deal we think we can improve on, we go to the table and we make it happen. The credibility of the U.S. is something that our lives depend on and when the president undermines it with things like the action in Syria that is going to cost us for years and years. We've got to be a country known to keep its word."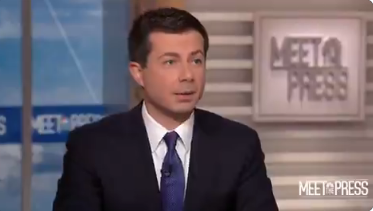 Pete Buttigieg Rejects Complete Middle East Troop Withdrawal, Says Trump Inconsistency Provoking 'Endless War'
Screenshot: Meet the Press