Pete Buttigieg Says 'No' When Asked If He Thinks Getting Money Out Of Politics Includes Ending Closed-Door Fundraisers With Billionaires
Democratic presidential candidate Pete Buttigieg recently suggested that he plans to continue taking money from billionaires in closed-during fundraisers, despite scrutiny and criticism. His campaign later announced on Monday that it would allow press to attend fundraisers moving forward and identify individuals raising funds for Buttigieg.
During a campaign event over the weekend, student activist Greg Chung asked Buttigieg, the mayor of South Bend, Indiana, directly about the concerns. "I wanted to ask if you think that taking big money out of politics includes not taking money off of billionaires and closed-door fundraisers," Chung asked, in a clip that has circulated on social media.
Answering immediately, Buttigieg responded: "No." The candidate then walked away to talk to other attendees at the event.
Sean Savett, Buttigieg's campaign's rapid response communications director, told Newsweek via email that the the candidate does "not accept contributions from registered federal lobbyists, corporate PACs or the fossil fuel industry." He added that "Pete has made enacting critical campaign finance reforms part of his campaign platform, including strengthening the FEC [Federal Election Commission] and pushing to overturn Citizens United and Buckley v. Valeo, if necessary, by a constitutional amendment."
Later on Monday, the Buttigieg campaign announced that it would now open its fundraisers to the press. The campaign also said it would publicly release the names of individuals raising money for the candidate.
On Friday, Buttigieg faced related questions while speaking at the Local America Presidential Forum hosted by United States Conference of Mayors and Accelerator for America Action.
"Earlier today, you said you were open to having a conversation about opening your fundraisers, and that's a question that reporters have been asking for months now. So I'm wondering when do you expect to be– to actually have that conversation?" the mayor was asked by an attendee in the audience.
"Again, I don't have a timeline for you," he responded.
Another attendee pointed out that as a candidate, Buttigieg could just direct his staff to open the fundraisers. The mayor agreed. "Why haven't you done that?" the person asked.
"There are a lot of considerations and I'm thinking about it," he said.
Asked if he could give an example of those "considerations," Buttigieg said: "No."
Buttigieg faced direct criticism from fellow Democratic presidential candidate Senator Elizabeth Warren of Massachusetts on Friday over his willingness to hold the closed-door fundraisers with wealthy donors.
"I think that Mayor Pete should open up the doors so that anyone can come in and report on what's being said," the senator told journalists. "Those doors shouldn't be closed, and no one should be left to wonder what kind of promises are being made to the people that then pony up big bucks to be in the room."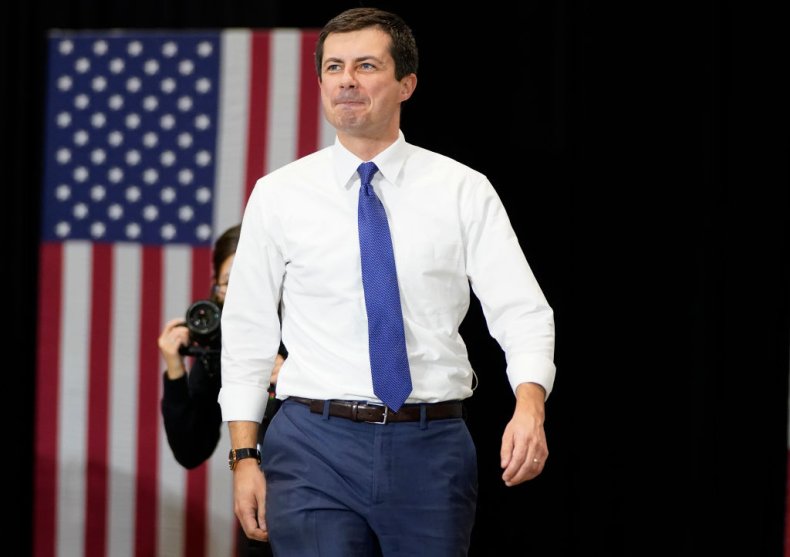 Warren, as well as Democratic presidential candidate Senator Bernie Sanders of Vermont, have taken aim at billionaires and corporations throughout their campaigns. Both have pledged to raise taxes on the wealthiest Americans to pay for a range of social programs, such as Medicare-for-all, a Green New Deal, free college education and student loan forgiveness. While Buttigieg has also voiced support for raising taxes on the wealthy, he has positioned himself as a more moderate alternative, criticizing Sanders and Warren for offering to give free college education to everyone, including the children of millionaires, and pushing for "Medicare-for-all who want it," instead of the Sanders and Warren plans that do away with most private insurance.
Buttigieg is one of the leading candidates for the Democratic party's 2020 presidential nomination. Overall, an average of national polls by Real Clear Politics shows the candidate in fourth place with 11.4 percent support, behind the national frontrunner former Vice President Joe Biden, with Sanders and Warren in second and third place respectively.
This article has been updated to include comments from a representative of Buttigieg's presidential campaign. It has also been updated with the campaign's Monday announcement that it would open its fundraisers to press coverage, while also identifying the individuals raising money for Buttigieg.