Pete Buttigieg Promises 'New Era for Latinos' That Will Bring Trump's 'Relentless and Bigoted Attacks' to an End
Democratic presidential candidate Pete Buttigieg has promised a "new era for Latinos" in a comprehensive plan aimed at bringing "systemic discrimination" against the Latino community to an end.
"Today I'm proud to announce a bold, comprehensive plan to dismantle the institutional barriers that have kept Latinos from feeling like they fully belong in their country," Buttigieg said in a Twitter statement, sharing his new plan titled "El Pueblo Unido," or "A New Era for Latinos."
Early on in the plan, the South Bend, Indiana mayor takes a clear dig at President Donald Trump, asserting that despite their contributions to the economy and to society, the U.S. leader has continued to attack the Latino community.
"As the largest ethnic group in America, Latinos are a key part of the economic engine for our country," Buttigieg states. "They are 50 percent more likely to start a business than their white counterparts…[and] Latino-owned companies grow faster than companies owned by other groups.
"Despite these contributions…Latinos have been subjected to relentless and bigoted attacks by this President and his administration."
Noting how Trump initially began his campaign by "slurring Mexican immigrants," Buttigieg accuses the president of having "inspired others to do the same."
"Emboldened by this officially-sanctioned prejudice, hate crimes against Latinos soared by more than 20 percent last year," the South Bend mayor states.
"Most devastatingly, in August, the Latino community was targeted and attacked when a gunman murdered 22 people in an El Paso Walmart…[and] this act of terrorism continues to haunt Latinos throughout the country."
With a rise in hate crimes against the Latino community during Trump's time in power, Buttigieg asserts "all of this" takes place "against a backdrop of economic and social disempowerment."
"Latinos in the United States have been burdened for too long by a legacy of systemic discrimination," he says. "It is for this reason that our campaign has woven policies to support and empower the Latino community throughout our policy plans."
The South Bend mayor's plan includes a number of initiatives spanning across 10 different issues, including economic empowerment, environmental justice, voting and democracy, immigration, family, education, health care, criminal justice, housing and history and culture.
Economic empowerment
Included in Buttigieg's plans to further economic empowerment within the Latino community, the South Bend mayor promises to invest in Latino-owned businesses and entrepreneurs.
"Latinos are almost 50 percent more likely to start a business than other Americans, yet access to capital remains limited," the 2020 contender's plan states. To address that, if elected, Buttigieg has vowed to invest up to $10 billion in federal capital to develop a fund for underrepresented entrepreneurs, including Latinos.
In addition, he has vowed to support more than 40,000 new small businesses by dedicating $1 billion in loan guarantees to microlenders. He has also vowed to award 25 percent of federal contracting money to small business owners from underrepresented groups.
Environmental justice
On environmental justice, Buttigieg has said that his approach to climate change mitigation will "center the lives of communities of color that have so often been pushed to the sidelines."
One part of that effort will be the Democratic candidate's promise to enact his "Resilient Communities" disaster preparedness policy, which is aimed at having a commission launched to focus on island and coastal regions, including Puerto Rico and Florida.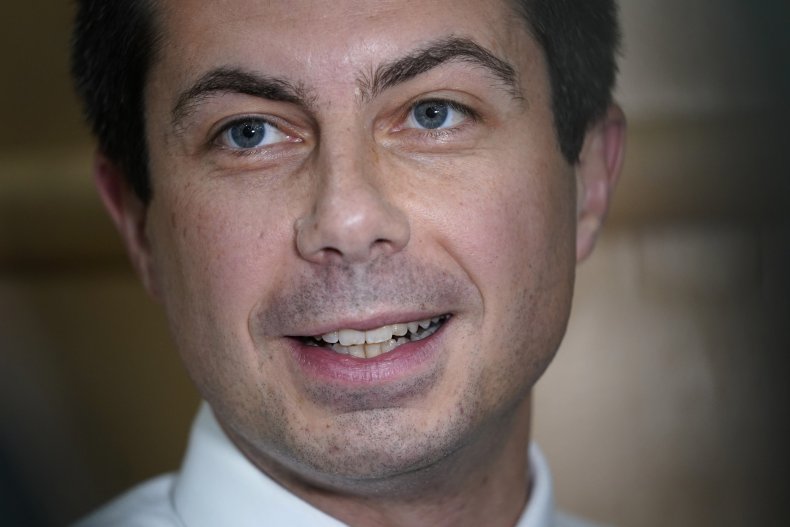 Immigration
Buttigieg's plan also acknowledges that "immigration is a vital component of the American story and is particularly important to Latinos, who make up 44 percent of our nation's current immigration population."
The South Bend mayor promises to work towards creating a pathway to citizenship for the approximately 11 million people living in the U.S. undocumented, while also vowing to accelerate the reunification of separated immigrant families and to update the "list of removable offenses" that can see immigrants in the U.S. deported.
Criminal justice
The plan also notes that Latinos in the U.S. are 3.1 times as likely to be incarcerated as white Americans, as well as 53 percent more likely to be convicted of a drug crime and more likely to be stopped and searched by police.
Under a Buttigieg administration, the government would direct the U.S. Sentencing Commission to explore sentencing caps for all crimes, in addition to seeking to "eliminate incarceration for drug possession, reduce sentences for other drug offenses, and apply these reductions retroactively."
Ultimately, Buttigieg promises, "as President, I will put an end to this administration's discriminatory policies and work to dismantle the institutional barriers that have kept Latinos from feeling like they fully belong in their country."
"To that end, my administration will invest in Latinos' economic empowerment; improve systems including health care, housing, and education for Latinos; and make our democracy stronger and more inclusive."
The full plan can be read here.
Newsweek has contacted Buttigieg's campaign team, the White House and Voto Latino for comment.