Pete Buttigieg Could Be Compromise Candidate in Fractured Field, Polls Suggest: Here's a Look at His Policies
With the sixth Democratic debate set to kick off Thursday night, many eyes are on Mayor Pete Buttigieg of South Bend, Indiana. The 37-year-old candidate blends progressive policies with a conservative demeanor and is out-polling more established front-runners in early primary states.
Former Vice President Joe Biden consistently gets the most national support to date, while prospective voters are the most "enthusiastic" for senators Bernie Sanders and Elizabeth Warren, recent polling shows.
According to a Slate analysis, the Harvard graduate, Rhodes Scholar and McKinsey veteran—who's also an actual veteran—has become more popular as prospective voters get to know him, especially in Iowa and New Hampshire, key states in the Democratic primaries.
The rise in popularity has some election experts wondering if "Mayor Pete" could be the best long-term solution for a party seemingly caught between Biden, a candidate many progressive voters see as too moderate, and Sanders or Warren, candidates many moderate voters see as too liberal.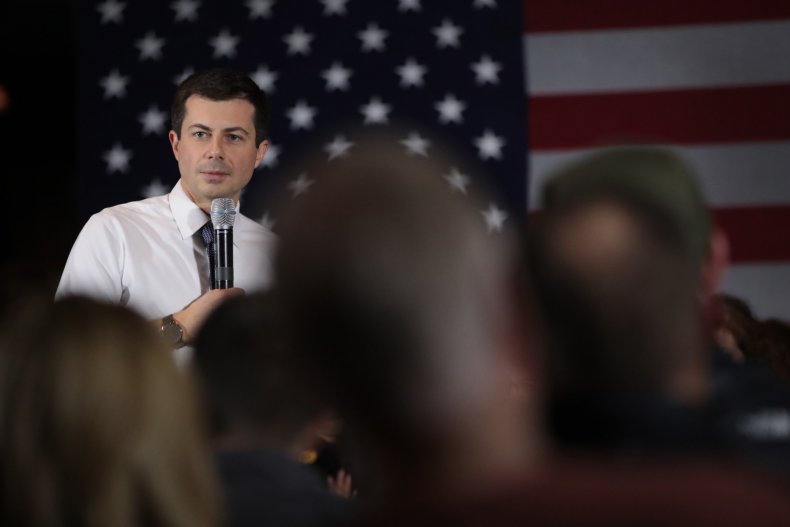 When it comes to his fellow candidates, though, Buttigieg's favorables may be dropping. At one point he dubbed his political following the "Happy Warrior Movement," but adopted a more aggressive posture in attacking the health plans of Sanders and Warren in the fall.
In response, Sanders said an offer like the Buttigieg's health care proposal "is really unfair to the working families of this country," while Warren called into question his private fundraisers and consulting tenure, according to The New York Times.
Biden and Buttigieg have a less fraught political relationship, at least in public, which recent polling suggests could stem from their shared voter demographics: folks who are older, more moderate and more attentive to the presidential race.
At the same time, some of Buttigieg's policies are just as "structural" in nature as those of his progressive counterparts on Thursday's stage.
On Monday, he released a plan to "empower the Latino community" by investing $10 billion in a fund for underrepresented entrepreneurs and expand protections in disproportionately Latino professions, according to the campaign.
Earlier this month, Buttigieg's campaign said it would fund universal child care and pre-K for all children through age 5 and double the proportion of new teachers and administrators of color in a decade. It would also triple funding for Title I schools in a bid to make education quality less dependent on zip codes.
On December 3, Buttigieg announced the only plan in the Democratic field with a true focus on systematic discrimination in health care. It promises to train providers to identify racial bias and invest in regions with greater health disparities. Notably, none of his proposed health plans offer blanket health care coverage.
Before that, the Buttigieg team said it would create a long-term care program to help people older than 65 who need assistance for basic tasks every day, like bathing or eating. A separate initiative would make college free for lower-income students and give tuition subsidies for families earning up to $150,000 each year.
The Buttigieg campaign has also rolled out proposals for eliminating incarceration for drug possession; to create a national apprentice program open to people with disabilities; and a proposal to double the U.S.'s production of clean energy.
Pete Buttigieg Could Be Compromise Candidate in Fractured Field, Polls Suggest: Here's a Look at His Policies | Politics