Buttigieg's Policies, Explained: Mayor Pete Drives Home Moderate Message In Attempt To Win Over Early-State Voters
Pete Buttigieg will be one of six 2020 hopefuls to take the debate stage on Tuesday in Iowa, an early-voting state that the former small-town mayor hopes will cement his status as a frontrunner in the Democratic primary.
During the past year, the 37-year-old candidate from South Bend, Indiana, has gone from a relatively unknown candidate to one of the top five Democrats in the race. In November, his momentum peaked with a first-place finish in an Iowa poll.
But his popularity in the all-important swing state has since waned, with more progressive candidates such as Senators Bernie Sanders and Elizabeth Warren taking the lead. In the latest survey, Buttigieg was in third place with 16 percent support—a 9 point drop from a few months prior.
Buttigieg also is enduring a growing #NeverPete attack from the left over his moderate political reforms, his lack of federal experience and his reliance on big donors.
Those attacks are likely to continue in the first Democratic debate of the year, which is scheduled to take place from 9 to 11 p.m. Eastern time at Drake University in Des Moines. The event will be co-hosted by The Des Moines Register and CNN. Buttigieg will be joined on stage by former Vice President Joe Biden, Minnesota Senator Amy Klobuchar, billionaire Tom Steyer, Sanders and Warren.
But Buttigieg has leaned into his moderate status ahead of this year's early-voting primaries, aiming for the middle ground between Biden's traditionalism and Sanders and Warren's progressiveness. Doing that, Buttigieg argued, will make him the only candidate who can unite the country and defeat President Donald Trump.
"The way we think this shapes up is, if you want the most ideological, far-out candidate possible, you've got your answer. You want the most Washington candidate possible, you've got your answer," Buttigieg told reporters in November. "Everybody else, I think, can come our way. I think that's almost everybody."
In the past few months, Buttigieg has been drawing explicit contrasts with his progressive rivals over issues like health care and free college tuition. But he's also appealed to the Democratic Party's activist wing by proposing structural reforms such as eliminating the Electoral College and reshaping the Supreme Court.
The former mayor currently calls his health care proposal "Medicare for All Who Want It." Unlike the plans touted by Warren or Sanders that would move toward a government-run system, Buttigieg would allow anyone who prefers Medicare to buy into it without getting rid of private health insurance.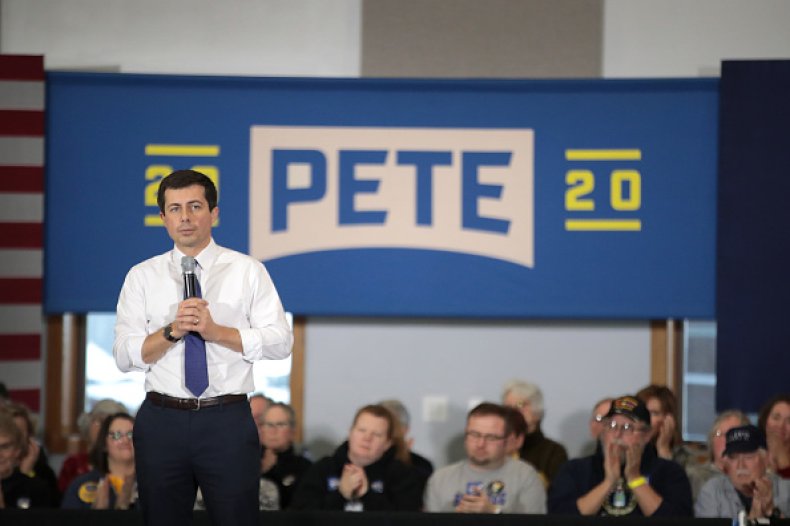 In December, Buttigieg attacked his top Democratic foes over tuition-free college for all. Both Warren and Sanders want universal programs that make tuition free for everyone regardless of income. Buttigieg, on the other hand, has released a plan that would only apply to families earning less than $150,000 a year.
But one area where Buttigieg could have the upper hand on his Democratic rivals is foreign policy. With the situation in Iran looming after Trump's decision to kill Iranian General Qassem Soleimani, the former mayor is likely to rely on his service record as a U.S. Navy Reserves veteran.
In fact, Buttigieg is the only candidate left in the Democratic primary to have served in the military, and he's already taken the opportunity to criticize his rivals over their record. He told the Iowa Press last month that Biden "supported the worst foreign policy decision made by the United States in my lifetime" when he voted for the Iraq war.
Buttigieg is campaigning as an anti-war veteran and has largely repudiated Trump's "America First" approach to the world in his foreign policy positions. He's urged a stop to the "endless war" in the Middle East and pledged to return to the Iran nuclear deal scrapped by the Trump administration. He's also been endorsed by more than 200 national security and foreign policy officials, according to his campaign.
"A presidential candidate who has served has a personal understanding of what we're dealing with," Buttigieg told reporters at a campaign stop last week. "I'm not here to say my qualifications are a prerequisite, but I will say that they made me extremely aware of the consequences of the decisions made in the White House Situation Room."