Pete Buttigieg Polling at 0 Percent With Black Voters in South Carolina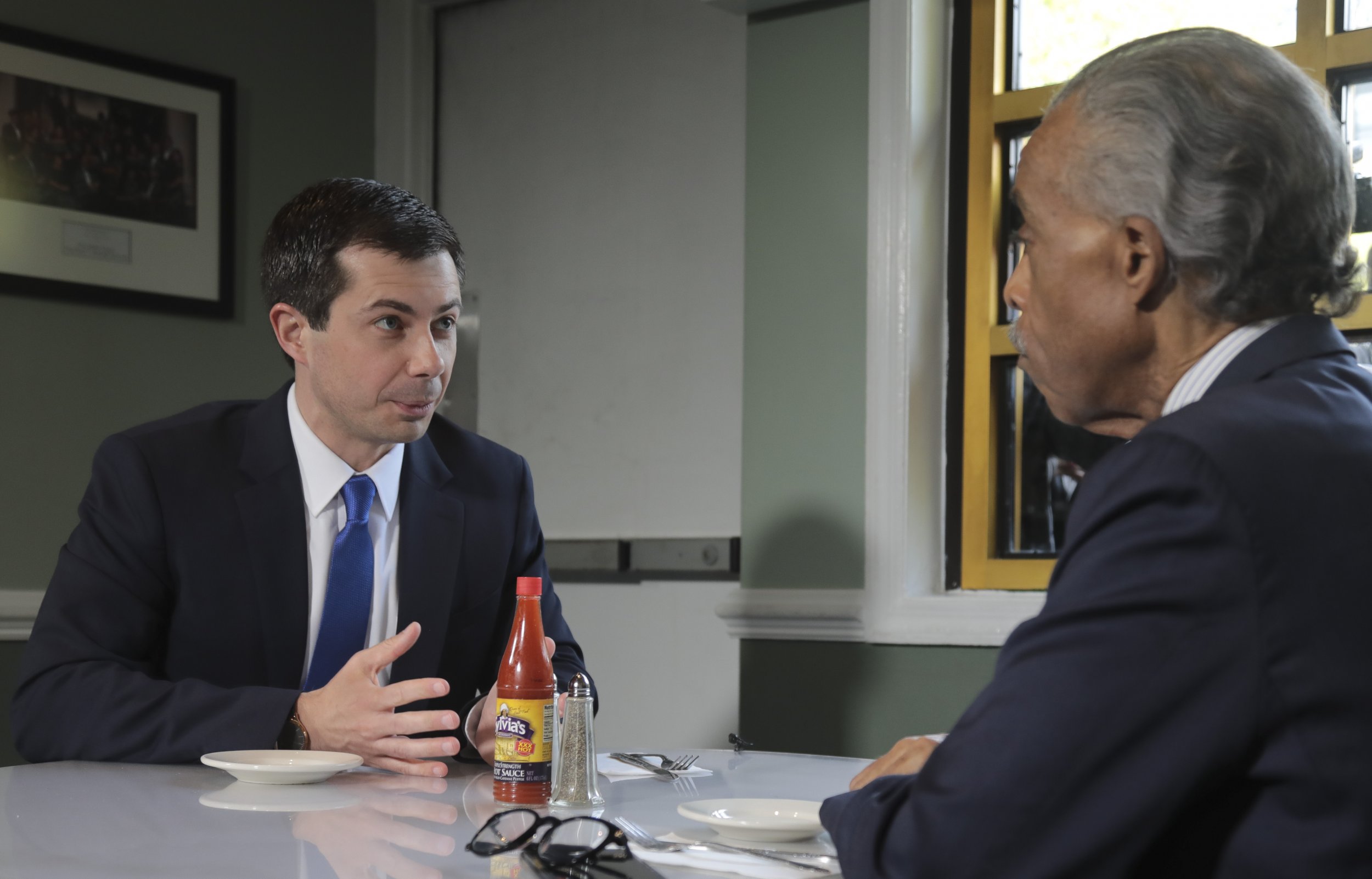 South Bend, Indiana, Mayor and 2020 Democratic candidate Pete Buttigieg is currently polling at 0 percent of the black vote In South Carolina, an important primary state where black voters make up 61 percent of the primary electorate.
A new poll by the Post & Courier found that while Buttigieg ranks second of all candidates in the state with white voters at 18 percent, he still has a long way to go to if he hopes to win.
Buttigieg has acknowledged that he has a problem attracting voters of color, and has sought out the help of black leadership for help. Last month, the presidential candidate had a very public lunch in Harlem with Reverend Al Sharpton. After the meeting, Sharpton said that Buttigieg impressed him, but withheld an official endorsement.
In an interview with Buzzfeed last week, Buttigieg acknowledged that black Americans were skeptical of him, and he said he wanted those who were skeptical to come work for him.
"It's like our relationship with America," he said. "You have to be certain; you have to believe in this project enough to see where it's going to come up short and care that you're going to fix it. And I guess I need those kinds of checks. I needed people in my administration whose eyebrows would go up at a meeting when we were all starting to drift into one policy direction when we hadn't thought about something. And the same should be true of a campaign." He told Buzzfeed that he sought to get the "practice of white identity politics out of the White House."
But it appears that his efforts haven't made a large enough impact in South Carolina.
During a recent rally in Orangeburg, South Carolina, Buttigieg made an appeal to voters. "I need help," he said. "Out here, people are just getting to know me, and trust, in part, is a function of quantity time, and we are racing against time." He said that he was attempting to grow his campaign staff in South Carolina and was looking to make the staff as diverse as possible.
Charles C. Patton, a black 21-year old physics student at South Carolina State University, who introduced Buttigieg to the crowd, told CNN that black voters view Buttigieg as a "wild card" candidate. "We just don't trust him," said Patton. "It is not necessarily his policies because I know his policies, but I don't think we even really take him seriously really because we have Joe Biden in the race, Cory Booker, Kamala Harris and Bernie Sanders, so it is kind of hard for him to get his footing in the race for black voters."
The Post & Courier found that Joe Biden led the way in South Carolina, carrying 38 percent of the white vote and a whopping 58 percent of the black vote.
Black voters make up about 25 percent of all Democratic primary voters, and 12 percent of all general election voters.
Buttigieg told reporters that he understood why Biden was winning. "If I'm a black voter, I am going to have more trust automatically with a candidate who is a candidate of color, and some candidates, I'm going to feel like I know because I've observed them over 10, 20 or 30 years," he said last week. "To have somebody who comes on the scene who is not a candidate of color and who has also not been a national figure for years, it means we've got to do in a matter of months, that same kind of trust building and relationship building work."
Still, a recent study by the University of South Carolina found that Buttigieg is making the most impact on social media in the state. Of the 97,000 publicly available mentions of Democratic candidates on social media in South Carolina, nearly 30 percent about Buttigieg were positive, larger than any other candidate.
"Joe Biden and Bernie Sanders may be leading in the polls, but our report offers an analysis of what real people are saying in real time," says Randy Covington, a faculty member in the School of Journalism and Mass Communications who oversees the Insights Lab. "While political polls focus on potential voters and often are influenced by name recognition, we are measuring something more organic, and our analysis shows a lot of people in South Carolina like what Pete Buttigieg is saying."