Pete Buttigieg Gets Zero Percent of Black Voter Support, Says Community Doesn't Understand 'Douglass Plan'
A new poll released Monday shows South Bend, Indiana Mayor Pete Buttigieg continued to receive zero support from black Democratic voters as he fell below five percent in overall support after last week's debates.
Despite a major reported boost in fundraising in Q2 of the 2020 Democratic primary race, Buttigieg's poll numbers showed no growth since the debates and he's now entered the secondary tier of candidates unable to break 5 percent in support. A CNN poll released Monday showed California Senator Kamala Harris was considered the overwhelming winner of the debates, although former Vice President Joe Biden still holds onto the most support, commanding the backing of 22 percent of voters.
Buttigieg responded to his continued support of zero percent of black voters, telling CNN's D.J. Judd Tuesday they "need to understand the details of the Douglass plan that we're continuing to roll out, and frankly they need to see me in action for a longer period of time."
Last month, Buttigieg proposed a "Douglass Plan" to improve black American prosperity across the country. The plan includes reforms to credit scoring, a reduction in "racist policies" preventing some people from voting and a 25 percent increase in federal government contracts with minority-owned businesses.
Among white voters, Buttigieg stands with about six percent of support, but overall his percentage is dragged down to 4 percent particularly by his extremely poor reception by minority voters.
A Post and Courier-Change Research Poll of black South Carolina voters in May found Buttigieg also had zero percent support from a community that makes up two-thirds of the state's Democratic primary voters. Overall, Buttigieg held 8 percent at the time of that poll.
However, NBC News reported Tuesday that Vermont Senator Bernie Sanders was the top fundraiser in Q1 with $18 million. But he has already been out-raised by Buttigieg in Q2, who reported $24 million in new money.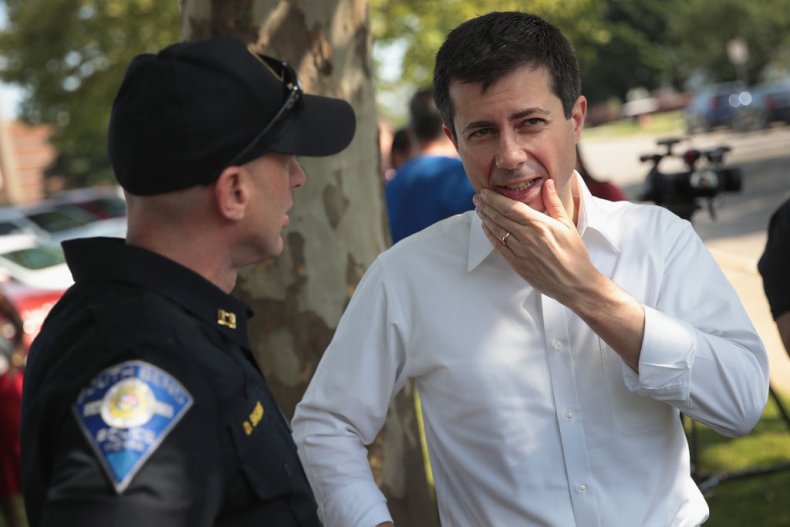 Demonstrators continue to rail against Buttigieg in his hometown after a white police officer shot and killed Eric Logan, an unarmed black man, earlier this year. A tumultuous town hall held last month placed doubt on whether Buttigieg could handle controversies on the national level.
Two distinct tiers of 2020 candidates emerged in the CNN poll this week, with Biden, Harris, Massachusetts Senator Elizabeth Warren and Sanders landing a full 10 percentage points ahead of all other contenders. Buttigieg leads the secondary tier of candidates, with himself at four percent, New Jersey Senator Cory Booker at three percent along with former Texas congressman Beto O'Rourke.
Minnesota Senator Amy Klobuchar holds two percent in this week's CNN poll, but all other candidates failed to gather more than one percent of support, if they even registered any support at all.
Biden's overall lead has shrunk by more than 10 percent since the May CNN poll, while Harris has risen nine points and Warren has been boosted by eight points. Sanders has feel four points.