Pete Buttigieg Responds to Trump Insult With Chinese Proverb About Building Walls and Windmills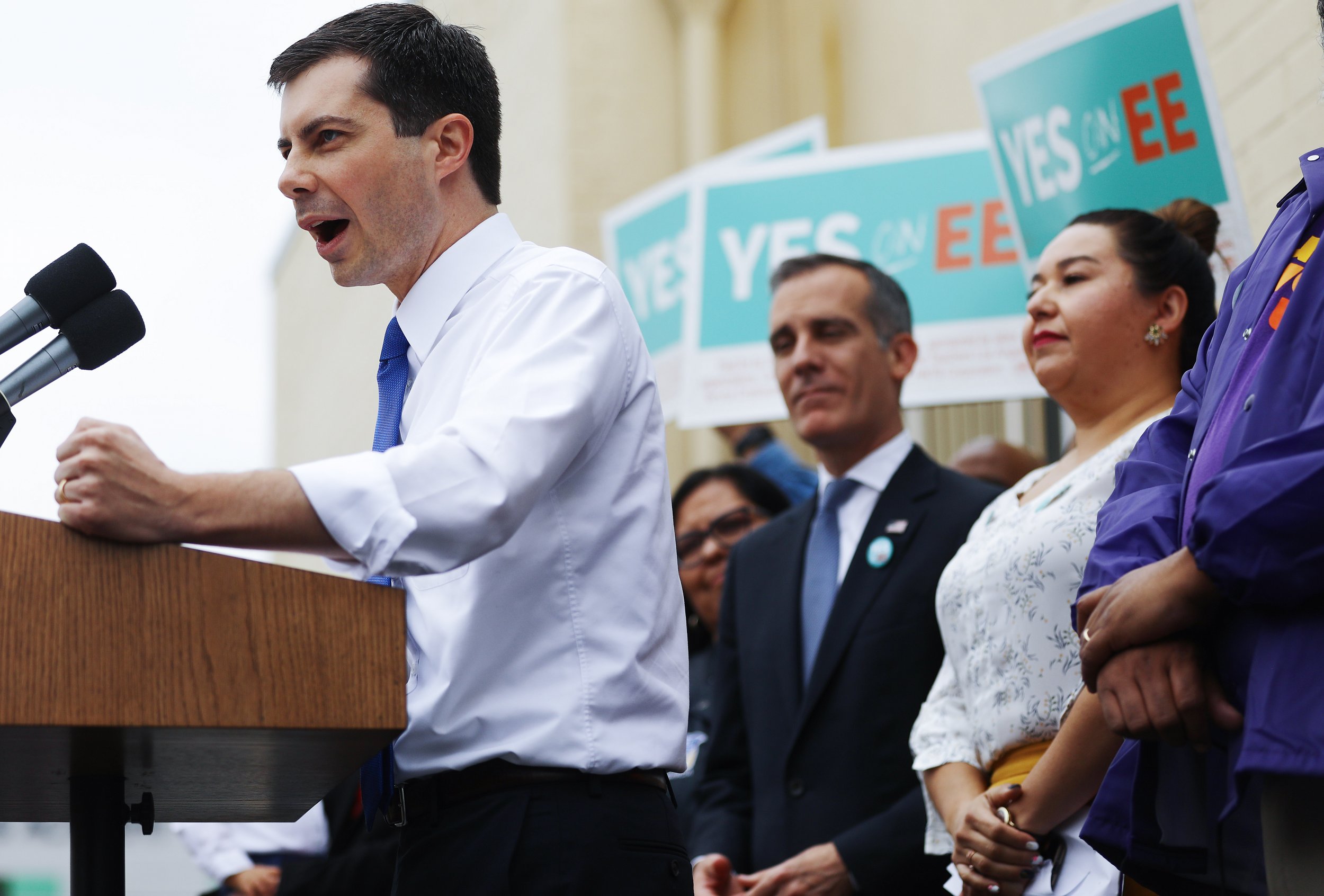 Democratic presidential candidate Pete Buttigieg on Thursday responded to insults President Trump made about the South Bend, Indiana Mayor the night before at a Make America Great Again rally in Florida.
During Trump's lengthy Wednesday night campaign rally speech in Panama City, the president mocked the 37-year-old presidential hopeful and questioned whether he was capable enough to carry out the duties of the Oval Office.
It was the first time Trump had publicly referred to Buttigieg, who has recently been polling in at roughly third place, behind Senator Bernie Sanders and former Vice President Joe Biden.
"We have a young man, Buttigieg," Trump said. "Boot-edge-edge. They say 'edge-edge.'"
"He's got a great chance. He'll be great. He'll be great representing us against President Xi of China," the president added, drawing jeers and laughter from the crowd. "That'll be great."
When asked to respond to Trump's comments during a press conference earlier today, Buttigieg issued a measured statement, choosing to quote a Chinese proverb about building walls and windmills, rather than attacking the president directly.
"You can't get too worried about the name calling and the games he plays," Buttigieg said. "I was thinking of a Chinese proverb that goes, 'When the wind changes, some people build walls and some people build windmills.'"
"You gotta recognize that we need something that is completely different from what is in this White House," Buttigieg added. "The negotiations that they are conducting, whether it's on trade or things like North Korea, are usually a personal high-wire act with no safety net."
There is an ancient Chinese proverb about dealing with change that goes: "When the wind of change blows, some people build walls, others build windmills."
The proverb means that change can cause people to feel frightened and elicits different responses from different personalities. Those who are scared may build walls and those who embrace the change would build windmills.
Buttigieg's proverb apparently is in reference to both Trump's attitude towards change and the physical wall he has been trying to build on the southern U.S. border with Mexico. Additionally, the president has talked derisively about windmills, claiming earlier this year that the noise wind turbines makes causes cancer.
In the latest Hill-HarrisX poll, released Monday, Biden soared ahead with a 32-point lead in the Democratic primary race after garnering 46 percent, while Sanders fells behind in second place with 14 percent. Buttigieg came in third place with eight percent.