Pete Buttigieg Returns to Campaign Trail, Addresses "Challenging Week" After Police Shooting of Black Man
2020 presidential candidate Mayor Pete Buttigieg made reference Saturday morning to the "challenging week" he and his fellow South Bend, Indiana, residents have endured in the wake of an officer-involved shooting of a black man in the Midwestern city.
"I've been off the campaign trail helping my community move through a tragic shooting of a resident of our community by a police officer," he said. "It is as if one member of our family died at the hands of another."
The South Bend mayor returned home this week to lead a dialogue with residents about the death of Eric Logan, a 54-year-old black man who was shot and killed by Sgt. Ryan O'Neill after O'Neill was called to respond to reports of car burglaries downtown. When O'Neill arrived on scene, he claims, Logan was holding a knife and lunged at him with it, causing O'Neill to fatally discharge his weapon.
South Bend residents led a protest rally outside police headquarters Friday night, where they confronted Buttigieg and Police Chief Scott Ruszkowski about the incident, pressing the mayor on whether he believes black lives matter and calling on him to fire O'Neill.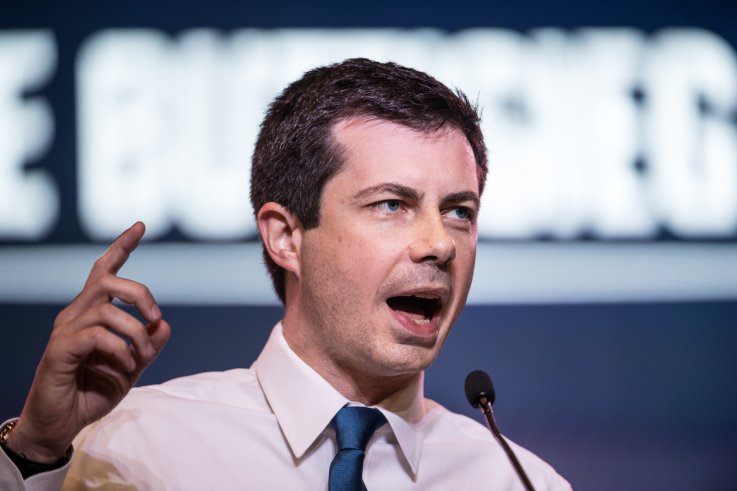 Buttigieg has acknowledged his campaign's struggle to garner support from African Americans, and this new crisis in South Bend has tested his ability to marshal trust from the black community at a time when the national spotlight is being trained on his candidacy.
In a survey from May for the Black Economic Alliance, only 21 percent of black adults said they had a favorable view of Buttigieg, compared with a 68 percent favorability rating for former Vice President Joe Biden and a 58 percent rating for Senator Bernie Sanders.
"Even as an outside process works to determine what happened, we already know why such deep wounds are surfacing, why our whole community hurts," Buttigieg told attendees at the South Carolina Democratic Convention in Columbia on Saturday. "But I also want to tell you that my community is full of people who believe in safety and justice. We will heal and we will [become] stronger in the broken places."
His return to the campaign trail ahead of next week's first Democratic primary debates in Miami highlights a delicate balance Buttigieg has had to strike between managing the day-to-day affairs of a city of 100,000 people as its chief executive and touring the country to compete in the 2020 race.
Upon Buttigieg's homecoming, constituents angered by the situation plunged a spike into their mayor's rising campaign, accusing him of favoring his presidential ambitions at the expense of their interests.
"You're running for president and you want black people to vote for you?" one rally-goer asked. "That's not going to happen."
Pete Buttigieg Returns to Campaign Trail, Addresses "Challenging Week" After Police Shooting of Black Man | Politics