Pete Buttigieg Stresses Ending Pandemic With Vaccine Push Will End Supply Shortages
U.S. Secretary of Transportation Pete Buttigieg stated Monday that the easiest way to end recent supply chain shortages across the country would be by getting everyone vaccinated and ending the COVID-19 pandemic.
During a press conference in the White House press briefing room, Buttigieg said that the pandemic was causing tremendous stress on global supply chains as product availabilities lower and demand continues to shoot up.
"The pandemic is poking holes in all of the above, which I think...is important to point out," Buttigieg said.
He stressed the importance of the vaccine push being heralded by the Biden Administration as perhaps the most effective and easiest way to end the supply shortages.
"The best way to end a pandemic-related shortage is to end the pandemic, and that's why the vaccine push is so important," Buttigieg said.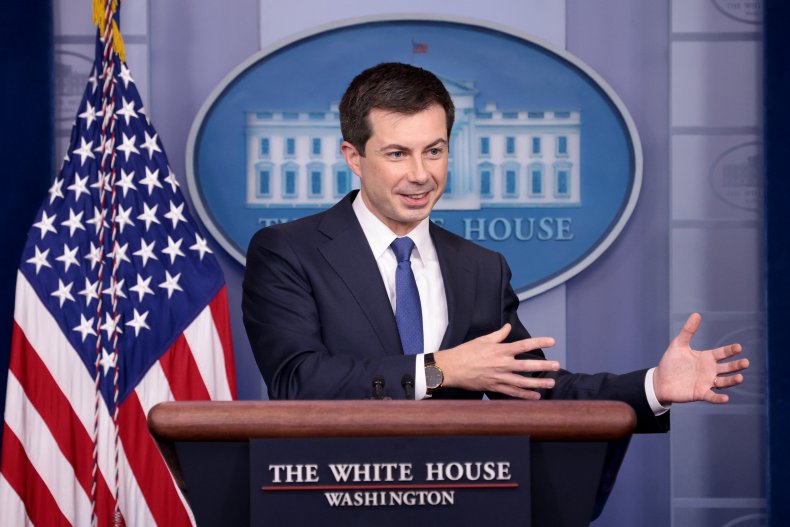 California and New York, the states that house the nation's main overseas shipping ports, are two of the most vaccinated states in the country, with 62 and 67 percent of their populations fully vaccinated, respectively.
But low vaccination rates in other states continue to be an issue for the administration. There are still around 66 million unvaccinated adults in the U.S., a figure President Biden called "unacceptable."
Buttigieg said a large portion of the shortage can be blamed on digital and online shopping. Demand for goods has reportedly increased heavily as the pandemic continues, with more Americans choosing to shop from their couch than physically going to stores.
"Literally anywhere in our economy there is a relationship between a manufacturer, a shipper, and a retailer...there are a thousand points in that [supply] chain where something could go wrong," Buttigieg said.
"We're seeing a lot of those points reveal themselves because of the enormous demand, the constraints on supply, [and] the outdated infrastructure it all runs across," he added.
The supply chain crisis began to manifest this summer, and soon, many ports of call across the globe were facing bottlenecks. This was especially true in Asian countries like Singapore and China, according to Bloomberg, which besides being major manufacturing hubs, have also dealt with recent COVID outbreaks.
The crisis received significant coverage in the United States, with images of barren grocery store shelves and lines of container ships backed up into the ocean circulating across social media.
While the eventual stoppage of the pandemic will begin to get global supply chains moving again, it will likely be a slow burn.
"Even amid signs of slowing [pandemic] growth, the pipeline of international commerce has never been so clogged," according to Bloomberg. "A longer-term fix means getting COVID-19 under control, building new infrastructure such as more efficient ports, and improving technology for digital transactions and faster communication."
Newsweek reached out to Secretary Buttigieg's office for comment.