Democrats hoping to unseat the president in 2020 are one step ahead of the July 15 deadline to file their fundraising hauls for the second quarter, revealing the millions of dollars raked in over the past three months.
Topping the list so far for the second quarter of 2019 is South Bend, Indiana, Mayor Pete Buttigieg, outraising the likes of former Vice President Joe Biden and Vermont Senator Bernie Sanders.
Biden, although slipping slightly since the first Democratic primary debate last week, still dominates the polls. He still leads by more than 10 points, according to an average of major recent polling compiled by Real Clear Politics. Biden is at 26 percent, followed by California Senator Kamala Harris around 15 percent, Sanders at 14 percent, Massachusetts Senator Elizabeth Warren at just under 14 percent and Buttigieg at about 5 percent. The remaining candidates came in at less than 2.5 percent.
The following candidates' campaigns have reported their second-quarter numbers. Candidates not listed have yet to announce their numbers, which aren't due to be filed until July 15.
Pete Buttigieg
'Mayor Pete,' as he's commonly referred to as, raked in $24.8 million, tripling the amount raised from his first quarter and proving himself to be a formidable candidate.
With the average contribution being $47.42, Buttigieg's campaign said the nearly $25 million came from 294,000 donors, 230,000 of which were new contributors. The campaign also said it has roughly $22.5 million cash on hand.
The Democrat raised just over $7 million in the first quarter with 158,550 donors and an average donation of $36.35.
Bernie Sanders
The self-described democratic-socialist extended his large fundraising numbers from the first quarter into the second, bringing in $24 million. However, the campaign said that $6 million was transferred from an existing account.
Since the launch of his presidential bid, the Sanders campaign said 99 percent of donations were $100 or less and currently has $30 million cash on hand.
In his first quarter, Sanders raised a little more than $18 million from roughly 900,000 donations with an average donation of $20.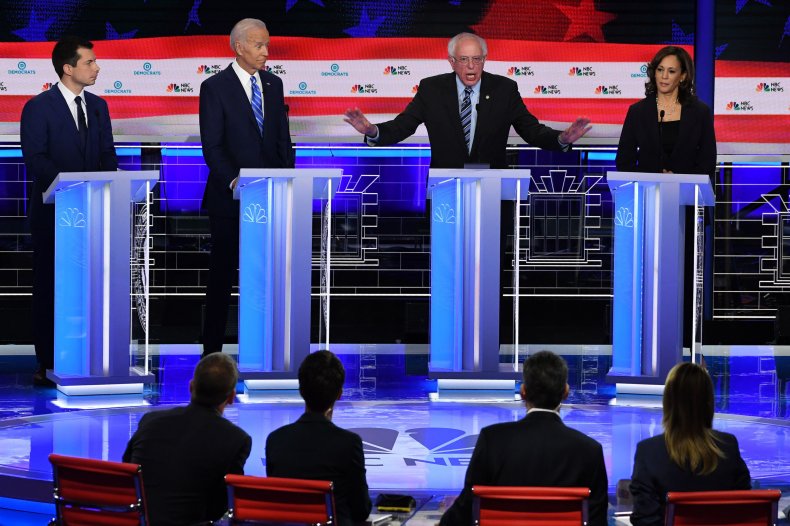 Joe Biden
The leader of the polls came in third for second quarter fundraising with $21.5 million.
The moderate Democrat has received average donations of $49 from 256,000 donors since officially announcing his candidacy in late April, according to the campaign. Ninety-seven percent of donations were less than $200.
Elizabeth Warren
As she continued to surge in the polls in recent weeks, the Elizabeth Warren campaign revealed July 8 that it more than tripled the $6 million it brought in during the first quarter. The Massachusetts senator's second quarter fundraising topped out at $19.1 million.
Campaign manager Roger Lau told supporters in an email that the fundraising haul was thanks to more than 683,000 contributions from more than 384,000 people. More than 80 percent of the donors contributed for the first time. The average donation was $28.
Kamala Harris
The Harris campaign on Friday became the latest candidate to announce second-quarter fundraising levels, saying the senator matched her first quarter number of $12 million from 279,000 people.
The average donation, according to the campaign, was $39 and included 150,000 new donors. Since the launch of her campaign, 98 percent of contributions to Harris were less than $100.
Michael Bennet
The campaign of Colorado Senator Michael Bennet said the candidate garnered $3.5 million in fundraising for quarter two, $700,000 of which came from his Senate campaign funds.
Since declaring his candidacy in May, 83 percent of contributions were $25 or less and 95 percent were $100 or less, according to the campaign. Bennet's campaign also said he saw a tick up in contributions following his appearance in the first primary debate.
Steve Bullock
Montana Governor Steve Bullock raised more than $2 million in quarter two, according to his campaign, noting in a statement that it did so "without the transfer of other funds."
Bullock announced his candidacy in mid-May, but he did not make the primary debate stage last week due to a lack of donors and low polling numbers.
Updated July 8: This story was updated to include the fundraising amount for the campaign of Elizabeth Warren.