Pete Buttigieg on Trump's 'Foreign Dirt' Remark: 'Call the FBI. It's Not Complicated'
During a Sunday morning interview on Face the Nation, presidential hopeful Pete Buttigieg said foreign interference in U.S. elections has "destabilized" America, and he criticized President Donald Trump for a controversial remark in which the president said last week that he'd "listen" to foreign dirt on a political opponent.
"If you believe in putting this country first, how could you ever talk about allowing a potentially hostile foreign power to interfere in the most sacred thing that we have in our civic tradition in America, which is our elections?" Buttigieg asked host Margaret Brennan.
The reference stemmed from an ABC interview with Trump that first aired last Wednesday, during which the president gave a startling admission: When asked whether he would listen to negative information on one of his opponents brought forth by a foreign power, Trump said he'd "want to hear it" and said he may not report it to the FBI. He further claimed those communications wouldn't constitute election interference.
"It's not interference, they have information—I think I'd take it. If I thought there was something wrong, I'd go maybe to the FBI—if I thought there was something wrong," Trump said. "But when somebody comes up with oppo research, right, they come up with oppo research, 'Oh let's call the FBI.' The FBI doesn't have enough agents to take care of it..."
Interpreted by many against the backdrop of Russia's interference in the 2016 election, Trump's comments soon outraged critics and even prompted a Thursday response from Federal Elections Commission Chair Ellen L. Weintraub.
"Let me make something 100% clear to the American public and anyone running for public office: It is illegal for any person to solicit, accept, or receive anything of value from a foreign national in connection with a U.S. election," Weintraub said, expressing disbelief that she needed to make such a statement. (Trump, meanwhile, has attempted to walk back and clarify his remarks.)
On Sunday, Buttigieg sided with Weintraub said the issue was hardly as nuanced or complicated as Trump suggested.
"Just call the FBI. It's not hard. It's not complicated," Buttigieg said.
"If you think there's a foreign effort to tamper with an American election and you're an American who cares about America, you call the FBI," he added.
The South Bend, Indiana, mayor's candidacy has been boosted by an uptick in national polling, now placing him at a distant fourth place behind former Vice President Joe Biden, and Senators Bernie Sanders and Elizabeth Warren. Like his opponents for the Democratic ticket, Buttigieg has positioned climate change and environmental safety as a central tenet of his campaign platform.
He reiterated his concerns about the issue elsewhere in the Sunday interview.
"Things are changing around us, with life and death consequences. And if we're not prepared to treat climate disruption as a security issue, then we're putting my generation and anybody who comes after us at tremendous risk of having our life opportunities diminished because of the failure of those in charge now to do something about this issue, across America and across the world."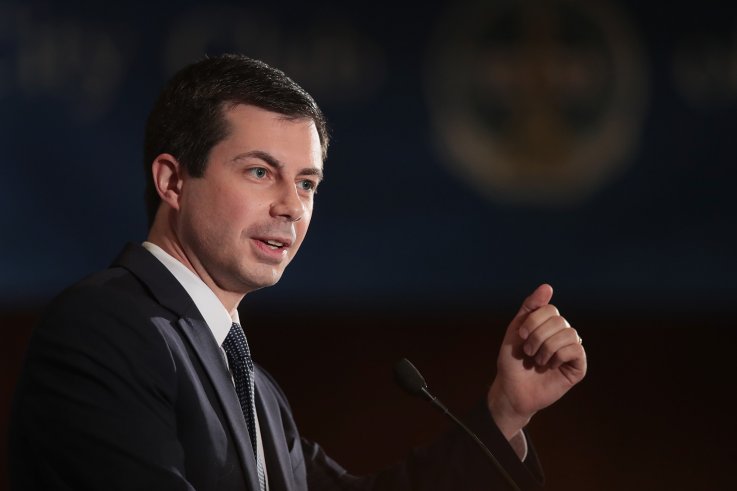 Pete Buttigieg on Trump's 'Foreign Dirt' Remark: 'Call the FBI. It's Not Complicated' | Politics