Pete Buttigieg Urges Republicans to Embrace John McCain's GOP, Not Donald Trump's
Former South Bend, Indiana, mayor Pete Buttigieg urged Republicans to embrace late Senator John McCain's version of the party and not Donald Trump's in the wake of claims the president disparaged military veterans.
Buttigieg, a former Democratic presidential candidate and U.S. Navy Reserve veteran of the war in Afghanistan, asked members of the GOP if they would rather be associated with a McCain or Trump rendering of the party. Speaking with Fox News Friday, Buttigieg responded to a report in The Atlantic that claimed the president labeled World War I veterans "losers" and "suckers" during a visit to a French battleground in 2018. Buttigieg said the report is corroborated by Trump's lifelong disparagement of U.S. soldiers and military veterans dating back to his deferment from the Vietnam War.
Buttigieg challenged members of the Republican Party to remember that Trump mocked McCain, who was captured and tortured for years by North Vietnamese forces as a prisoner of war. While speaking at the 2015 Family Leadership Summit in Ames, Iowa, during his presidential campaign, Trump said he only likes veterans who "weren't captured" and were not "losers."
"If you're Republican and you've always voted Republican and it's hard for you to join the many Republicans who are walking away from this president, think about this—years later we're going to look back on this moment and see that you could either be a John McCain Republican or a Donald Trump Republican. But you've got to choose. Think about what you'd rather be."
Buttigieg went on to criticize Trump for having "faked a disability so he could avoid serving" in the Vietnam War—a conflict Trump reportedly described as a "stupid war" in which "anyone who went was a sucker."
McCain served as a Republican U.S. senator representing Arizona from 1987 until his death from brain cancer in 2018. His dissenting 2017 vote against the repeal of the Affordable Care Act, or Obamacare, incited Trump to make a series of negative personal comments against him in the year just prior to his death. This past week, Trump denied ever calling McCain a "loser," but video and Associated Press fact-checkers show otherwise.
"He lost, so I never liked him as much after that, 'cause I don't like losers,'" he said. Trump went on to dismiss McCain's war service: "He's not a war hero. He's a war hero because he was captured. I like people that weren't captured," Trump said at the 2015 Iowa forum, referencing McCain's unsuccessful 2008 presidential campaign against Barack Obama. Additionally, Trump tweeted out a news article in 2015 that labeled McCain a "loser."
Despite the evidence to the contrary and on the record, Trump this week rejected The Atlantic story as well as the remarks about McCain. "I never called John a loser and swear on whatever, or whoever, I was asked to swear on, that I never called our great fallen soldiers anything other than HEROES," the president tweeted Thursday in response to the article.
The White House also issued a statement denying that Trump disparaged the deceased World War I soldiers in France: "This report is false. President Trump holds the military in the highest regard. He's demonstrated his commitment to them at every turn: delivering on his promise to give our troops a much needed pay raise, increasing military spending, signing critical veterans reforms, and supporting military spouses. This has no basis in fact."
Newsweek reached out to both the White House and a representative for Buttigieg Saturday afternoon for additional remarks.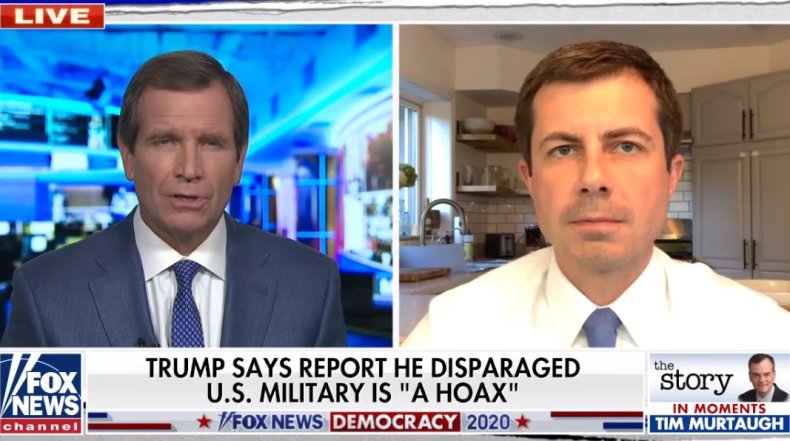 Democratic presidential candidate Joe Biden on Saturday added Buttigieg, a former 2020 primary rival, to his White House transition team. Biden added Buttigieg alongside four senior officials from the Obama administration as they prepare for a transition "amid the backdrop of a global health crisis and struggling economy," longtime Biden ally Ted Kaufman told Reuters Saturday.