Pete Buttigieg's McKinsey Client List Reveals an Early Interest in Energy Efficiency, Environment
Democratic presidential candidate Pete Buttigieg says that releasing a list of consulting jobs he worked a decade ago, which reveal an early interest in energy efficiency, is part of an effort at transparency in his campaign.
On Tuesday, Buttigieg revealed details of the work he did for management consulting firm McKinsey & Company, just after graduating from Oxford on a Rhodes Scholarship in 2007. Work undertaken by the future "Mayor Pete" includes three assignments concerning efforts to promote energy efficiency. Buttigieg has said he plans to rejoin the Paris climate accord if elected and is a supporter of the Green New Deal to combat climate change.
Consulting work for Best Buy in 2008 saw Buttigieg promote the sale of energy-efficient electronics products in the chain's retail outlets. From 2008 to 2009 he worked on a project intended to combat climate change through increased energy efficiency, involving several nonprofits as well as governmental bodies including the Environmental Protection Agency (EPA) and the U.S. Department of Energy. Also in 2009, Buttigieg worked with nonprofit The Energy Foundation researching energy efficiency and renewable energy.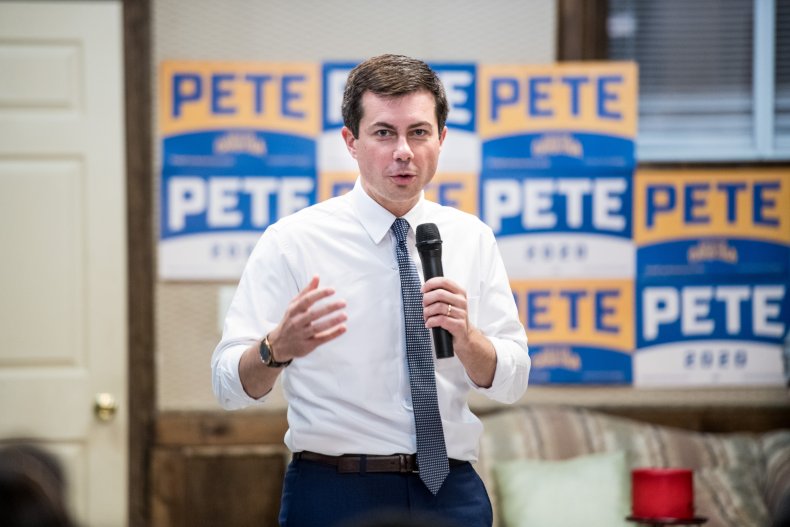 Buttigieg published an article Friday detailing many of his experiences with the consulting agency, while leaving out who he had worked for due to a confidentiality agreement with McKinsey. He says that the full details are now available because he directly lobbied the company to release him from the contract.
"I believe transparency is a quality the American people should expect from their president," said Buttigieg in a statement obtained by Newsweek. "I also believe that the American people should be able to trust that their president will keep their word and commitments they've made."
"To act on my values I have released all my tax returns since I completed my education, a standard that, unfortunately, no other candidate in this race has been willing to meet," continued Buttigieg. "It is also why I released a summary of my work at McKinsey even though it was my first job out of school where I had little decision making authority. It is also why I worked to be released from my confidentiality agreement with the firm, so that I could responsibly release this information, instead of accede to political pressure to violate the agreement."
Buttigieg also condemned what he believes are "efforts to demonize and disqualify people who have worked in the private sector for the sake of political purity," arguing that many "good public servants" have worked in the private sector.
In addition to jobs related to energy efficiency, his work included consulting with the U.S. Department of Defense in Iraq and Afghanistan on the issues of employment and entrepreneurship in 2009. Two years earlier, Buttigieg's first client with the agency was a health insurance provider in Michigan, working on the company's overhead expenditures.
His second job with McKinsey, consulting with Canadian supermarket chain Loblaw's in 2008, has raised a few eyebrows online, with some speculating that the work could be connected to a bread price fixing scandal that occurred in Canada from 2001 to 2016. However, there does not appear to be any evidence that would establish a link. Buttigieg said his work with the company concerned "analyzing the effects of price cuts on various combinations of items across their hundreds of stores."
Buttigieg's last job for McKinsey was in 2010, consulting with the U.S. Postal Service on efforts to increase revenue. He was elected to his first term as mayor of South Bend, Indiana the following year.